When 9-year-old Amber Hagerman was abducted in January of 1996, there was no easy way for law enforcement to quickly alert the public to child abductions. That all changed when one ordinary citizen, saddened by Amber's story, stepped up and contacted her local Dallas-Fort Worth radio station in Texas. Diana Simone knew that if the public heard about a child abduction, they would want to help. Her idea was to have local radio stations alert the public when a child abduction occurred in their community so they could send in tips to law enforcement. 
By October of 1996, the first AMBER (America's Missing: Broadcast Emergency Response) Alert plan—named in honor of Amber Hagerman—launched in the Dallas-Fort Worth area. Now, 25 years later, at least 1,074 abducted children all around the country and world have been safely recovered as a direct result of AMBER Alerts.
"AMBER Alert has been wildly successful, and it is because of the public and their involvement and concern for the children in their community," said Mike Simmonds, senior chief at the Tarrant County Sheriff's Office in Texas, who helped develop the first AMBER Alert plan. "As someone who worked on the Amber Hagerman investigation from the very beginning, who was there when we recovered her body, who dealt with it on a daily basis for years, I am very grateful that the plan is still in effect and that it's been so successful."
Originally, AMBER Alerts were intended to be broadcast over the radio exclusively. "We were trying to reach people who were out of their house, out in vehicles, driving around and tuning into local radio stations," Simmonds said. "We could utilize their eyes out in the community to help us spot something unusual and then follow-up on it."
The AMBER Alert program has come a long way since the first plan was created in 1996. Today, AMBER Alerts are broadcast in all 50 states, the District of Columbia, Indian country, Puerto Rico, the U.S. Virgin Islands, and 27 other countries via television, road signs, hotel chains, internet service providers, apps and wireless phones.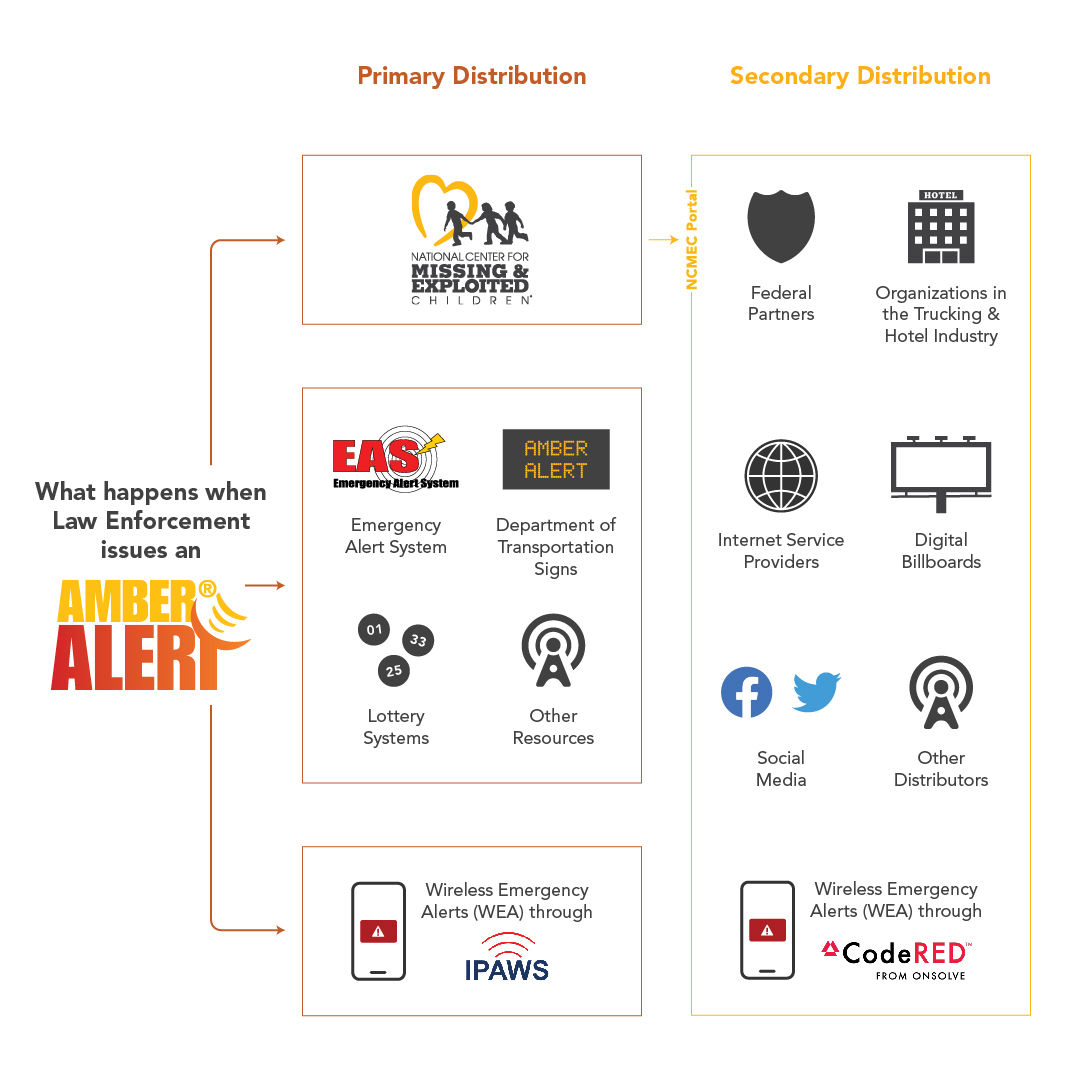 The AMBER Alert program has evolved with the innovation of new technologies. The big breakthrough came in 2012 when law enforcement started using the Wireless Emergency Alerts program (WEA) to send AMBER Alerts directly to cell phones. This technology allows the public to instantly access information and photos of the abducted child, suspect and vehicle right on their phones.
"The citizens are just incredible…it's amazing to see what people can do when they're given the opportunity and they're given actionable information," said Sergeant Ed Bertola with the California Highway Patrol. Now, instead of days or even hours, law enforcement can locate a critically missing child in a matter of minutes. "To think you can send out an AMBER Alert and in 34 minutes have that baby in your arms, it's a tremendous feeling," said Sgt. Bertola.
AMBER Alerts, and the incredible communities who respond to them, will undoubtedly continue to save many more children over the next 25 years. "California's at about 97% for successful recoveries," said Sgt. Bertola. "That's great. But the part that drives us is the 3%. It's not numbers. Its names, its faces, its families."