Still Searching for Amber's Killer
A month after 9-year-old Amber Hagerman was abducted off her pink bicycle and found murdered, her mother, Donna Williams, went to her daughter's elementary school in Arlington, Texas for the dedication of a new playground in Amber's name and to console her classmates who didn't understand why she had to die.
Her eyes shot to Amber's empty desk and the "Amber Museum" that Mrs. Walter's third-grade class had decorated with pink hearts and ribbons and a large framed class photo of their blue-eyed brunette friend. But sensing her pain, the children instead tried to comfort Amber's mother and raised their hands – "I  always wanted to play with her," "I liked her a lot," "She's really pretty," "She was nice" – and they shyly asked her about some things they'd been wondering. 
"What time did she leave on her bike?" one boy asked. "At 3:10 Saturday afternoon; she was abducted at 3:18," Williams said, trying to soften the jarring facts in a gentle voice. "It just took eight minutes," she said, stroking a girl's hair in the first row. "So you guys stay close to home, okay?" 
Williams' long journey through grief and healing, including her visit to Amber's school, was captured on film in a moving WFAA-TV documentary, After Amber.  Today, Jan. 13, 2021, marks 25 years since Amber was abducted and murdered in a case that shook the nation and changed the way we search for abducted children. Her body was found four days after she was grabbed off her pink bicycle. Her killer has never been found. 
Arlington police held a news conference today to honor Amber's incredible legacy – her murder inspired the creation of AMBER Alerts which so far have directly led to the safe recovery of 1,029 abducted children – but also to assure Amber's family and the public that they haven't stopped looking for Amber's killer. 
They asked for the public's help, offered a $10,000 reward for information leading to an arrest and established a special tipline. For the first time, they released photos taken after her body was found in a creek, hoping someone will remember something and come forward. Police are hoping advancements in technology will help them solve the case and will be submitting the small sample of DNA they collected at the crime scene.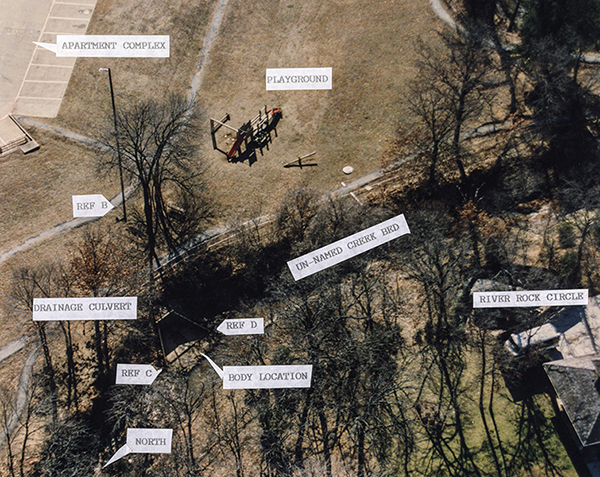 Arlington Police in Texas release photo of creek where Amber's body was found.
"This is still an open, on-going murder investigation," said Det. Grant Gildon, the lead investigator on the case. "We want to solve it. We want to get answers for the family."
Amber's mother, who went by her maiden name,  Whitson, at the time of the documentary, also spoke at the news conference.
"I implore the media and public to ensure the focus on this 25th anniversary of Amber's kidnapping remains on finding the killer and bringing him to justice," Williams said. "I miss her every day. I want to know why her – she was just a little girl," she said, then addressed the killer: "Please turn yourself in."
On that day, Jan. 13, 1996, Amber was grabbed off her bike – kicking and screaming – by a stranger in a black truck in the parking lot of an abandoned Winn-Dixie. The man, either white or Hispanic, waited until Amber's 5-year-old brother, Ricky, had left on his bike, heading back to their grandparents' house. They'd been told just to ride their bikes around the block but were drawn to the nearby parking lot with the cool ramp. Amber's body was discovered in a creek four days later and about four miles away.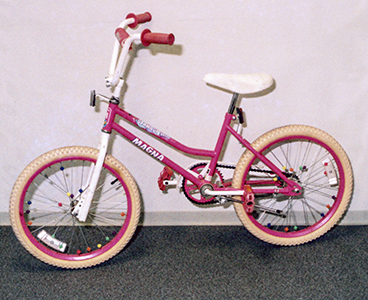 Amber's pink bicycle was recovered from parking lot where she was abducted.
Sgt. Ben Lopez was on the original task force created after Amber's murder, which has "stayed with him" nearly his entire career. The case has generated more than 7,000 leads, which were investigated, but they still have no suspect, he said. 
Police believe Amber was kept alive for at least two days, so they're convinced someone must have seen something during that time. Her body was dumped in a creek behind an apartment complex, spotted by a man walking his dog. 
A man who lived across from the Winn-Dixie, and has since died, witnessed the abduction through a chain-link fence. He told police he had seen the little girl riding her bike and then saw the man, in his 20s or 30s, throw her in his truck as she kicked and screamed. He said the suspect was medium build and less than 6-feet-tall. He had brown or black hair. The black pickup truck had a single cab, with no chrome or striping, and was in good condition. Amber's pink bicycle was recovered from the parking lot. 
There's a laundromat next to the Winn-Dixie, and police believe others may have witnessed the abduction but were too afraid to come forward, perhaps fearing deportation. Police said they want to allay those fears; they just want information.
Diane Simone heard about Amber's abduction 25 years ago on the evening news. They were showing a recent home video of Amber happily opening her Christmas presents and holding up a Barbie doll, then taking her new pink bicycle for a spin while waving and smiling at the camera. 
Like her Arlington community, Simone wanted to help search for Amber but didn't know what to look for, even though someone had witnessed the abduction. Frustrated, the self-described "ordinary woman and mother" called a Dallas-Fort Worth radio station with an idea: We have weather and civil defense alerts – why not alerts for abducted children?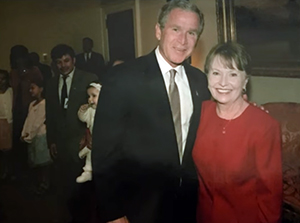 Diane Simone at White House with President Bush in 2003 for signing of the PROTECT Act. Diane's idea launched AMBER Alerts.
Simone's idea eventually took off and became what is known today as the AMBER (America's Missing: Broadcast Emergency Response) Alert System, which is administered by the Justice Department and was designed to quickly galvanize a community to help search for an abducted child. Last year, AMBER reached a milestone with its 1,000th success story, the recovery of four children in imminent danger in Wyoming. https://www.missingkids.org/content/ncmec/en/blog/2020/1000-success-stories.
At the direction of law enforcement, the alerts are first sent to radio and television stations, the lottery, the Department of Transportation and to us here at the National Center for Missing & Exploited Children (NCMEC), then we send it to a much wider audience.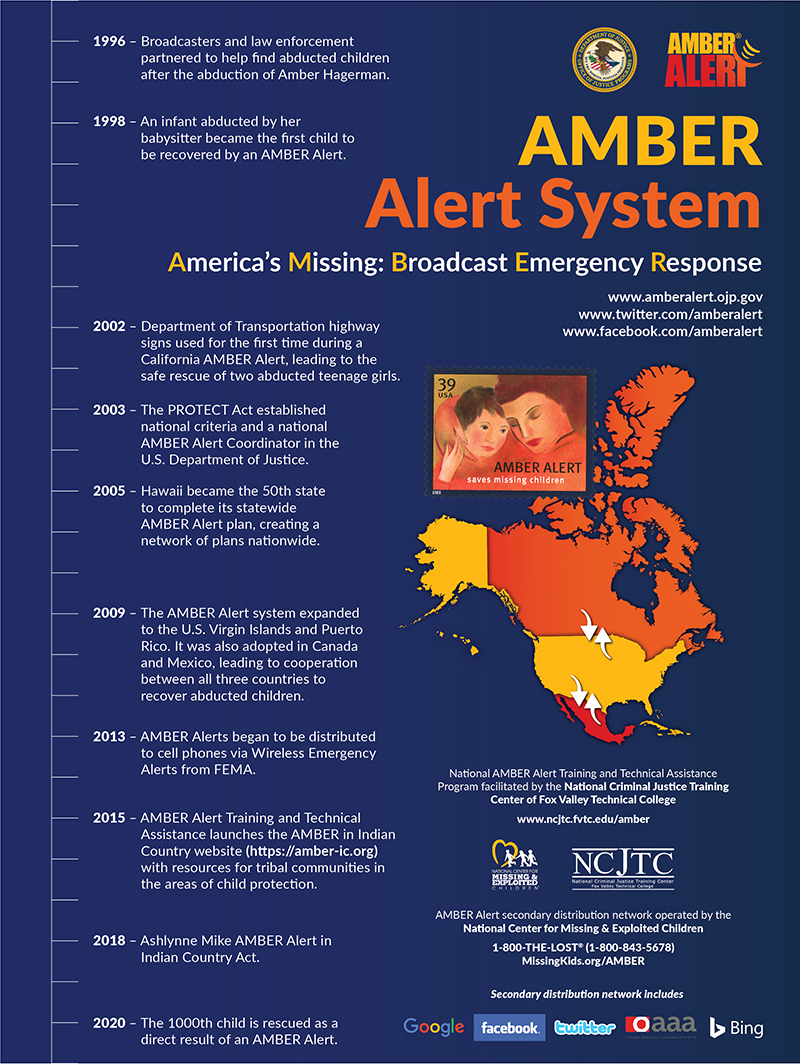 Carly Tapp, who oversees the program for us at NCMEC, says there are likely many more than 1,029 successful recoveries resulting from AMBER alerts. Most children in which an AMBER Alert has been issued are safely recovered, but it's not always possible to determine if it was because of the alert, she said.
Before her daughter was abducted, Williams, a single mother working toward her GED, was featured along with Amber and Ricky in a special about welfare reform that aired on WFAA-TV in Dallas. After spending weeks with the family, they were allowed after Amber's shocking abduction to film the family's devastating journey  – Williams receiving the news that Amber's body had been found – Williams' emotional visit to Amber's elementary school – Williams standing in for her daughter at a special ceremony for new Junior Girl Scouts.
They documented the short life of a happy little girl with a scrapbook full of awards for good grades and attendance, a child who loved creative writing, Barbies and riding her pink bike. 
At the Girl Scout ceremony, the children sang Amber's favorite song, "America the Beautiful." Her favorite line? 
"For amber waves of grain."
#
(If anyone has any information, please call Arlington, Texas police at 817-575-8823. For those who wish to remain anonymous, call Crime Stoppers of Tarrant County at 817-469-TIPS (8477).