Protecting Our Nation's Children since 1984
The holiday season is here, and that means that nonprofits all over America will start sending out holiday and end-of-year donation requests. 
 
However, before the flurry of emails, postcards, and letters begins, we want to thank you for supporting the National Center for Missing & Exploited Children (NCMEC) and explain how we spend resources to fulfill our mission to help keep kids safe. 
 
Thank you for trusting us with your gifts, and please know that we are fully committed to accountability and transparency. We are proud to say that in 2019, NCMEC received Charity Navigator's coveted 4-Star Rating, was accredited by the Better Business Bureau's Wise Giving Alliance, and earned an America's Best Charities seal.
We have received this recognition because of our commitment to ensuring that nothing comes before our mission to help protect kids. As a testament to this commitment, in 2019, 90.26% of every dollar spent by NCMEC went towards our programs—which places us among the highest-rated nonprofits—with only 2.29% going towards management and administrative costs and 7.45% towards fundraising.  
 
NCMEC's three-part mission to help find missing children, help reduce child exploitation, and help prevent victimization is reflected in our program spending.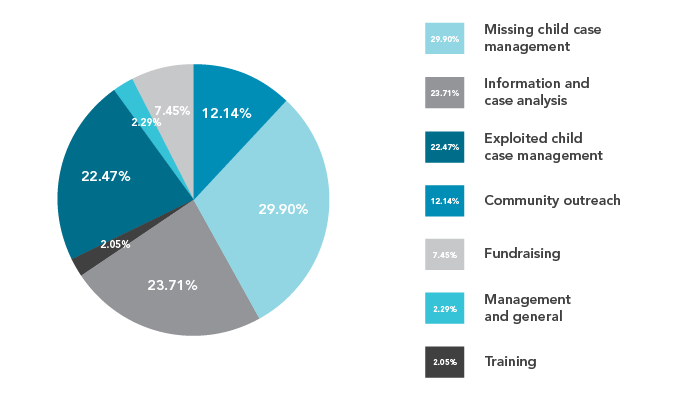 Missing Child Case Management (29.90%):
This makes up the largest part of our spending and includes all aspects of our missing child case management process—from the intake via our 1-800-THE-LOST ® 24-hr hotline to our case managers, media outreach, missing child poster circulation, age-progressions, and reunification counseling. 
 
Our missing child case management team has been around since the founding of NCMEC in 1984 and, as of 2019, the 24-hr hotline has received over 5 million calls, circulated billions of missing child posters, and assisted in the recovery of more than 334,000 missing children. 
 
In 2019 alone, NCMEC assisted law enforcement with more than 29,000 cases of missing children. Of those cases, 26,300 were endangered runaways, and of that number, 1-in-6 were likely victims of child sex trafficking.
Information and Case Analysis (23.71%): 
NCMEC provides analytical support to help law enforcement in their efforts to locate and recover missing and abducted children, track attempted abductions, address child sex trafficking cases, and locate noncompliant fugitive sex offenders.
In 2019, NCMEC Analysts reviewed 11,798 child sex trafficking reports and worked with law enforcement to confirm 1,336 attempted child abductions. As of 2019, they have assisted in 173,000 requests related to helping locate noncompliant sex offenders.
Exploited Child Case Management (22.47%):
NCMEC operates the CyberTipline, a national mechanism for the public and electronic service providers to report instances of suspected child sexual exploitation. In 2019, the CyberTipline received more than 16.9 million reports, most of which related to apparent child sexual abuse material, online enticement, including "sextortion," child sex trafficking, and child sexual molestation.
In 2019, reports to the CyberTipline included 69.1 million files with 27,788,328 images, 41,280,816 videos, and 89,053 other files.
Community Outreach (12.14%):
NCMEC develops and disseminates prevention materials to communities across America through programs and partnerships focused on providing resources and education to help prevent crimes from being committed against children. 
As of 2019, over 42,000 educators have used our NetSmartz online safety educational materials. Over 2 million kids have watched Into the Cloud internet safety videos in every state across America.
Fundraising (7.45%):
NCMEC's fundraising efforts are highly efficient. In fact, in 2019 NCMEC spent just .06₵ on fundraising for every dollar raised. Our efforts are effective because donors recognize how critical our mission is—and we are thankful to every single supporter who has trusted us with the important task of keeping America's children safe. If you haven't made a donation yet this year, please consider making a contribution to our life-saving-mission today.
Management and General (2.29%): 
These are NCMEC's administrative expenses—expenses for our overall operations and management—for example, costs of board of directors' meetings, general legal services, accounting, insurance, office management, auditing, human resources, and other centralized services. While important to keeping our office up and running—we work hard to make sure that these expenses are kept low.
Training (2.05%):  
 
Since 1997, NCMEC staff have provided public safety and child-serving professionals within the U.S. with trainings, resources and best practices related to missing and exploited children. NCMEC offers in-person classroom training sessions and virtual courses. 
By the end of 2019, 313 member agencies of our Missing Kids Readiness Program with more than 10,700 professionals were trained in best practice response to these cases. 
In that same time frame, there were 365,620 instances of law enforcement, public safety, and child serving professionals reached through online and face-to -face trainings since program inception.
To read more about NCMEC's mission to help find missing children, reduce online child exploitation, and to help prevent child victimization—check out the 2019 Annual Report here.