Missing Brothers: What do they look like now?
New NCMEC images show what missing brothers could look like today, 10 years after they vanished.
This past September, an important letter arrived on the doorstep of Tanya Zuvers' home in Morenci, Michigan.
"Pursuant to your request under the Crime Victim Rights Act, this letter is to notify you that the Michigan Parole Board has made a decision in this case," the letter read. "The Parole Board has considered and denied parole for this prisoner."
It was a huge sigh of relief for Tanya and the rest of her family. Because the prisoner in question was John Skelton, Tanya's ex-husband and father of her three boys: Alexander, Andrew, and Tanner Skelton. The sentence John will continue to serve out is 10-15 years for unlawful imprisonment in relation to the boys' disappearance on Nov. 26, 2010.
10 years later, the Skelton brothers are still missing. With John being eligible for parole again in 2022 and showing no signs of telling police what might've happened to his sons, Tanya hopes that sharing their story will help bring in the answers the family --and  investigators-- so desperately need. 

On the morning of Friday, Nov. 26, 2010, Tayna Zuvers was waiting to pick up her three sons, Andrew, Alexander, and Tanner Skelton from their father, John Skelton. It was the day after Thanksgiving and Tanya had let her ex-husband have the kids for the holiday as they worked out custody arrangements in the midst of their recently filed divorce.
Tanya knew that her sons were excited to go shopping to grab fan gear for a local highschool football game her whole family was in town to attend. So when she stopped hearing from John about pickup details that afternoon, she drove to his house. Knocking on John's door would begin a nightmare that has yet to end for Tanya and her family.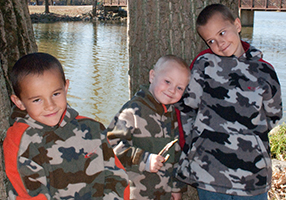 John wasn't home, in fact, he was in the emergency room. He was being treated for a broken ankle, telling hospital staff he sustained it after attempting suicide by hanging, falling from a rope around the second-floor banniester at his home earlier that day. And worst of all, no one had seen Andrew, Alexander, or Tanner since the day before.
Shortly after, police were able to gain entry into John's house and the scene inside was disastrous.
"He completely destroyed the inside of his house," said Tanya. "If it could be broken, it was broken. If it could be cut, it'd been cut."
To Tanya, her family, and police, it became clear that something awful had transpired while under John's care, they needed to find the boys fast. Soon, there was an AMBER Alert out for the brothers while police worked to track down John's phone records for any evidence as to where the boys might be.
All the while, in the hospital under a psych hold, John Skelton was changing his story. At first, he told investigators that the boys were simply with friends and would be back soon. Then, it was that he had given them to a mystery woman, then, he said he'd  really handed the children off to an underground organization for safe keeping. Police couldn't substantiate any of his claims. But what they could investigate were his phone records.
"Around 4:30 a.m. [the morning of Nov.26] the phone started tracking from Morenci, going southwest into Ohio," explained Detective Lieutenant Jeremy Brewer with the Michigan State Police. "Around 5:01 to 5:04 a.m. was the last time it pinged before being turned off, around 20 miles away from Morenci in Holiday City, Ohio. It turned back on at 6:45 am back at his house in Morenci."
"You can get on and off the Ohio turnpike from there," said Tanya. "It's lots of wooded area. That became an area of interest."
The search was on for the Skelton brothers, and the entire community was galvanized.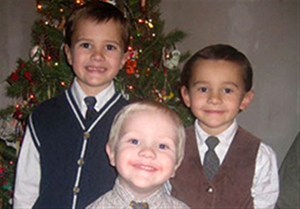 "I've lived in [Morenci] my whole life and the boys were well-known," said Tanya. "The schools offered up some buses, loaded them up with volunteers, and took them out to the search sites."
"The days ran together after that," says Tennille McCain, the boys' aunt and Tanya's sister. "It was a lot of craziness, a lot of wondering what the next step was. How do you prepare for something like that?"
Day after day of searching went by, and the more time that passed, the more police began to suspect foul play on John's part and a negative outcome for the Skelton brothers. While still receiving treatment in the hospital, John Skelton was arrested and charged with 3 counts unlawful imprisonment of his sons. This didn't stop the search for the boys but it started the legal proceedings that would end up handing down a 10-15 year prison sentence for John Skelton.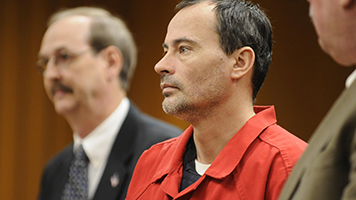 Taken into consideration during John's sentencing was the fact that it wasn't the first time he had tried to take the boys from their mother. Two months before Andrew, Alexander and Tanner vanished, while Tanya and John were still married and living together, Tanya got an exasperated call from the boys' elementary school saying that John had just taken them out of school for a trip to Florida, telling them he didn't know when they'd be back. Confused and worried, Tanya immediately called police, who were able to contact him and convince him to bring the boys back before leaving the state. After this ordeal, Tanya filed for divorce and was granted full custody of their sons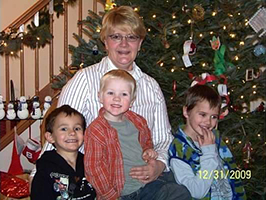 Today, Tanya's family, the Michigan State Police, the FBI, and the public are still seeking answers as to what happened to Andrew, Alexander, and Tanner all those years ago.
"Every so often we'll get a tip that makes a lot of sense to us," said Det. Brewer. "We'll throw everything at it, all our resources, but obviously nothing has panned out. If anyone recalls anything from 10 years ago, maybe about a blue Dodge Caravan over in that area, that would be helpful. We rely on the public quite a bit to be our eyes and ears on the ground."
These brand new age progression images show what Andrew, Alexander, and Tanner Skelton would look like today at 19, 17, and 15 years old, respectively.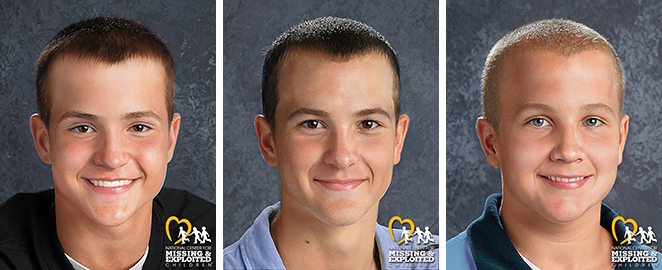 From left to right: Andrew, Alexander, and Tanner Skelton.
"The age progressions are always the hardest for me," said Tennille. "In my mind I still see them as 5, 7, and 9. Their faces are etched in my mind. I just wish answers could be given. Anyone who potentially knows anything -- and I believe more than one person knows something, I believe that it's not just John who has the answers-- could find it in themselves to come forward."
"I will never quit looking," said Tanya. "I will continue to fight on their behalf for justice. I hope that at the 20-year mark I'm not having to give interviews to mark that date, that we'll have answers before then. I could not fathom sitting here, 10 years ago, still asking for answers." 
If you have any information about the disappearance or whereabouts of Andrew, Alexander, and Tanner Skelton, you are urged to contact the Michigan State Police at 1-517-636-0689, or the National Center for Missing & Exploited Children at 1-800-THE-LOST, that's 1-800-843-5678.