This is William: Cold Case Solved After 23 Years
UPDATE 7-13-22
Today, the Dekalb County District Attorney's Office announced the identification of William DaShawn Hamilton, a 6-year-old child found deceased in 1999, who spent the last two decades without a name. 
The unknown child found in Decatur, Georgia has been ID'd as 6-year-old William DaShawn Hamilton.
His mother, 45-year-old Teresa Ann Bailey Black, has been charged with two counts of Felony Murder, two counts of Cruelty to Children, Aggravated Assault and Concealing the Death of Another.
The break in the case came when a tip was called into the National Center for Missing & Exploited Children from a someone who knew Teresa and William back in 1998 and had been searching for William ever since.
Ava, who preferred to keep her last name private, says she was very close with Teresa and William when they lived in Charlotte, North Carolina. She often took care of William and described him as a fun, witty, adventurous and intelligent little boy who loved to dance.
"He liked to crack jokes," said Ava. "He did like to draw a lot, color, mainly read books. He didn't want you to read to him…he wanted to read to you!"
To hear more from Ava, check out this NCMEC video.
According to investigators, Teresa left Charlotte, North Carolina with William. But she returned without him. And investigators say she had different stories about where William was.
After 23 years, Ava's tip called into NCMEC gave new direction to the investigation. Our team followed up, researching, analyzing and trying to connect the pieces to help investigators track down William's family. With DNA work provided by our partner, Bode Technology, William's identity was officially confirmed. 
"This case is a perfect example of why we never give up hope," said Angeline Hartmann, Director of Communications at the National Center for Missing & Exploited Children. "For more than two decades, a woman in Charlotte followed her gut feeling that something wasn't right. She made phone calls, scoured the internet and talked to anybody who would listen. We're grateful she never stopped until she found that rendering of William online and gave investigators the missing piece to help solve this 23-year-old mystery. A huge thank you to the Dekalb County District Attorney's Office, the Dekalb County Medical Examiner's Office and Dekalb County Police for their hard work that brought us here today."
According to the Dekalb County DA's Office, Teresa was taken into custody near her home in Phoenix, Arizona and is currently awaiting extradition to Georgia.
Now, the Dekalb County DA's Office is seeking information from anyone who knew Teresa Ann Bailey Black or her son, William DaShawn Hamilton, between 1998-1999 in the metro Atlanta area. If you have any information, please all their cold case tip line at: 404-371-2444.
02-26-2019
For two decades, investigators in DeKalb County, Georgia, have tried to identify a young child who was found deceased in the woods on Feb. 26, 1999. Using technology that wasn't around 20 years ago, a forensic artist here at the National Center for Missing & Exploited Children created this new facial reconstruction.  It's the most life-like image of the boy to date.
Investigators determined that the little boy was African American, between the ages of 4-8 years old and likely died about 3-6 months before his remains were found. He was between 3 feet 10 inches and 4 feet 2 inches tall and weighed approximately 45-60 pounds. He was found wearing a blue plaid and navy hooded sweatshirt, size XL, red denim jeans, size three, and size 11 Timberland boots. The results of advanced forensic analysis of his bones and teeth suggest that he was likely born and raised in the southeast U.S., most likely Georgia or Florida. 
Investigators and the National Center hope the new image will finally bring answers in the case. For Angeline Hartmann, NCMEC's media director, this case has become very personal. She's been connected to the mystery since day one. 
"I was a reporter in Atlanta and I remember getting a call that homicide investigators were going out to a scene at a small neighborhood cemetery in DeKalb County, Georgia," recalls Hartmann.
At the crime scene, Hartmann learned that police were dealing with the remains of a small child.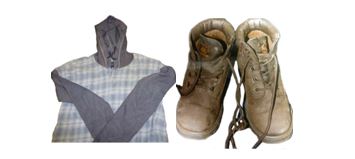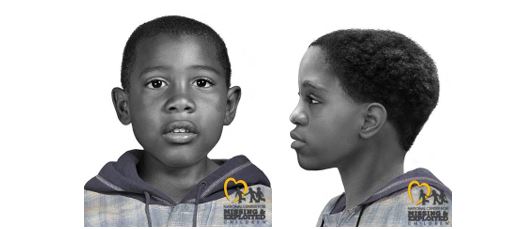 "It was sad to think about this young child just out in the open like that and it was an unusual location. In the south, small cemeteries can be found in some obscure places," explains Hartmann. "This cemetery was just a little triangle, in the middle of a neighborhood. You really wouldn't know it was there unless you were familiar with the area."
She couldn't have guessed that day was the start of something that Hartmann would be involved in for years to come. As a crime reporter, Hartmann already had strong ties with the DeKalb County Police Department and the Medical Examiner's Office and she kept in touch with them about the case on a regular basis. She says she felt a personal duty to keep up with the story.
"I wanted to make sure people knew that this child didn't have a name yet. I kept searching for new details that could help get his story out there again."
Hartmann's dedication to this case did not go unnoticed, especially by those she worked so closely with at the DeKalb Medical Examiner's Office.
"When I left Atlanta in 2005, I was deeply touched when they surprised me with a special plaque to say thank you for all of my stories over the years on this case. It was such an honor," says Hartmann. 
Hartmann carried the case with her to her next job at America's Most Wanted where she covered it on the national level. Then when she later joined the National Center for Missing & Exploited Children, generating awareness for cases continued to be part of her job as media director.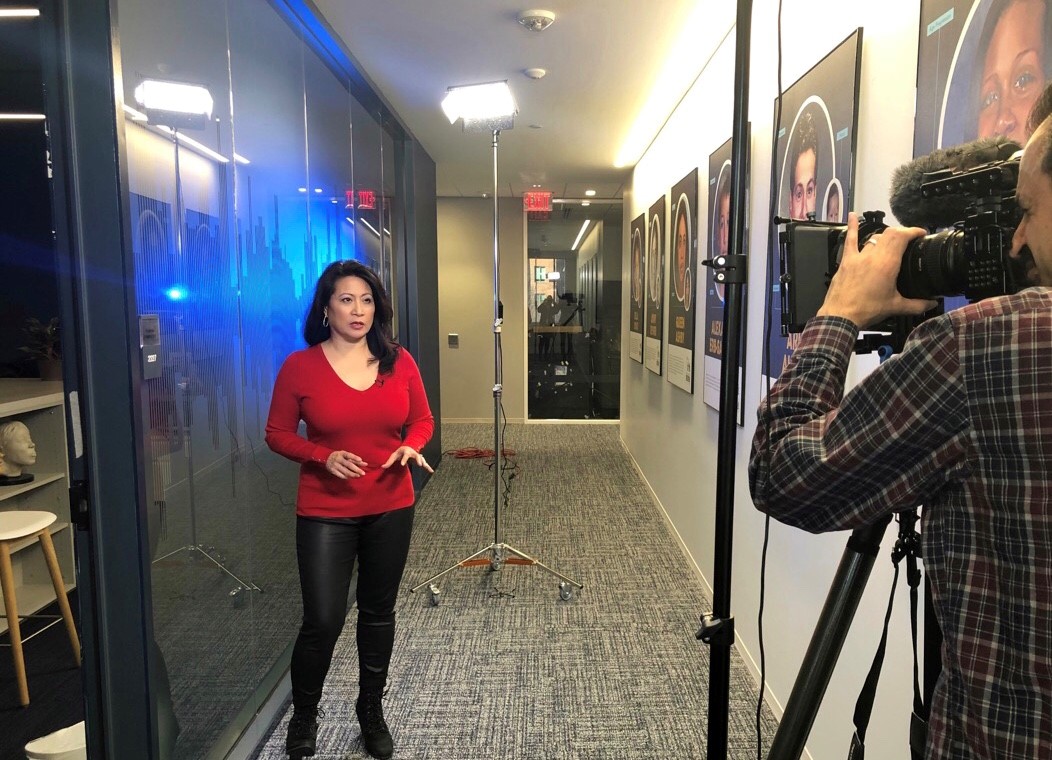 Angeline Hartmann filming at NCMEC.
"Each time I covered this case over the years, I kept thinking maybe this time someone would come forward and there would be a break in the case," says Hartmann. "I still have that same hope today. My colleagues and I couldn't let the 20-year mark pass, without once again asking the public to help."
As NCMEC worked to create the new reconstruction image, Hartmann also geared up to feature the child's story on her popular podcast, "Inside Crime with Angeline Hartmann." To coincide with the release of this new image, the multi-episode podcast featuring this case will be available on Feb. 26, 2019.
"With this new reconstruction you can really connect with him by looking at his face," explains Hartmann. We are talking about a little boy who deserves to be given his name back. I just don't accept that we can't find the answers. Someone knows who this child is and I truly believe we will find the answers as long as we keep looking for them."
If you have any information, please call 1-800-THE-LOST (1-800-543-5678) or the DeKalb Medical Examiner at 1-404-508-3500.
To hear more about this child's case tune into the "Inside Crime with Angeline Hartmann" podcast at www.insidecrime.com.         
NCMEC Poster: https://www.missingkids.org/poster/NCMU/1105216/1/screen