The Race To Rescue Child Victims Online
Lauren took one look at the little girl on her computer screen and knew she had to help law enforcement find her right away – whatever state, or even country, she may be in.
The child in the image appeared to be sleeping peacefully on cartoon sheets with her two stuffed animals, a teddy bear and a shark, but the photo had been shot from an odd angle. She was naked from the waist down, exposing her genitalia.
The image was contained in a report sent to our CyberTipline here at the National Center for Missing & Exploited Children. Our CyberTipline recently reached a staggering new milestone, surpassing more than 100 million reports of suspected online child sexual exploitation.
The report was just one of the reports Lauren, a senior analyst, and her teammates would review on this day, Oct. 19, 2021. As part of our Child Victim Identification Program (CVIP), it's their job to develop information to help law enforcement find and rescue victims in child sexual abuse material (CSAM) circulating on the internet. These children could, literally, be anywhere in the world.
So far, CVIP is aware of law enforcement rescuing more than 21,413 children from sexually abusive situations. However, many photos and videos of their abuse are still being shared online. When reviewing files reported to the CyberTipline, the CVIP team must first determine if any of those files are images or videos of children they've never seen before in newly created content, indicating a child may still be at risk.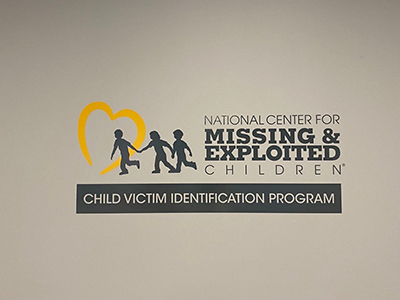 Lauren had never seen the little girl on her screen in her more than five years on the job, nor had anyone on her team. The image of an unclothed child may not fit the federal definition of CSAM, but the way the photo was shot, the angle, was cause for concern. Lauren escalated the case and quickly began trying to find the child.
"It looked like something was wrong, just the angle in which it was shot," said Lauren, whose last name is being withheld because of the nature of her job. "We often see photos of unclothed children. This one kind of struck me in the stomach. You learn to trust your gut if something looks wrong in an image."
The report sent to the CyberTipline by Kik, a social media platform, contained an email address and IP address that resolved to New York, a potential location. Lauren ran an open-source search of the email address which gave her a possible name. A public records search revealed the same man's name and a residential address in Guiderland Center, New York.
Using this name, Lauren found a possible social media profile. Something quickly caught her eye: There were numerous memes and references to a particular make and model of car, which was consistent with information originally reported to the CyberTipline. The social media page also showed the man clearly had access to children, but the little girl in the report was not among the photos.
Nevertheless, Lauren remained concerned the child may be at risk. She compiled the information she had gathered and sent it on a secure network that same day to the New York State Police Internet Crimes Against Children (ICAC). There are 61 ICACs around the country, with every state having at least one to investigate child sexual exploitation.
"The goal is always to provide law enforcement with as much information as we can that could lead to the rescue of child victims," said Shelley Allwang, a director of our Exploited Children Division (ECD) "Our team sees graphic imagery every day, and they are always looking out for files that appear new and indicate a child may be at risk for further abuse.  Lauren's experience told her that this may be one of those cases, and she acted quickly to provide that information to the ICAC."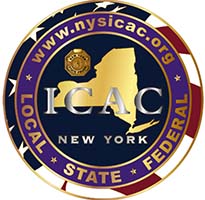 The ICAC immediately began investigating the report Lauren had escalated for their review. After obtaining information about his cellphone and his car, an investigator on the task force with Homeland Security Investigations put the suspect under surveillance as he drove from his workplace to his home, where he was met by several New York State Police investigators

After being read his Miranda rights, the suspect, John H. Ruthosky Jr., 36, told investigators he had sexually exploited a 7-year-old boy and a 5-year-old girl and shared on the internet some of the explicit images and videos he had taken on his cellphone, according to papers filed in U.S. District Court for the Northern District Court of New York. During a search of his home, investigators seized sheets, two stuffed animals and a girl's gold long-sleeved top like the ones Lauren had seen in the exploitative image.

On Oct. 20, Ruthosky was charged with several federal felonies, including predatory sexual assault against a child and use of a child in a sexual performance. He was also charged with sexual conduct of a person having sex with a dog, a misdemeanor. The two children were taken into protective custody

Allwang praised the quick response by law enforcement and Lauren for trusting her instincts. "Thanks to the collaboration between the reporting company, NCMEC and law enforcement, those children are no longer at risk," she said.
"We were grateful to receive the CyberTip from NCMEC which we jumped on right away," said Senior Investigator Justin Stevens, the ICAC commander. "By Ruthosky's own admission, he disclosed that he had planned to sexually abuse those kids that night. We're relieved we were able to get there in the nick of time."
State Police are investigating the possibility of additional victims. If you have any information, please contact the New York State Police at 518-477-9333. If you want to make a report about suspected child sexual exploitation to the CyberTipline, go to www.cybertipline.org or call 1-800-THE-LOST (1-800-843-5678).