NCMEC Celebrates Everyday Heroes
Every year, the National Center for Missing & Exploited Children (NCMEC) honors people who go above and beyond to help protect our nation's most valuable resource—our children. 
After two years of virtual celebrations because of the COVID-19 pandemic, NCMEC was excited to welcome back an in-person Heroes' Awards event at Lockheed Martin in Crystal City. For 2022, NCMEC honored the legacy of many of the federal liaisons who work hand in hand with NCMEC to help us find missing children, stop child sexual exploitation and prevent crimes against children from happening.  
"One of the many things that makes NCMEC unique is our strong partnership with federal agencies," newly appointed NCMEC CEO Michelle DeLaune said.  "These partnerships make us totally unique and give us an unparalleled ability to help kids." 
For 2022, NCMEC honored all eight of our federal partners, including: 
The U.S. Secret Service (USSS)

The U.S. Postal Inspection Service (USPIS)

Homeland Security Investigations (HSI)

The U.S. Marshals Service (USMS)

The Federal Bureau of Investigation (FBI)

The Naval Criminal Investigative Service (NCIS)

The Army Criminal Investigation Division (Army CID)

The UK's National Crime Agency (NCA)
In addition to NCMEC's federal liaisons, the final two awards of the night were given to real-life examples of cops who had the tenacity to push through challenges and pursue leads to rescue a child from harm.
The first group of honorees was made up of members from the New York State Police Internet Crimes Against Children Task Force (ICAC) and Homeland Security Investigations (HSI). After receiving a tip from NCMEC about possible child sexual abuse in their jurisdiction, this team quickly developed information and within hours, they'd located and arrested a suspect, who they would later find out had planned on abusing multiple children that same night. 
Thanks to the work of ICAC members; Senior Investigator William Martin, Investigator John Montesano Jr., Lieutenant Darryl Bazan and HSI Special Agents, Jay Hamilton and Sean Thalheimer, those children are now safe.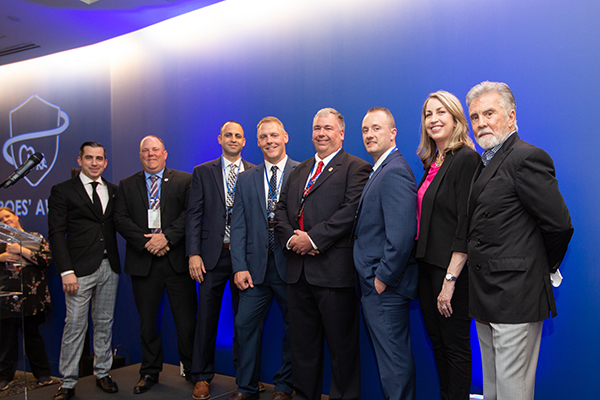 The second group of honorees and final award of the night were a shining example of what can be achieved when we work together. When a 14-year-old girl was abducted by someone she met online and taken more than 700 miles from her home, six agencies across states came together to make sure that girl made it back to her family safely. 
During her rescue, one officer, Detective Cody Carpenter, from the Lonoke Police Department was shot multiple times. Thankfully, Detective Carpenter has recovered and was present to accept his award Wednesday night. 
He was joined by fellow Lonoke Officer, Brandon Ray and the following officers who each played critical roles in bringing the 14-year-old girl home: Lieutenant Jonathan Todd and Sergeant David Blake from the Davidson County Sheriff's Office; Assistant Special Agent in Charge Justin Heinrich from the NCSBI; FBI Special Agent Emily Keller; Lieutenants Jaleesa Alston and Zachary Ray from the Alamance County Sheriff's Office; and Corporal Mark Blackerby from the Arkansas State Police.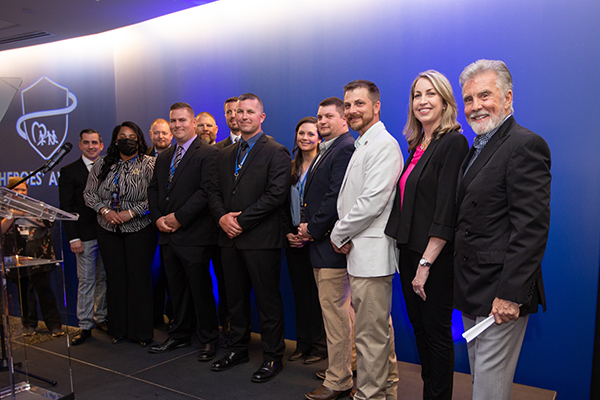 Here at NCMEC we know that everyday heroes exist all around us. They are the private citizens that help intervene in abductions; they are law enforcement officers who go above and beyond to keep kids safe; they are survivors who tell their stories, kids who rescue themselves, and adults who are actively teaching safety across the country. The list goes on and on. 
For more information on how you can join NCMEC's mission and educate yourself on abductions and child sexual exploitation, visit our website here: https://www.missingkids.org/.