Mother of All Father's Days! Court orders 7-year-old returned to dad in U.S.
"Sugar Mamma is home!"
Taeus Amey could not contain his excitement and gratitude as he recently shared the news on his Facebook page: After a two-year legal fight, his 5-year-old daughter April – now 7 and nicknamed "Sugar Mamma" as a baby – was finally allowed to leave South Africa and return to the United States.
Amey, a concierge in New York City, reached out to the National Center for Missing & Exploited Children for help after April's mother took their daughter to South Africa on Aug. 14, 2020. Her departure touched off a two-year odyssey in the courts, first in New York, then in Johannesburg. 
Amey and April's mother never married, but Amey established his legal rights and had court-ordered visitations, his last three-week visit during his daughter's summer vacation in 2020. After that visitation, April's mother fled with their daughter to South Africa and would not bring her back. 
Amey went to court in New York and, four months later, was granted full custody of his daughter after the judge ruled he could financially support her and has support from his family. The judge admonished the mother, who did not show up at the hearing, for "complete disregard for the orders of this court" requiring the return of April to New York State, stating the mother had "willfully violated the court orders and has interfered with Mr. Amey's parental access order."
But it would take Amey 20 more months, "a very dark time," to finally get his daughter returned to the United States. During that time, Amey and his daughter would communicate by Roblox, an online game platform – until her mother put a stop to that. Amey assured April that he was going to bring her home, but as time went by, he could tell she was losing hope. Finally, on May 24, the South African court ordered that April could fly back to the United States with her dad. 
"It was kind of awkward at first," said Amey, who had enjoyed a close relationship with his only child. "I was head over heels to see her, but she didn't know how to react." At first, he said, she would just give him short responses to his questions: Fine. Yes. I'm okay. But after lunch together that first day, she wrapped him in a warm hug.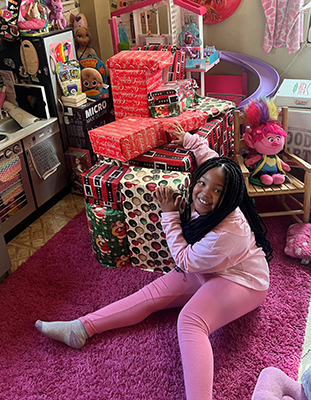 April's bedroom at their home in Harlem was just like she'd left it, with the cheery bright pink shag rug, play kitchen, collection of unicorns and her proud artwork on the walls. When she walked in, however, there was a surprise waiting for her: a big pile of unopened Christmas and birthday presents from the past two years. Missed celebrations all wrapped up into one. 
The first thing her dad did was take her shopping to replace the clothes and shoes that she had completely outgrown. They visited grandma's in Connecticut, other relatives eager to see her and the friends she had stayed in touch with on the internet.
"Eventually, we got back the life we had before," Amey said. "Now it's like she never left. She's herself. She's amazing. It's kind of cool seeing her vocabulary has gotten bigger."
April's mother did not enroll her in school during the last two years, however, so her dad quickly got her registered for the fall. She'll have to take a placement test to see what grade she'll be in. She would be going into third grade with her friends.
Amey said his NCMEC case manager, Caterine Arevalo, helped him navigate what evolved into an international  parental abduction. Initially, all he could fight for was access to his daughter, but that changed when he was granted full custody, and he hired a private attorney in South Africa to help him make his case in the court system there. 
"NCMEC gave me the enthusiasm to keep going," said Amey, who vowed he was not going to end up in the column of statistics of parents who can't get their children back from other countries. "I didn't want to be one of those numbers."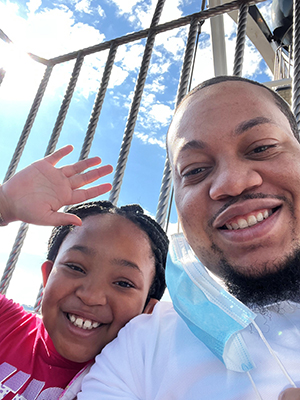 Amey says this will be his first real and best Father's Day – the mother of them all – and he's going to spend the day with his daughter at an amusement park in New York, one of their favorite pastimes. He says he feels like he's been in court throughout much of his daughter's life, preventing April's mother from putting her up for adoption and proving claims made by the mother that he had abused April were false. 
Each time, he was able to make his case in court with help from his church and school community and those who know him best. He says he would not be with his daughter today without their help. When he announced Sugar Mamma's return on Facebook, he expressed his profound gratitude to all of those who believed in him.
"I believe in angels," Amey wrote. "Not those with wings and majestic halos. But the ones that don't look like them. I know this because I have been given so many."