Missing Children & Autism: Every Minute Matters
The National Center for Missing & Exploited Children is honoring National Autism Awareness Month throughout the month of April by sharing simple steps that can save the lives of children on the autism spectrum. Children with autism spectrum disorder (ASD)  may wander or go missing at a rate higher than other children. They may be trying to escape overwhelming stimuli like bright lights or loud sounds, or simply seeking out places of special interest to them that may calm their anxiety.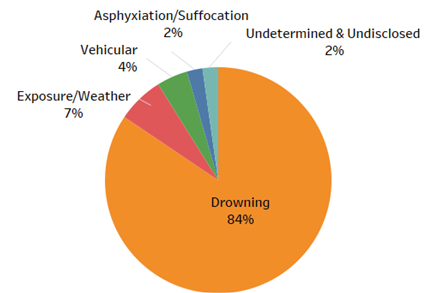 NCMEC's 10-year analysis, from 2011 to 2020, shows causes of accidental deaths after children wander from safe environments.
Too often these missing incidents turn deadly. Children with ASD may be drawn to dangerous environments like bodies of water, construction sites, highways, or train tracks. Over a ten-year period, 1,516 children with autism were reported missing to NCMEC. Of those children reported missing, 64 were recovered deceased, with drowning being the leading cause of death. 
But many of these deaths are preventable. "There are simple measures that local law enforcement can take to help improve outcomes for recovery of these kids," said Joy Paluska, NCMEC Program Manager. NCMEC offers free trainings for law enforcement and first responders that teach basic protocols for searching for and safely recovering missing children on the autism spectrum. 
On April 17, 2022, NCMEC will host a free webinar for law enforcement and first responders in conjunction with the Association of Public Safety Communications Officials (APCO) entitled, "Resources & Recommendations for Calls Involving Missing Children on the Autism Spectrum." NCMEC will be presenting alongside Inspector Chad Hoffman with the Florida Department of Law Enforcement.
In 2021, 286 children on the autism spectrum were reported missing to NCMEC. 67% were recovered within one week.
Our latest 10-year analysis indicates a 98% recovery rate for children on the autism spectrum when NCMEC is engaged.

Drowning deaths are a major concern for children on the autism spectrum. Our 10-year analysis showed that of accidental deaths, 84% were drownings.
"We are talking about simple procedural changes that cost nothing and save lives," said Inspector Hoffman, who helped his agency start a pilot program aimed at improving responses to reports of missing children with autism. Among the most impactful changes his agency has made, he says, is simply asking if a child is on the autism spectrum when a parent calls to report them missing. "It seems so obvious, but no one was doing this before," said Hoffman. 

The quicker law enforcement knows that a missing child is on the autism spectrum, the faster they can start searching for nearby bodies of water and alert the surrounding community. "Every minute truly matters when it comes to searching for a missing child on the autism spectrum," said Inspector Hoffman. "I've seen cases where a child with autism drowns in less than 15 minutes after wandering off."
NCMEC also has a wide range of free resources for parents and caregivers of children on the autism spectrum, including a model script for effectively communicating with emergency operators in the event of a missing incident. As part of Autism Awareness Month, we also have free webinars for parents and caregivers and a list of recommended search protocols for law enforcement. 
To request training on this issue for your community or law enforcement organization, click here.