"Little Miss Nobody" No More
The funeral service was held on Aug. 10, 1960 at the Congregational Church in Prescott, Arizona, and the place was packed. Yet, not a single person in the congregation that day had ever met the little girl they came to mourn – or even knew her name. 
Ten days earlier on July 31, a Las Vegas schoolteacher, searching for decorative rocks for his garden in the desert area of Yavapai County, discovered the child's partially buried and decomposed body. Her cause of death, which was ruled a homicide, could not be determined, nor could her identity. She had likely been killed within two weeks of finding her body.
Shaken by the discovery, and fearing she'd be buried in a pauper's grave, the Yavapai community quickly came together and raised enough money to buy a pale blue casket and give her a proper burial. "Little Miss Nobody," as she was called, was chiseled on her headstone along with the words, "Blessed are the pure in heart."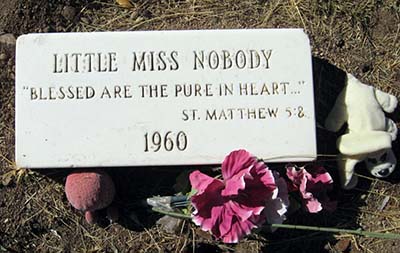 Now, an astonishing 62 years later, and with help from the National Center for Missing & Exploited Children (NCMEC), Othram Labs and many other partners, the little girl who touched the Yavapai community deeply has finally gotten her name back: Sharon Lee Gallegos.
"The unidentified little girl who won the hearts of Yavapai County in 1960 and who occupied the minds and time of our sheriff's office and partners for 62 years, will now rightfully be given her name back," said Yavapai Sheriff David Rhodes. "She will no longer need to be referred to as 'Little Miss Nobody.'"
When her body was found, investigators initially thought she might be Sharon, a 4-year-old girl missing from Alamogordo, New Mexico. Sharon was abducted from an alley behind her home by a couple who had been stalking her and dragged her into a "dirty old green car" just 10 days before the murder victim was discovered in the Arizona desert. 
However, the deceased child, her nails painted red, was dressed in white shorts, a distinctive checkered blouse and a pair of men's sandals that had been cut down to her size, not what the abducted child had been wearing. Of course, her clothes could have been changed, but the murder victim seemed older than Sharon. The Yavapai County Sheriff's Office did not have the technology we have today to confirm if the victim was Sharon. They never stopped looking for answers over the next six decades.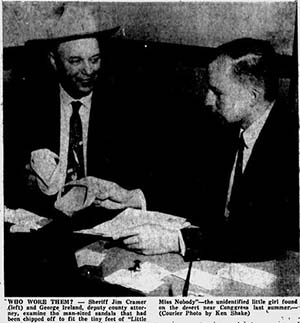 Law enforcement with the cut-down men's sandals the murder victim was wearing.
Then in 2013, the sheriff's office reached out to NCMEC for help identifying the child from our newly created Forensic Services Unit (FSU). In 2015, we deployed a consultant from Team Adam, our corps of retired law enforcement officers with experience in missing children cases, to assist with the exhumation of the victim. 
Law enforcement sent the remains to the University of North Texas for DNA analysis and an anthropological examination. The next year, in 2016, we facilitated a forensic odontology exam to examine the child's teeth and aid in a 3-D facial reconstruction which was done by one of our forensic artists.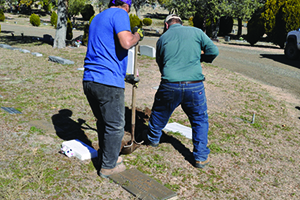 The body of the murder victim is exhumed.
That facial reconstruction was shared on our Help ID Me page on Facebook and on NamUs, the National Missing and Unidentified Persons System, a national clearinghouse and resource center for missing, unidentified and unclaimed person cases in the U.S. Later that year, we received a tip that she may, in fact, be the missing child, Sharon Gallegos. That prompted our FSU to recommend that DNA be collected from Sharon's relatives. They were uploaded to the Combined DNA Index System, known as CODIS. The DNA comparisons were inconclusive but could not exclude Sharon as the victim. 
As the years passed, there were ground-breaking advancements in DNA testing and forensic genealogy. So in 2019, NCMEC and our FBI liaison assisted in the collection of DNA from a half-brother, living in Germany, which was uploaded to Family Tree DNA. The next year, many efforts were made to obtain sufficient DNA from the bones for comparison but all attempts were unsuccessful.
"Over the years, NCMEC worked hand in hand with the Yavapai County Sheriff's Office and collaborated with a variety of labs and genealogists to identify the victim and compare her to Sharon," said Carol Schweitzer, supervisor of our FSU. "Despite many defeats, the goal to identify the victim never ceased."
The first glimmer of hope came in 2021 when the sheriff's office raised money through DNASolves to cover DNA testing through Othram Lab, which has had success with degraded samples. Last month, the company was able to develop a sufficient DNA profile for a comparison with Sharon's half brother. It was a match! 
"This is a major milestone on NCMEC's behalf, as it's the oldest identification we've had," said Ainsley Cotter, a forensic case manager who worked on the case. "Many agencies worked tirelessly to help identify this little girl despite many roadblocks. I hope this case will give optimism and faith to those who have a missing loved one."
At a press conference on Tuesday, Yavapai sheriff's investigators said they still hope to determine who abducted Sharon and have a few leads from her cousins who were outside playing with her when she was taken. 
Sharon's nephew, Rey Chavez Jr., came to the press conference to thank everyone for never forgetting about his aunt. He said he was born five years after Sharon was abducted, so he never met her, but he grew up hearing about her. Chavez said he even wrote a research paper in high school about his missing aunt.
He said his family is so grateful that the community held Sharon in its heart. The family will give her a proper headstone, with her name and birthday, Sept., 6, 1955, on it, but will decide later if she should be moved or remain with the community that took such good care of her.
Said Chavez: "Thank everyone for enabling our family to be at peace."