"Children everywhere are safer because of him"
John Clark was harvesting hay recently on his 166-acre farm in rural Virginia when he spotted a days-old fawn in the tall grass directly in his path. He hit the brakes, jumped off his tractor and did what came naturally: He reunited the missing baby with its mother.
It's what he's been doing for more than six years. As president and CEO of the National Center for Missing & Exploited Children, Clark has helped the non-profit organization find more missing children – and find them more quickly – by creating a dynamic social media presence, embracing innovative technology, geo-targeting missing children posters in real time and greatly expanding the staff. With NCMEC's help, more than 175,000 missing children have been recovered on his watch.
Now Clark, a former director of the U.S. Marshals Service, is stepping down from the helm of NCMEC and climbing onto his tractor full time. He may be retiring on April 8, but he's not about to stop helping people – or the occasional farm animal.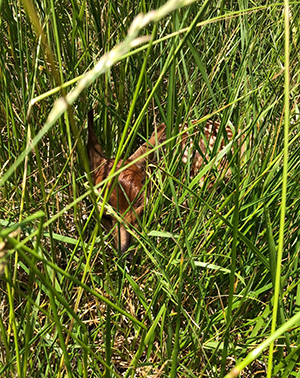 John Clark stopped his tractor when he spotted a "brown patch" in the tall grass.
He and his wife, Luci, are going to farm their land and donate everything they grow to food banks in the Northern Virginia and Piedmont areas. Their farm, "Harvest of Hope," has already yielded 10,000 pounds of produce, including potatoes, corn, tomatoes, cucumbers and squash. 

They plan to donate much more when Clark retires and can devote more time to farming.  They're selling bales of hay to horse and cattle farms and putting the proceeds back into their non-profit to help with vegetable production and land management.
Clark said deciding to retire and leave an organization he cares so deeply about was a difficult decision for him. Before he was chosen to lead the organization, he sat on its Board of Directors and was familiar with NCMEC's mission. He jumped at the chance to guide NCMEC into the future. 

"I'm probably most proud of taking NCMEC from a 'quiet little nonprofit' in Old Town Alexandria to a more nationally recognized champion for child protection that has international reach and a reputation for providing best-in-class services to those who need our help," Clark said. "Our impact now is felt around the world."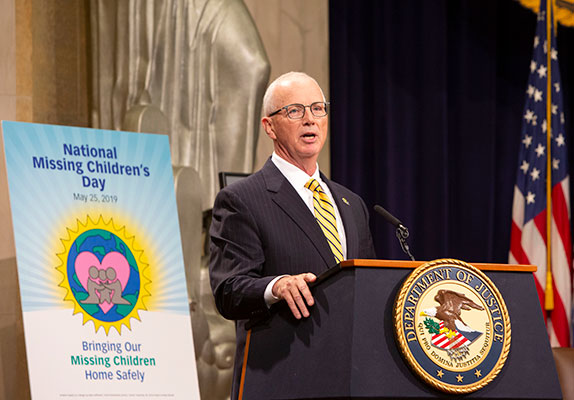 John Clark has witnessed an explosion in reports of child sexual exploitation during his six-year tenure.
But, in typical Clark fashion, he won't take credit for raising NCMEC's profile in this country and around the world. That, he said, belongs to his dedicated staff, which now numbers 412 employees, 100 more than when he started. "I was just honored to be here when these things happened," he said.
During his six-year tenure, there has literally been an explosion in reports of suspected online child sexual exploitation. In his first year, 550,000 reports were made to NCMEC's CyberTipline, the designated place where the public and internet service providers report these crimes, nearly all related to child sexual abuse images and videos. The number of reports has continued to grow exponentially and, last year, there were more than 29 million, a testament to the global nature of the problem. 
NCMEC sounded the alarm about the activation of a new European Union ePrivacy Directive that would limit tech companies' ability to detect, report and remove online child sexual abuse material (CSAM). The warning was not heeded, and NCMEC saw a 58% decrease in reports of EU-related child sexual exploitation since Dec. 21, 2020, when the new regulations went into effect. Alarmed by the decrease in reports, a temporary solution was made four months later in the EU for tech companies to continue their critical work, but the child safety debate is far from over.
"We're all about individual privacy," Clark said. "Yet tech companies have to find a way to ensure CSAM can be detected on the internet. Now is the time for anyone who cares about children to get involved and ensure the door is not shut on this hidden abuse that so many children are suffering."
Clark has worked hard to help the public understand what CSAM is – and what it's not. The legal definition, child pornography, does not come close to conveying what NCMEC analysts see every day in CyberTipline reports: the sexual abuse, even rape, of children as young as infants in images shared on the internet. Videos of this abuse have now surpassed photos, meaning the abuse can be seen and heard as it's happening.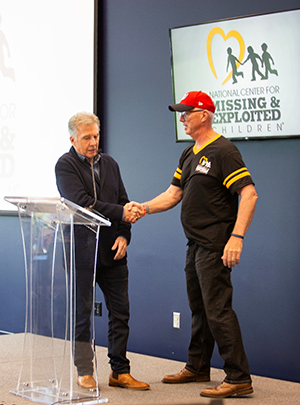 John Walsh and John Clark at NCMEC's Heroes' Awards at Nationals Park.
With NCMEC's workload ever-expanding, Clark has long felt that the non-profit organization, co-founded 37 years ago by John and Reveˊ Walsh after their 6-year-old son, Adam, was abducted and murdered, had outgrown its headquarters in the old George Mason Hotel in the heart of Old Town. Clark moved NCMEC to a more modern, technology-driven and functional building about a mile away in Alexandria, where a light in the window stays on 24/7, and will stay on, until the last missing child returns home. The organization has embraced a guiding principle: "Hope is why we're here."
Under Clark's leadership, there has been year-over-year financial growth and stability, and the social media team that Clark launched now has millions of followers around the world and has generated donations that enable NCMEC to do even more. 
"Both Reveˊand I are honored to have worked with John Clark all these years," said John Walsh. "During his tenure, he accomplished many incredible things. While John was the director of the U.S. Marshals Service he would often tell me that he hated the people who preyed on children the most. Children everywhere are safer because of him. He was a great director of the Marshals Service and he was a great CEO for NCMEC. We were lucky to have him."
The pandemic, of course, brought new challenges. With more children out of the classroom and spending more time on the internet, NCMEC saw an alarming uptick in online enticement of children. Clark moved quickly to bolster NCMEC's prevention and training programs.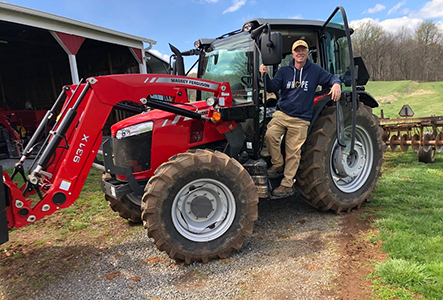 John Clark is donating all the produce he'll grow on his 166-acre farm to area food banks.
Clark grew up on a dairy farm in a tiny town in northern New York before his 28-year career began with the U.S. Marshals Service, so he's returning to a way of life he loves. As he rides off into the sunset on his tractor, Clark does not feel as though he's leaving NCMEC at all, just the job. 

 "My heartstrings pulled me in and my heartstrings are still with NCMEC," Clark said. "I'll always be a champion for the work that's being done at the center."