A New Champion for Children
While attending grad school in 1998, Michelle DeLaune was one of two NCMEC analysts reviewing reports of online child sexual exploitation trickling into the non-profit organization's newly created CyberTipline. She was haunted by the abusive images and videos she was viewing every day, seeing some of the same children over and over. She thought law enforcement was doing an excellent job arresting people sharing these horrific images, but she wondered: Who are the children? 
DeLaune was ecstatic when she heard that, for the first time, a little girl she had seen in abusive images over several years had been identified and rescued in the U.S. Then more children were found – two in the U.K., one in Germany. In a stenographer's spiral notebook, DeLaune began recording case information about identified children to help investigators prove these child victims were real, not virtual, and to prioritize children who still needed to be found. 
DeLaune's notebook became NCMEC's first database of information regarding child sexual abuse victims that had been identified by law enforcement around the globe. That evolved into the Child Victim Identification Program (CVIP), the first formalized unit of its kind in the world. From 95 children in 2002, CVIP analysts have received case information from law enforcement regarding more than 20,700 children, including infants, who were being sexually abused or exploited in images and videos, some live streamed.
"We're only able to find the kids still at risk because of the program Michelle built," said Shelley Allwang, who oversees CVIP, which now has 25 analysts. "She started all of it. A lot of children in the world are safer because of Michelle DeLaune."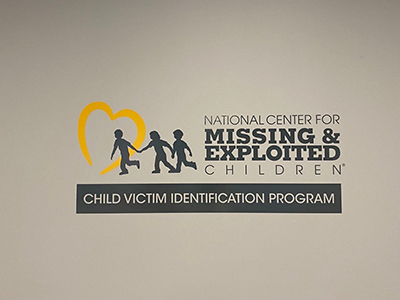 Now DeLaune, who has steadily risen through the ranks during her 24-year career at NCMEC, the last eight as Chief Operating Officer, has been appointed by its Board of Directors as the first woman to lead the non-profit organization in its 38-year history. DeLaune replaces John F. Clark, who retired April 6 after more than six years as its president and Chief Executive Officer.
DeLaune has witnessed first-hand the evolving threats against children in the U.S. and around the world and has expanded NCMEC's programmatic response to both missing and exploited children. The organization continues to see increases in children going missing from the child welfare system – now required by law to report missing children to NCMEC – as well as children being trafficked for sexual purposes.
Most concerning, however, has been an explosion of online child sexual exploitation, with the number of reports growing exponentially in recent years. In its first year, the CyberTipline received 4,560 reports. Last year alone, there were more than 29 million, nearly all child sexual abuse material (CSAM).
"I'm just incredibly proud of the ecosystem we've built in responding to these emerging crimes," said DeLaune. "Our challenges will be scaling our response to the ever-growing threats to our children. We will continue to rely on technology across the organization as these cases continue to grow — from missing and exploited children to children trafficked for sexual purposes. We work with law enforcement but we also work with the tech industry and survivors and the public. This is the epitome of a public-private partnership." 
Under her leadership, new programs like CVIP and a child sex trafficking recovery team have been implemented to better serve these vulnerable populations. DeLaune has championed the importance of survivor expert working groups to amplify the voices of those impacted by these crimes and inspire change in the world.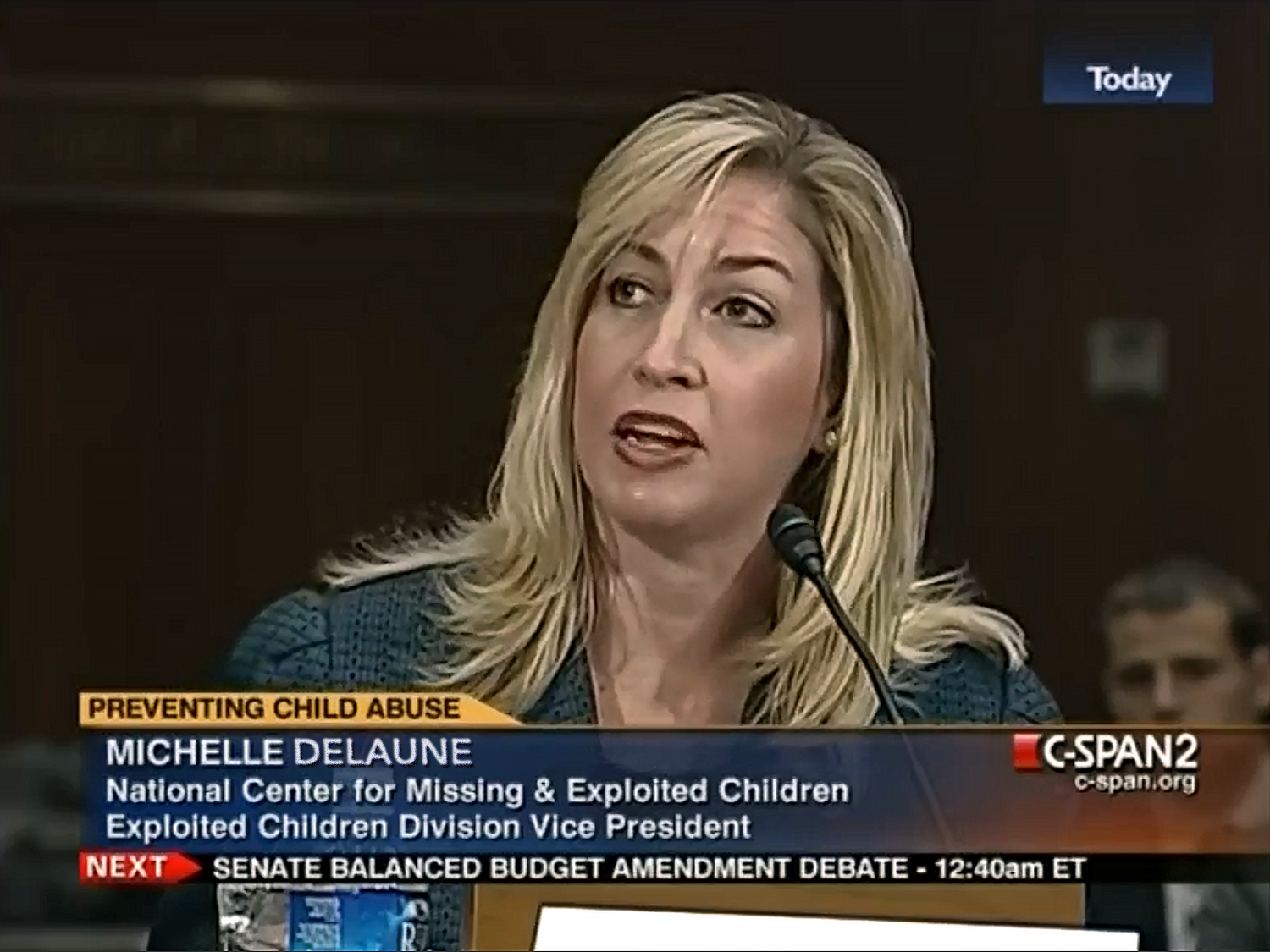 DeLaune has spearheaded initiatives to help the tech industry find CSAM on its platforms and law enforcement find offenders and victims faster. She also directed the creation of the first-ever data science program which enables the organization to spot trends in the vast amount of data it collects about missing and exploited children to inform the public and shape prevention and training programs.
As crimes against children have evolved, so has NCMEC's response. The non-profit organization was co-founded in 1984 by John and Reve Walsh after their 6-year-old son Adam was abducted and murdered. They experienced first-hand the desperate need for a coordinated national response when children are abducted or go missing. Fourteen years later, when DeLaune joined NCMEC, the nation was awakening to a new threat to children: the sexual exploitation of children on the internet.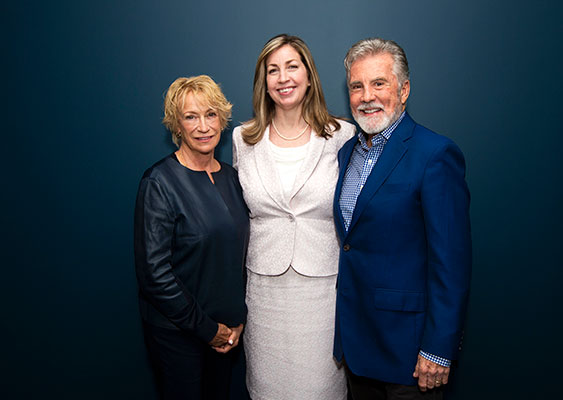 Michelle with John and Reveˊ Walsh after board vote.
"Michelle is the perfect fit," said John Walsh, who now hosts "In Pursuit with John Walsh" with his son, Callahan, on Investigation Discovery. "From starting in our Exploited Children Division 24 years ago and after eight years as our amazing COO, she will continue the success of the center and is imminently prepared to lead it into the future."
Unlike law-enforcement agencies, the internet has no jurisdictional boundaries because of its global reach, so the CyberTipline was authorized by Congress to give the public and internet service providers a centralized place to report these crimes. NCMEC then sends reports to the appropriate law-enforcement agencies in the U.S. and more than 140 countries. 
Initially, DeLaune said, most of these graphic images and videos on the internet were shared in chat rooms, on websites and bulletin boards. But the arrival of social media platforms, such as Facebook, Snapchat and TikTok, enabled people to share abusive images and videos with one another, peer to peer.
"Technology has dramatically simplified the ability of offenders to target children," DeLaune said. "At the same time, technology has enhanced the ability of law enforcement to detect these crimes."
Those 29 million CyberTipline reports last year included more than 44 million files containing images and videos, which have now overtaken images, meaning analysts more often can see and hear the abuse as it's taking place.
With the explosion of CyberTipline reports, new technology, like Videntifier software, is helping NCMEC more quickly identify new victims and remove CSAM from the internet, DeLaune said. 
"We continue to evolve, we don't get settled in our ways," said Delaune. "We collaborate with our partners to develop solutions. I'm excited to work with such a talented staff. This place is abuzz 24 hours a day. When people hear all that we do they can't believe it. I'm excited about NCMEC's future."