Washington State's First AMBER Alert Case Still Missing After 18 Years
It was Feb. 4, 2003 when Washington state issued its first ever AMBER Alert for 5-year-old Sofia Juarez. Eighteen years later, Sofia is still missing from her home in Kennewick, Washington. Sofia's aunt, Victoria Juarez, says that this time of year is always hard for her family. "It's like a scab," she said. "It's getting pulled back and it's just fresh all over again."
Sofia Juarez at the age she went missing.        
Sofia's photo is age-progressed to 17 years.
According to police, Sofia was playing at home with her young aunts and uncles the night of her disappearance. That's when cops say her grandmother's boyfriend asked the children if they wanted to come with him to the grocery store. But, when the children declined his offer, he drove to the store by himself. Police believe that Sofia changed her mind at the last minute and started making her way to the store on foot. Sofia never made it to the store.  
Sofia's disappearance prompted a tremendous search effort including Washington state's first use of the AMBER Alert system. Police immediately began receiving thousands of tips and hundreds of Sofia's neighbors came out to join in the search. To this day, police say that everyone in Kennewick remembers where they were and what they were doing when they found out that Sofia went missing.
Today, the search for Sofia continues. The Washington State Patrol Missing and Unidentified Persons Unit in collaboration with Kam-Way Transportation will feature Sofia's picture on the side of their Homeward Bound Trucks. The Homeward Bound program puts the faces of missing people on the side of semi-trailer trucks that drive around the country in the hopes that somebody, somewhere might know something that could finally bring them home. Over the years, Kam-Way has featured dozens of photos of missing persons on their trucks. Kam Sihota, founder and CEO of Kam-Way Transportation, said at the press conference for the unveiling of Sofia's trucks that the program is a way for their company to give back to the communities they serve.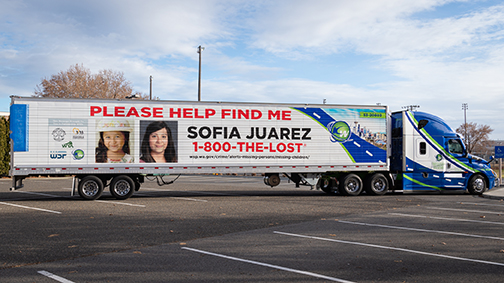 "It's hard to see her innocent face," said Sofia's aunt, Victoria. But, she says her family is comforted to know that people haven't lost hope. It's been especially difficult, Victoria says, since Sofia's mother passed away without getting the answers that she so desperately wanted.
Despite their grief, Sofia's family still finds ways to keep her memory alive. Sofia's siblings, now adults with their own families, pass down Sofia's belongings to their children to help them learn about their relative. "It's hard to explain to little kids, you know, that the little girl in the picture at grandma's house is your cousin," said Victoria. She worries about what they will tell Sofia's younger brother one day; Eventually, he's going to want to know what happened to his older sister. "He deserves answers…we deserve answers," said Victoria.
If you have any information about Sofia Juarez's disappearance, please contact the Kennewick Police Department in Washington at 1-509-585-4208 or the National Center for Missing & Exploited Children at 1-800-THE-LOST.
Sofia's missing poster can be found here: https://www.missingkids.org/poster/ncmc/954908/1