On June 9, 1995 evil ripped Morgan from our lives. Morgan was violently taken from our family by a predator and our entire world collapsed. The word kidnapped carries such desperation and terror for us. This is not a movie or a book or some type of entertainment that holds others on the edge of their seats.  This is our story, our family, fighting on the very edges of our lives to right was is so terribly wrong. 
Twenty-five years of fighting. A lifetime ago, and just yesterday. Not one day, not one hour has gone by when we haven't thought about Morgan and missed her in our lives.
We want to say all the things about how desperately we love and miss Morgan and how we cannot possibly stand the thought that it has been twenty-five years since we have seen her, held her, smelled her hair, kissed her goodnight. Our hearts are as raw and ragged as the day she was taken. 
The weeks and months and years keep adding up. Her siblings grew up. Her friends grew up. Her dad and I have gray in our hair. Her kitten, Emily, waited 19 years for Morgan to come home…she is buried in our flower bed wrapped in a t-shirt with Morgan's picture on it. Morgan's grandparents carry sadness in their eyes. Her cousins know about her through stories told to them by their parents. Her nieces and nephew don't yet understand who she was or what happened to her. We dread the day they are old enough to understand, the day they realize what fear looks like.
Every single holiday carries a deep pain when our family gathers because the gathering magnifies her absence. New age progressions are put together to help us find her, but instead we have watched her grow up on paper. I cannot reconcile in my heart her sweet little 6-year-old self with this image of a strong, beautiful, thirty-one-year-old woman with fine lines around her eyes. This image looks like she should be someone's wife and momma. These are things she will never get to do. Babies she will never get to hold. Cousins to her sibling's sweet children. Nothing is ever the same. Nothing is ever okay. The brokenness is always here. We bandage it and process it and get up every day and face it so that we can search for Morgan. So that we can ensure her siblings and our family can find joy. So that the evil that stole her from us cannot take anything else; so that we can have justice for our precious girl.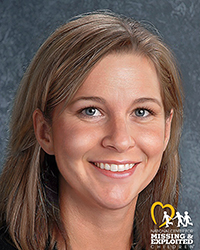 We are still standing RIGHT HERE! Fighting. Me. Her daddy. Her brother and sister. Her grandparents.  Her extended family. Her friends. Her law enforcement team. Our community. STILL FIGHTING!
We fight because she is a daughter and a granddaughter, a sister and a friend. Morgan is worth fighting for! We will not give up. Morgan deserves to be found, to come home to all of us who are aching for her.  
Morgan, we love you forever and always.