Separated by Thousands of Miles, a Mother Still Has Hope
It's been more than 10 years since Zohreh Marashi has seen her son, Nickan. He was just 5 years old, and they were living in California. 
Marashi was visiting her sister in Switzerland in 2009, while Nickan stayed home with his dad. Her husband called to tell her he was going to take their son and his grandfather for a fun week-long trip to Lake Tahoe while she was away.
Instead, he took their son to Iran.
The first time she had any inkling that something was wrong was several days later when her husband, Mehran Almasi, sent her a shocking email: "You didn't want to be a part of this marriage, now you can be a single woman again," Almasi wrote.
Stunned, she immediately called her husband and became more distraught with each unanswered call. In a panic, she rushed back to the United States and left a message that she was on her way home.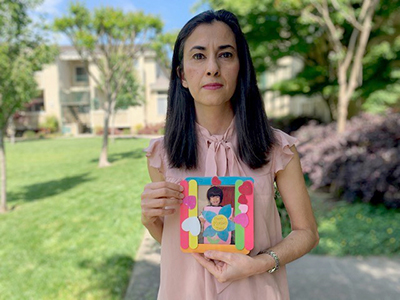 Danville, CA: Zohreh Marashi holds a photo of Nickan in the frame he made for her before his abduction. Portrait taken on May 8, 2020.
"The flight home to San Francisco felt like an eternity," she said.
She prayed they might be there when she arrived at the airport but there was no sign of them. She went to an ATM and realized, to her horror, that all her money had been withdrawn and none of her credit cards worked. With just $20 in her wallet, she took a train home.
When she arrived, only her father, Nikan's grandfather, was there. Her husband had told him there was no room in the car, and father and son left without him, leaving him alone in the house. Her father could not speak English, and her husband had broken the phone so he had no way to contact anyone for a week.
Grabbing her cell phone, Marashi called the police and everyone she knew. She became more worried when her husband's employer told her he'd quit his job the previous week. "Where were they?"
The police began investigating and learned that Almasi had taken their son to Iran. Almasi was charged in a warrant with abduction that February 2010. She's been searching for her son ever since.
Nickan is one of approximately 700 active international child abductions cases we're handling here at the National Center for Missing & Exploited Children. (NCMEC) These cases are harder to resolve because of the additional complications that arise when children are taken across international borders, involving foreign courts and legal systems. In Nickan's case, the United States has little to no diplomatic relations with Iran, making it more difficult to reunite him with his mother.
Currently, NCMEC participates in a collective working group to prevent international parental abductions, an initiative that was started after the Sean and David Goldman International Child Abduction Prevention and Return Act was enacted in 2014.
The group provides guidance and assistance to families and professionals and has supported a related written guide published by the Department of Justice for law enforcement.
Despite the odds, Marashi has remained hopeful she'll hear from her son one day.
Then last year, out of the blue, she received a phone call from Nickan, who was by then 14.
"It was so surreal," Marashi said. "I couldn't believe I could hear him. I was always imagining what it would be like. We talked about school and how well he is doing with his education."
"I'm so proud," she added. "I love bragging about him and his accomplishments." Just hearing his voice was "a real gift for me."
Marashi's husband, who she has since divorced, was letting her talk to their son in an effort to persuade her to have the kidnapping charge dropped. When the charge wasn't dropped, Almasi began cutting off contact with his ex-wife.  
"Eventually, my calls started going unanswered, or there was an excuse why my son couldn't come to the phone," she said. It's now been seven months since Marashi was able to speak to her son.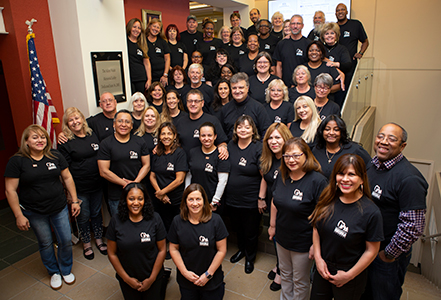 Alexandria, VA: Zoreha Marashi pictured center with the 2018 Team HOPE new volunteer training event, Nov. 16, 2018
Marashi has found solace with NCMEC's volunteer peer support program, Team HOPE. These volunteers know firsthand what she is going through. They have either had or have a missing or sexually exploited child.
"I felt like Team HOPE was a non-judgmental, understandable environment, and I could tell them what I've been through," she said.  "They understood me. I was so lonely and could not talk to anyone about the pain and suffering. I'm so grateful for what they did for me at the lowest part of my life."
Marashi went from being supported to feeling empowered to support other parents like her.
"In 2018, I became a Team HOPE volunteer and wanted to give back," she said. "It's my turn to provide the same support to parents. I'm a shoulder for them to cry on. It was a promise to myself that I wanted to keep."
Hope gives Marashi strength.
"To mothers with missing children, never lose hope," she said.  "Hope keeps me going every day."
We're here to assist parents who are impacted by this crime, or who are seeking information to help prevent an abduction from occurring. If you have any information on a missing child, please call 1-800-THE-LOST. (1-800-843-5678)