Revolutionizing the Search For Missing Kids
A 15-year-old Texas girl had run away from home again, and there was growing concern that traffickers may be selling her for sex. She was posting naked photos of herself on Snapchat, had a distinctive new tattoo on her neck and was wearing heavy makeup that masked how young she was.
There'd been sightings of her at an Austin shopping mall, and police turned to the National Center for Missing & Exploited Children (NCMEC) for help. In an instant, we sent missing child alerts to a very specific geographic area: within a five-mile radius of the mall. The child was safely recovered after officials at a school in the geo-targeted area recognized her as someone they'd seen with a 14-year-old male student.
"It was extra concerning because she didn't have anywhere to go and was staying on the streets," said Melanie Petty, the NCMEC case manager who helped Austin police and the worried mom search for her daughter. "It really helps being able to narrow the focus of your search, especially in a big city. Everyone pays more attention when it's a local case."
The young girl was one of nearly 200 children who've been safely recovered through the ADAM Program, which has helped revolutionize how we search for missing children. Through technological advancements, including geo-targeting and mapping tools, the ADAM Program is making our photo distribution more precise and instantaneous – and helping bring more missing children home.
The ADAM Program, which was built by our longtime partner LexisNexis® Risk Solutions and is managed by the technology company, is marking 20 years since it donated the program to NCMEC and celebrating all the children it has helped recover.
"Thanks to our friends at LexisNexis Risk Solutions, their support and partnership has made a significant difference in how we involve the public to find missing children," said John F. Clark, president and CEO of NCMEC. "This has been a real game changer!"
ADAM, which stands for Automated Delivery of Alerts on Missing Children, was named in memory of 6-year-old Adam Walsh, who was abducted from a Florida shopping mall in 1981 and found murdered 16 days after he vanished.
His parents, John and Revé Walsh, have devoted their lives to helping missing and sexually exploited children and co-founded NCMEC 36 years ago. Adam's brother, Callahan Walsh, is a child advocate at NCMEC.
"Today, photos remain the single most powerful tool for finding a missing child," said Walsh, who joins his father on the show, "In Pursuit with John Walsh," on Investigation Discovery. "Getting photos and detailed information in front of people, quickly, is a big part of what makes this program such a success. The ADAM Program has truly helped change the way our nation searches for missing children."
NCMEC reached out 20 years ago to LexisNexis Risk Solutions for help with its photo distribution, and the company designed a program to electronically fax missing poster alerts to businesses, law enforcement, schools, hospitals and other places that fell within the search criteria, said Trish McCall, director program management at the company who co-founded the ADAM Program.
Then in 2016, the company completely revamped the program to integrate Google Maps and other new technologies into the system to be able to quickly geo-target alerts to search areas as specific as a highway corridor or campgrounds. For the first time, they opened it to the public through emails with links to share on social media, McCall said.
But success of the program depends on one crucial element: getting businesses, law enforcement agencies, organizations and the public to sign up at www.ADAMprogram.com to receive alerts if one is issued in their area.
"We need everyone to sign up," said McCall, who has shared in the joy with NCMEC employees of each ADAM recovery over the last 20 years. "These posters serve as the voice of a missing child, calling out for help to please find them if only we knew to look for them."
There have likely been far more than 200 ADAM recoveries over the years, but when a tip results in a child's recovery it's often difficult, even impossible, to determine on what platform the caller saw the alert. The focus is to get that child home safely.
Unlike AMBER Alerts, which are issued by law enforcement only in child abduction cases, ADAM alerts can be sent for all missing child cases, including runaways, which comprise the largest number of all missing children and are often at great risk of being trafficked for sex, like the young girl in Austin.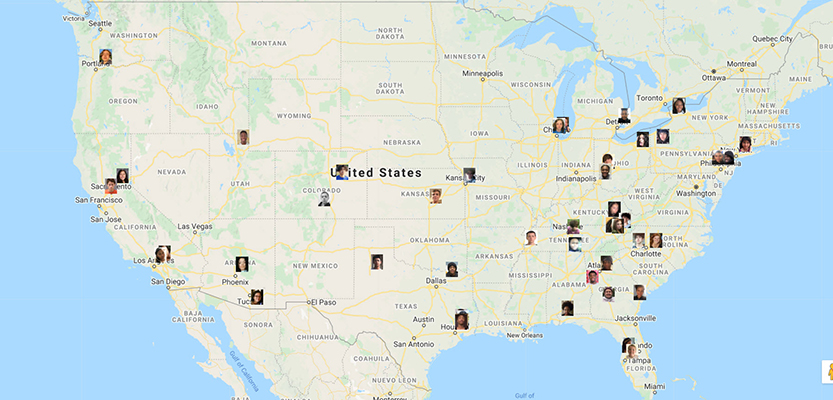 The technology for the program was created by employees of LexisNexis Risk Solutions, all of whom volunteer a significant amount of their personal time and expertise to make the program a success.
Recent upgrades have enabled the display of poster alerts of missing children on digital display boards. Ken Kurzweil leads the technology team at LexisNexis Risk Solutions that supports the ADAM Program.
 "There is no greater feeling than receiving word from our partners at NCMEC that a missing child has been safely reunited with their family as a result of someone recognizing that child from a poster distributed by ADAM," said Kurzweil, vice president and CIO of Business Systems.
Patricia Willingham and her team in NCMEC's Missing Children Division work with the case managers who request an ADAM alert when law enforcement has specific information about where a missing child may be.
In the last two years alone, they've distributed more than 3.36 million ADAM alerts, including for the missing girl in Austin.
"Having this program allows us to, in one fell swoop, target an area," said Willingham. "If we had to stuff envelopes with missing posters it would take so much longer."