Attention law enforcement:
Do you know someone who has gone above and beyond in the call of duty to save a child?  We want to honor these special acts of heroism! The National Center for Missing & Exploited Children is gearing up for our 25th Annual Heroes Awards. Each year, NCMEC commends members of law enforcement who have helped recover a missing child or have successfully resolve a child exploitation investigation. 
Nominations for the 2020 Heroes Awards are open until Friday, March 13th. Please follow the link to our Heroes Awards website for submission guidelines and to nominate a hero today: http://hero.missingkids.org/
This year's awards will take place on June 24th in at Nationals Park in Washington D.C. as the Nationals take on the Pittsburgh Pirates.
During last year's Heroes Awards, we honored members of law enforcement from local police departments and federal agencies. These heroes worked in their own communities and even across international borders to save children. Below are the stories of last year's winners. 
FBI Special Agent Laura Calvillo
On June 16, 2017, a security guard at a hotel in Arlington County, Virginia contacted 911 after seeing a young girl in one of the rooms where he saw a high volume of older males coming and going. Arlington County patrol officers determined that she was a child trafficking victim who was missing from Arizona.
FBI Special Agent Laura Calvillo was dispatched to begin working with the Special Victims detectives and patrol officers. The male suspects already fled the scene, but authorities were able to identify the suspects and their vehicles. Due to Special Agent Laura Calvillo's extraordinary efforts and dedication to the case, investigators located and arrested other suspects involved.
After determining that it was not in the child's best interest to be sent back to Arizona, Special Agent Calvillo worked to help the child get back on track with her education, provided therapeutic resources and helped her develop a plan for the future. The suspects were prosecuted and convicted for sex trafficking a child and sentenced to a range of 5-25 years in prison.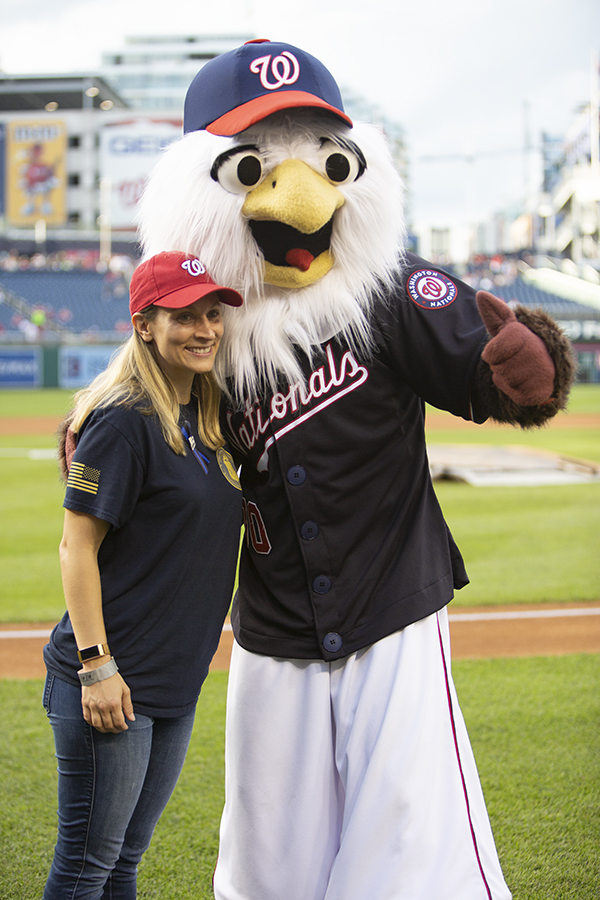 Special Agent Laura Cavillo with the Nationals Mascot.
On Feb. 22, 2017, a toddler was found by Mexican authorities in an abandoned warehouse near the U.S./Mexican border. He only spoke English and said that his name was "Luis." Sgt. Karen Kozak learned about the case during an AMBER Alert conference, filed an "assist outside agency" courtesy report and enlisted NCMEC's help. His picture was distributed to hundreds of media outlets in the U.S. and Mexico. Sgt. Kozak worked to bring the child to El Paso for a forensic interview, DNA collection and fingerprinting.

A woman called police after seeing the story on the news and claimed that the child was her missing son, Luis Jorge Mendez who had been kidnapped by his father. Sgt. Kozak located the child's biological father and then tracked down border crossing records indicating that it was the child's mother who had abandoned Luis in Mexico.
Sgt. Kozak's work didn't end there. Mexican authorities would not release Luis back to his father without DNA testing. Because of the extraordinary efforts of Sgt. Kozak, Luis was returned to his father in Albuquerque, New Mexico on June 30, 2017 and his mother was charged with three criminal offenses.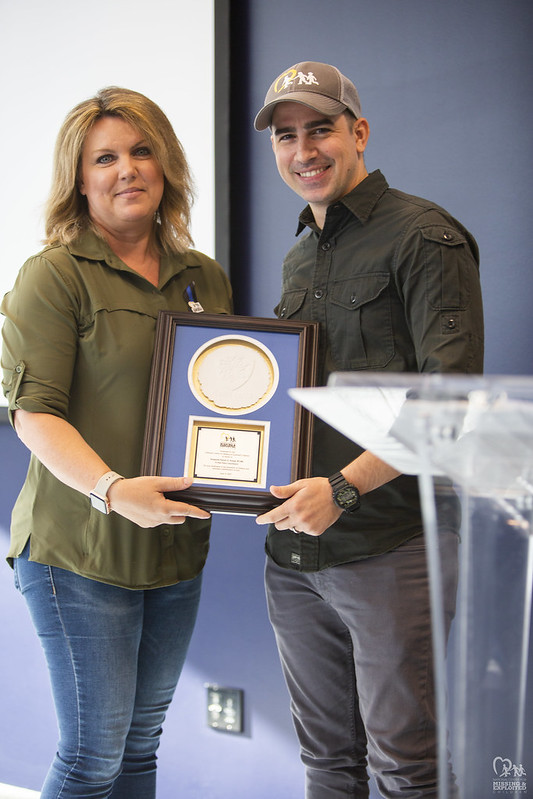 Sergeant Karen Kozak accepts her award from Callahan Walsh.
Deputy Assistant Director Dave Denton and Homeland Security Investigations Agents from Portland, Maine
In August 2015, HSI agents from the Portland, Maine field office began an investigation that led them to the Philippines after discovering that a woman there was using live-streaming videos to sexually exploit children for paying customers worldwide. HSI agents made contact with her and posed as a potential client during a conversation via social media. She offered a live sex show of underage children in exchange for compensation.
After further investigation in conjunction with HSI Attaché Manila and Philippine authorities, the HSI agents uncovered the location where the woman was conducting the live-streaming videos. On Oct. 15, 2015, law enforcement conducted a real-time surveillance operation with HSI agents in Portland, Maine, posing as a client, and asking that the suspect show the children who would be featured before payment would be sent. The suspect agreed, and the HSI agents were able to determine that the victims were in the home with the suspect.
The operation resulted in the arrest of the suspect, two accomplices and the recovery of five child trafficking victims ages 9-12. The suspect and the two accomplices were all convicted and sentenced for their crimes.
Deputy Assistant Director Dave Denton, from Homeland Security Cyber Crimes Center, accepted the award on behalf of these "amazing agents."
"The partnership we have with NCMEC allows us to do these cases," Denton said. "It's one of the most valuable partnerships we have, because there are no cases more important than those where you can save children."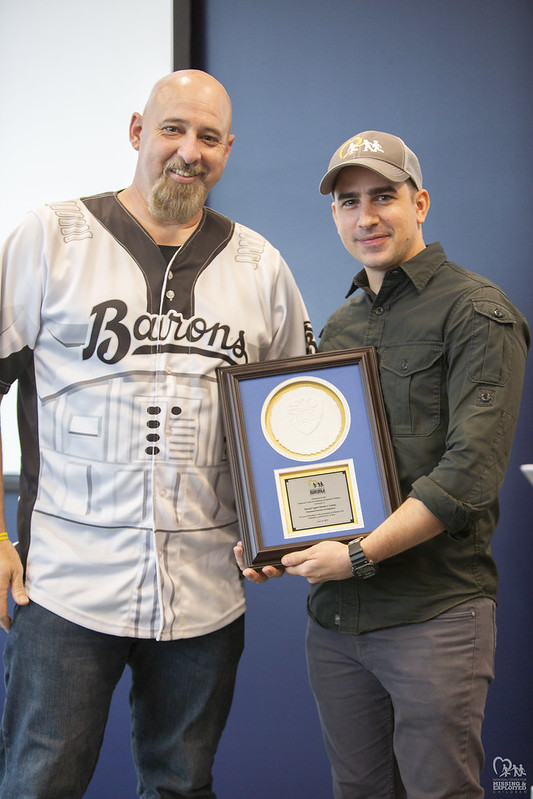 Deputy Assistant Director Dave Denton from Homeland Security Cyber Crimes Center accepting a Heroes Award on behalf of the agency, from Callahan Walsh.
Courage Award: Maddison Raines
Along with commending our heroes in law enforcement, each year NCMEC recognizes a child who has shown bravery in keeping themselves safe in the face of danger. In 2019, we honored Maddison Raines, who was just 10 years old when she narrowly avoided an attempted abduction in her hometown of San Tan Valley, Arizona. A man pulled up in a car alongside Maddison and told her that her brother had been in a bad accident, and her family had sent him to pick her up. But her mom had recently given her a special code word to use if anyone tried to give her a ride. When the man couldn't tell her the code, he sped off and she saved herself from being abducted. 
"I wish every mom in America knew about the code word," said John Walsh as he presented Maddison with the Courage Award.
As part of this annual tradition, the Courage Award recipient throws the first pitch at the Nationals Game where the Heroes Awards take place.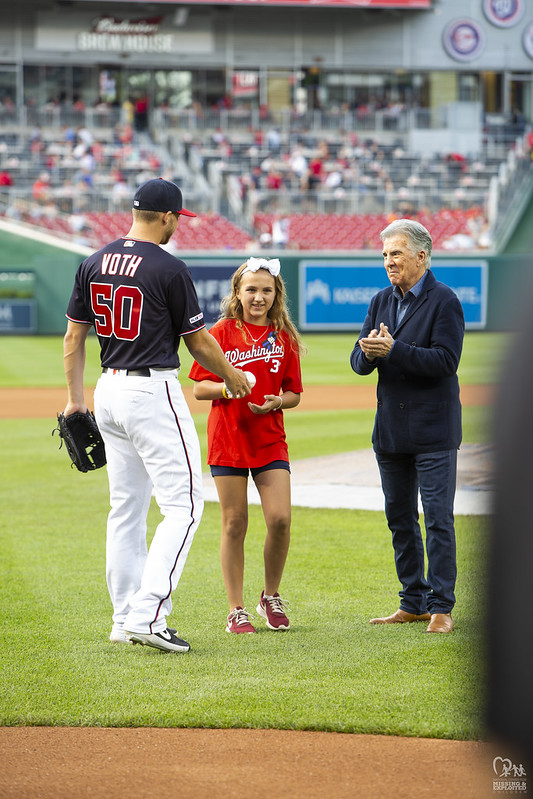 NCMEC is profoundly grateful for these members of law enforcement who stop at nothing to help rescue children from dangerous and exploitative situations. We are incredibly proud of children who show courage in protecting themselves from harm. 
If you are part of a law enforcement agency who would like to nominate an officer for a Heroes Award, please visit this website for more information, submission guidelines, and the nomination form: http://hero.missingkids.org/