Don Ryce, the father of Jimmy Ryce, passed away on Oct. 3 at the age of 76. Don was a true champion of missing children and their families.
In the fall of 1995, 9-year-old Jimmy Ryce was abducted and killed in his hometown of Redland, Florida. Ever since the tragedy of his son's murder, Don Ryce made it his life's mission to protect children in absolutely any way he could. Don and his late wife Claudine helped establish the Jimmy Ryce Center for Victims of Predatory Abduction (JRC) to help prevent crimes against children. Since its inception, the JRC has trained and given bloodhounds – all named "Jimmy" - to law enforcement agencies across the U.S. to aid in the search for missing kids. Don and Claudine also helped pass the Jimmy Ryce Act into Florida law in 1998, calling for inmates with a history of sexual offenses to be reviewed by the Florida DOC and subject to civil proceedings that could require commitment to a treatment facility upon release from prison.
Here at NCMEC, we are so grateful for all Don Ryce has done in the fight to defend kids and educate the public about child safety. Below is a blog from 2015 that highlighted Don's efforts.  He will be greatly missed by all of us at NCMEC and by all the families he's helped over his many years of dedicated service.
Jimmy Ryce, Forever
By Barbara Worth
Jimmy Elvis has three times found a special needs boy who ran away – twice tracking him into a swamp.  Jimmy Earle and Jimmy Cletus found a boy lost in a dense woods. Jimmy Amber found yet another boy lost in a wooded area.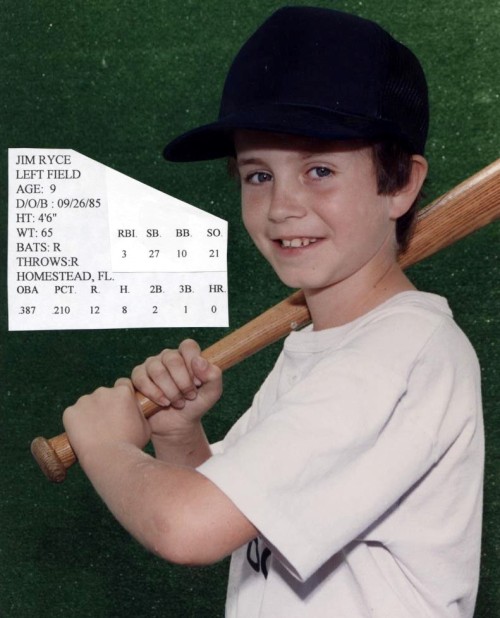 These "Jimmys" are all hard-working police bloodhounds, named after a little boy whose spirit lives forever, protecting and rescuing missing children.
He was nine, and his name was Jimmy Ryce. He was abducted  on Sept. 11, 1995. ("God sleeps on September 11," his late mother, Claudine Ryce, came to say.) We know from his killer's confession that Jimmy had just gotten off a school bus less than a block from his home in Redland, Florida. A man jumped from a truck, pointed a gun and asked, "Do you want to die?" The man forced Jimmy into the truck and took him to a trailer. For four hours, he tortured Jimmy and raped him. When Jimmy broke away and tried to escape through the trailer door, his abductor shot him in the back. Three months later, Jimmy's dismembered body was found hidden in concrete. His killer was eventually put to death, showing no remorse for his crime.
What happened to Jimmy awakened in his mother and father, Don Ryce, a determination that their son would be remembered, in Ryce's words, as "a symbol of hope."  To that end, the couple created the Jimmy Ryce Center for Victims of Predatory Abduction, or JRC. They began to attach Jimmy's name to what Ryce calls "wonderful things."
One project grew out of Jimmy's parents' conviction that a bloodhound could have found their son. In hopes of finding other missing children, the JRC began supplying bloodhounds to law enforcement. Through donations, they have placed about 500 dogs at agencies in the U.S. and Canada.
Jimmy's bloodhounds have been bred for the past two decades by Pam Andrews of Lake Bloodhound Kennels in Greenville, Florida. There is no doubt whose spirit they carry, and that's why she registers all of them with the first name "Jimmy."    
The bloodhound program is just one of the accomplishments of the Ryce family and the JRC. Because of their efforts, federal buildings are now required to post pictures of missing children. Florida passed the Jimmy Ryce Act, which permits continued confinement for violent predators even after their criminal sentences have run out. The many services provided by the JRC include publicizing cases of missing children, working to increase public awareness of child abduction and sexual predators, counseling  parents of missing children, and helping parents and teachers understand what kids need to know to protect themselves.  
Children's education is the "first line of defense," says  Ryce. "If they know what to do, they can avoid being taken captive." He urges parents to face the hard reality of the dangers posed by those who prey on children. "Parents run away from this issue.  It makes them uncomfortable," he says.  But, he warns, "abduction can happen to anyone…it happened to us."  
The Ryces joined with other parents to create a survival guide to help families cope with the disappearance of a child. Claudine Ryce was one of the founders of Team Hope, NCMEC's support group of and for searching and grieving parents, helping each other the way only those who have been through similar ordeals can.  
Prevention of abduction became especially important to Jimmy's mother. As painful as it must have been to do so, she mined the confession of Jimmy's killer to identify defensive actions children can take when threatened, including running, screaming and fighting back.  She named her method Jimmy Ryce's Great Escape Maneuvers – "GEMS" – a loving pun on the name of her son, her precious gem. www.jimmyryce.org/educate.
Samuel James "Jimmy" Ryce was born 30 years ago on Sept. 26.  He loved to read, loved baseball and loved his dog. He had an IQ of 130, and if he couldn't play pro ball when he grew up, he wanted to find a cure for a disease. "His life was cut so short," says his father, "and we had such expectations for the kind of man he would turn out to be."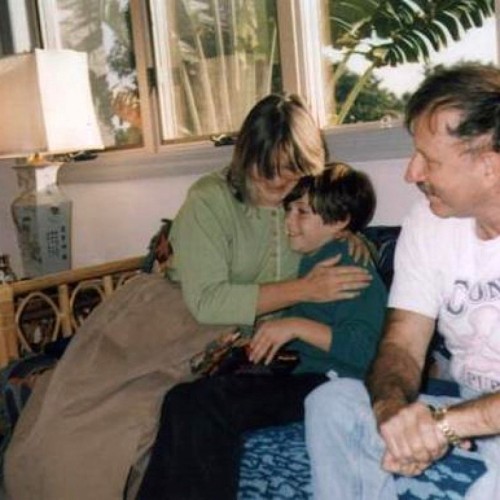 Jimmy's spirit lives on through his  dad, his  mom's GEMS, and of course the  bloodhounds. In Wellesley, Massachusetts, Special Officer Sue Webb is training puppy Jimmy Suki.  Webb says it used to be days before police would use a search dog. "They call for a dog right away now," she says. In Tuscaloosa, Alabama, Sergeant Alex Miles is "100 percent  sure" his Jimmy Dixie and Jimmy Pax would find a lost child.  As a test, he had his 15-year-old son pretend to get lost in a rugged area "so steep you have to grab a tree to haul yourself up." Dixie found the teen in about 15 minutes.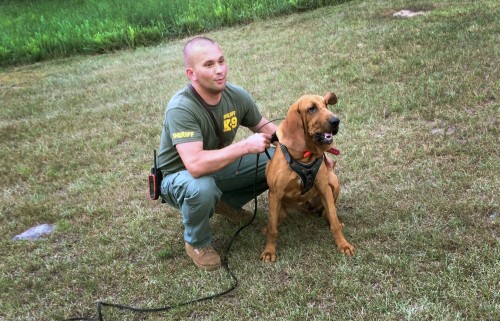 And there are signs that Jimmy's legacy will live indefinitely. Pam Andrews reports that bloodhound puppies were born at her kennel in mid-September – and more are on the way.