"God Just Put Me At the Right Place"
Keith Rollins was just one of tens of thousands of Washington-area commuters that cold, rainy morning, steering his postal truck north through heavy traffic on I-95. 
In a split second, Rollins happened to glance to his right and thought he saw something. No way, he thought. But what if it was? He pulled over to the shoulder and grabbed his cellphone.
"911, what's your emergency?" the Howard County dispatcher in Maryland asked, as cars could be heard whooshing by Rollins on the wet highway in the background. "Um, I'm hoping I'm not just seeing this, but it looks like I see a little boy on 95 north." 
The USPS postal worker walked back to the spot where he thought he saw "a little head pop up," hopped over the guardrail and found a shivering 2-year-old boy with no shoes on. His clothes were soaking wet, but he wasn't crying, and he didn't respond when Rollins spoke gently to him.
"Hey little buddy, how you doing, you okay? said Rollins, 62, trying not to scare the child as he scooped him into his arms. The postal worker bundled the child in a sweater and coat in his truck, cranked up the heater and called 911 again to confirm, but emergency vehicles with flashing lights were already "coming out of the woodwork" toward him on the interstate, near Rte. 103.
Rollins and his wife, Melissa, had seen a report on the news the night before about a missing 2-year-old boy, Ethan Adeyemi, from Elkridge, Maryland, but at that emotional moment, Rollins didn't make the connection.
The child had apparently taken shelter behind a twisted piece of metal from a wrecked vehicle along I-95, and all Rollins could think about was how easily it could have become tragic. As a precaution, Ethan was taken to the hospital to check for hypothermia.
"I had to pull myself together," said Rollins, upon learning it was the child he'd seen on the news who had been missing for 10 hours in the cold, rain and darkness. "All he had to do was go under that guardrail. God just put me at the right place, at the right time."
The right place was just under a mile from the townhouse where Ethan lives with his grandmother. Police responded to the home about 10:40 p.m. on Feb. 5 for a report of a missing child, said Capt. Chris Williams, commander of the Northern District of Howard County where they live.
A non-family member hadn't realized there was a latch on the front door that had to be locked when he left the home that evening, and Ethan slipped outside unnoticed, said Williams. Ethan, who will be three next month, is non-verbal, and his family told police they believe he's on the autism spectrum, but he's too young to test, the captain said.
Nearly half of children with autism will wander or "elope" from safe environments, according to statistics published in the journal Pediatrics. Here at the National Center for Missing & Exploited Children (NCMEC), we received 354 reports last year alone of missing children with autism. Wandering can be difficult to prevent, and some families take extreme measures to keep their children safe – sleeping by their beds, buying tracking devices, nailing windows shut or installing special fencing and locks like the one at Ethan's home.
Finding and safely recovering a missing child with autism, especially those who are non-verbal, presents unique and difficult challenges for families, law enforcement and search teams. At NCMEC, we've developed special search protocols and checklists to help first responders at https://www.missingkids.org/theissues/autism.
Many children on the autism spectrum are fascinated by – and make a beeline to – such things as bodies of water, trains, highway signs or construction equipment, often with deadly consequences. The most frequent cause of death is drowning; many of these children exhibit no sense of fear in water, even though they can't swim. 
"We knew Ethan was drawn to construction equipment," said Williams. So the team of nearly 100 Howard County police officers, fire personnel, Maryland State Police and volunteers with search dogs and bloodhounds checked every construction site, drainage pipe and piece of heavy equipment in the area along with any place a small child could hide, Williams said.
They couldn't send up a helicopter because of the inclement weather, so a drone was enlisted instead. All Ring videos at homes in the area were checked to see if they captured which way Ethan took off.
As the hours ticked by, and the temperature dipped to 37 degrees, dread mounted, and no one wanted to stop searching, not even those who had already worked a full shift when they joined the search, Williams said.
So 10 hours later, when Rollins' made his 911 call, a chorus of cheers erupted. It was nothing short of a miracle," said Williams. 
To get to that spot along I-95, Williams said, Ethan had to make his way through a construction site in the dark and slip through a fence running parallel to the interstate. Tens of thousands of motorists passed that spot, but just one pulled over. "Mr. Rollins is the hero," Williams said.
No one was more surprised than Rollins, who says he doesn't pay much attention to anything other than traffic when he makes his morning trek from his home in Columbia, Maryland to his office in Washington D.C. to pick up his postal truck. Then he heads to Baltimore on I-95 north to get the bundle of Express Mail he'll deliver back in D.C. to Embassies before heading back home.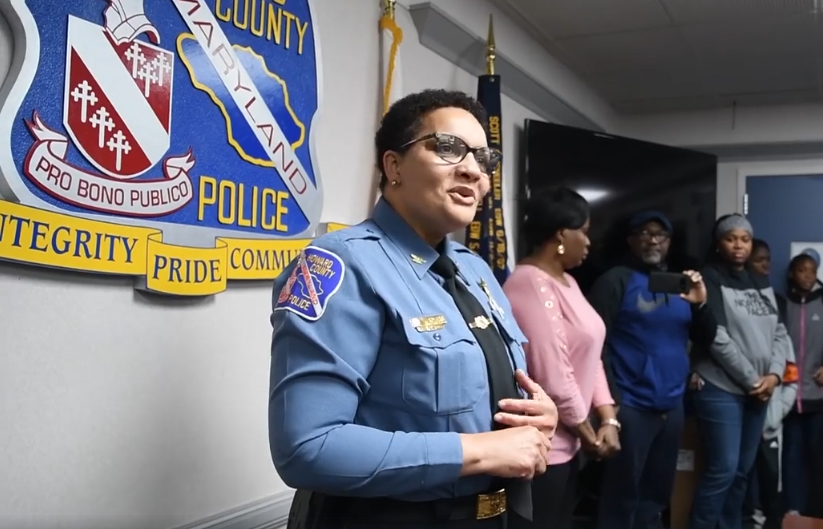 Howard County Police Chief Lisa Myers thanks Rollins and those who searched through the night for Ethan. Photos: Howard County police.
Several weeks after Ethan was found safe, Howard County police brought together dozens of those on the search team, Rollins and his family and Ethan and his family for a reunion (see it here:) to formally thank the postal worker. Ethan got to him first.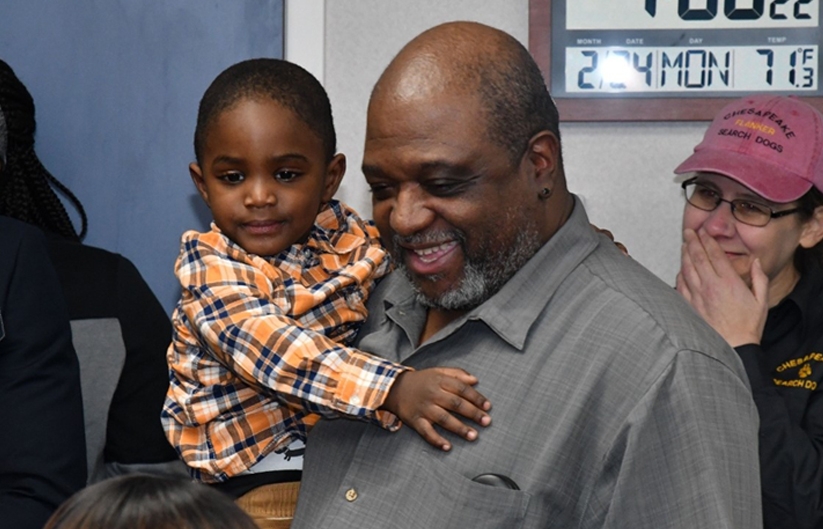 "He came to me and held my hands," said Rollins, who has two children and two grandchildren, one who lives with him. "He hugged me tight like he knew who I was."
One by one, Ethan went to each of the officers, shaking their hands and giving them a big hug. Ethan's grandmother held Rollins' hands and got down on her knees to thank him, as is the tradition in her culture, she said.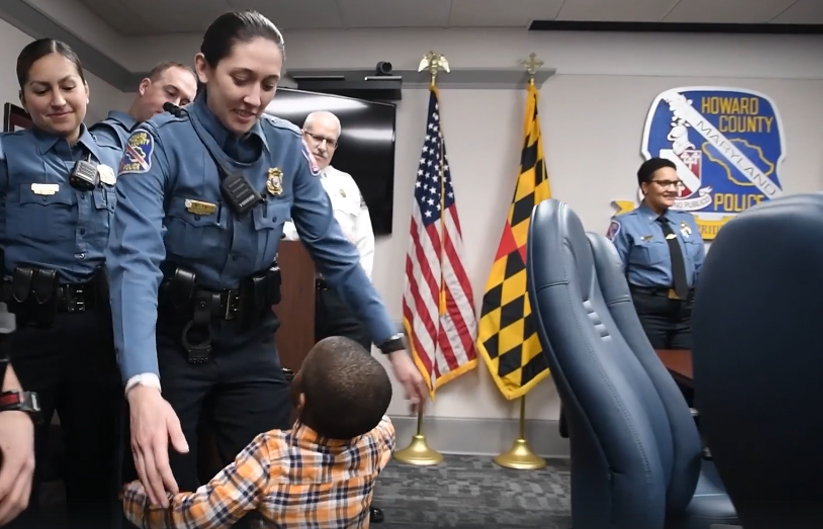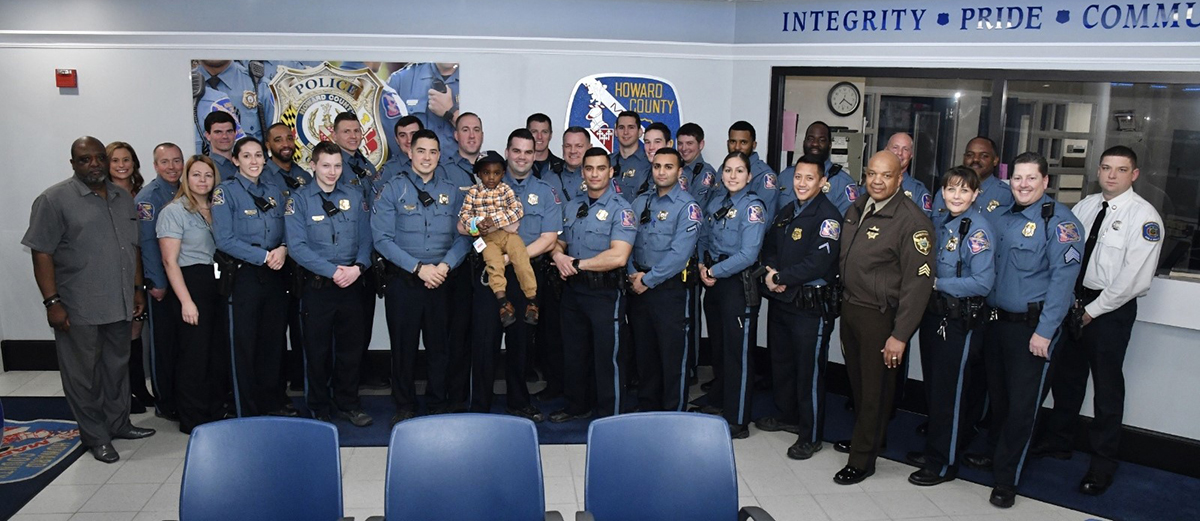 "I know it was divine intervention," she said through her tears. "God put you at the right place, at the right time. I'm eternally grateful."
Before they left, after Rollins kept insisting he wasn't a hero, the postal worker said Ethan's grandmother whispered into his wife's ear: "Now you have another grandchild."