Gina's Gift to Missing Kids
Gina DeJesus has come a long way in the seven years since she, Amanda Berry and Michelle Knight were freed from the house on Seymour Avenue in Cleveland after nearly a decade of captivity. She's back on Seymour Avenue.
After Berry made her daring and joyous escape on May 6, 2013 that freed them all – "Help me! I'm Amanda Berry! I've been kidnapped, and I've been missing for 10 years, and I'm here! I'm free now!" – images of the "house of horrors" on Seymour Avenue were flashed around the world. The house is long gone, but the morbid curiosity about what happened on that street is not.
Ever since she was reunited with her family, DeJesus has wanted to help other missing children – and help the street overcome its notorious reputation. As she was scouting for a place to locate the "Cleveland Center for Missing, Abducted and Exploited Children and Adults," a nonprofit, grassroots organization she co-founded with her cousin, there was only one place she would even consider putting it: Seymour Avenue.
"I did that because I remembered that when the whole world found out that we were free, people were like, 'I don't like that street. That's where Ariel (Castro) kept the girls,'" DeJesus said. "My main thing is to bring hope back to the street. If it doesn't bother me to turn the negative into a positive, it shouldn't bother anyone else."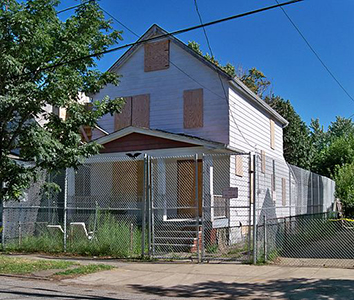 The Castro house where the girls were held. THD3 / CC BY-SA (https://creativecommons.org/licenses/by-sa/3.0)
As we mark National Missing Children's Day on May 25, DeJesus talked about her life over the last seven years, a combination of adjustments, challenges – and joy.
The first thing was just getting used to hearing her real name said out loud. Castro forbade them from using their real names in his house, so she chose "Chelsea," a character on the soap opera, "Days of Our Lives," that her parents used to watch. 
She was startled when they were being taken by ambulance to the hospital after their rescue on May 6, 2013, when Amanda's 6-year-old daughter, who was born in captivity, was told her real name by her mom and said it out loud: "Gina."
The last time she'd been called Gina was nine years earlier on April 2, 2004, when Castro, the father of her friend, asked Gina if she wanted a ride as she was walking home from school. She hopped in his car, and he drove her straight to his home on Seymour Avenue in the Tremont neighborhood, lured her inside and chained her to a pole in his basement. Michelle and Amanda were already confined in the house, having been abducted in 2002 and 2003 respectively.
As part of a plea agreement to avoid the death penalty, Castro had to turn over the deed to his house and pay for its demolition. Castro pleaded guilty to a slew of charges, including abduction and rape and was sentenced to life in prison plus 1,000 years with no chance of parole. He hung himself with a sheet in prison one month later.
The world DeJesus returned to was a very different place than the one she left. She still felt like the 14-year-old child she was when she was abducted, not the 23-year-old adult she was now.
"I had to do a lot of catching up," DeJesus said. "I had to go through all the stages from 14 to 23. I was still doing kid stuff when I returned home, hanging out outside, going skating."
She's been making up for lost time. She's had to re-learn Spanish, which she forgot how to speak in captivity. Amanda and Michelle only spoke English. She had to learn how to drive and get her driver's license. She paid her first bill. Her cousin took her to the prom, and the high school she never got to attend let her walk on stage and get an honorary degree. But most of all, she was just grateful that her mom got to see her again. Her mom is going blind. 
Hard to believe, even for her, but she's 30 now. Her family has moved to a new house in Cleveland, where she lives with her parents and her brother. It's still too hard to be in her bedroom alone, and she occasionally has bad dreams. The worst is when Castro somehow gets out of prison and "kidnaps us all over again but 10 times worse." She does get angry sometimes "but I hide it very well."
"I try not to think about it, but it's there," DeJesus said. "I can't get rid of what happened. I try to stay busy."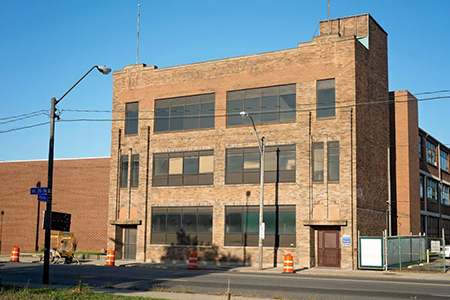 Cleveland Center for Missing, Abducted and Exploited Children and Adults
Her hope with her nonprofit is to help children and their families in her hometown of Cleveland the way the National Center for Missing & Exploited Children helped her and her family, who never stopped looking for her. "NCMEC is like my second family," she said. She starts to cry when she says she has no doubt that other children are out there right now being held against their will.

She's especially worried about children who run away, who too often are running from something bad going on at home. When she vanished, police told her parents that she probably ran away. She's at that age, they said. She's probably with her boyfriend. They eventually realized she hadn't run away, she'd been abducted.
"But so what if I ran away?" DeJesus said. "They're missing too. Bad things can – and do – happen to children who run away. What if it was your child?"
More than anything, DeJesus and her cousin, Sylvia Colon, want to create a safe place for families, somewhere they can go to talk or cry on a shoulder, even in the middle of the night, a place to help them understand how to work with police. 
DeJesus would be the first to tell you she's shy, but she is finding her voice because she wants to use her ordeal to help others understand what to do when a child – or adult – is missing or sexually exploited. 
Her family made flyers – lots of flyers – and one day as her mother was passing them out, Castro took one from her and gave it to her captive daughter when he returned home. It was a cruel gesture, but it came to symbolize hope for DeJesus, a reminder that her mother was still looking for her. During their reunion at the hospital, she handed the flyer back to her mom.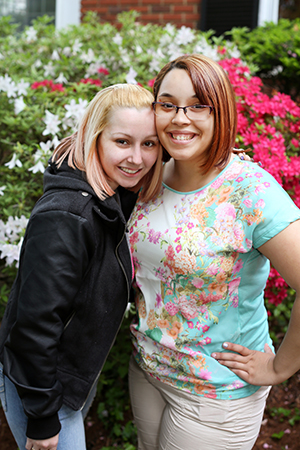 Amanda Berry and Gina DeJesus
So as we mark National Missing Children's Day, DeJesus has something important she wants you to know: Please be aware of your surroundings. Pay attention. If something doesn't look right, ask questions. Don't be afraid to get involved. The three of us were locked in that house and held nearly a decade. We were hidden in plain sight.
At first, she was really angry that no one ever noticed anything was strange at the house on Seymour Avenue – not even people who came into the house. But now she understands. People have jobs and busy lives. They're tired. They don't want to get involved in other people's lives. Still, she just hopes people will be just a little bit more aware.
She also wants you to know that she's doing well. Like everyone else, she's on lockdown now for the Covid-19 virus. But she's okay. She can FaceTime with her friends, look out the window, walk outside, all things she couldn't do for nine years.
"I appreciate life more," said Dejesus. "All I wanted to do was smell the air and sit outside and appreciate the birds. I still appreciate everything."
#