The Power of Kindness and Technology "Delta Dawn" has her name back
There's no name on her grave, just these four words: "Known only to God." Now, after 38 years, her name will finally be known to those who never met her but who came to care deeply about the toddler with the strawberry blonde hair.
Her name is Alisha Ann Heinrich.
For nearly four decades, she was known as "Baby Jane" and then "Delta Dawn" after she was believed to have been thrown off a bridge over the Escatawpa River in Mississippi. Her body was found close to a delta at daybreak on Dec. 5, 1982. Her killer has not been found. Her mother has now also been identified as Gwendolyn Mae Clemons, and she has been missing since her daughter was found drowned in her pink and white dress.
Alisha has never been forgotten – not by the Jackson County sheriff's deputies who raised money for her funeral and served as pallbearers, not by the detectives who never let her case file gather dust and not by the kind stranger and mother of two, Catherine Serbousek, who stepped forward last year and offered to pay $2,600, a substantial amount of the cost for the genetic testing that led to her identification.
"There're a lot of people who really care about that child," said Jackson County Sgt. Edward Clark, noting that just one person, like Serbousek, truly can make a difference. "That's just the good nature of people who want to help, who care. Somebody she doesn't even know, someone she's never met. That right there says volumes about her character."
Serbousek, who lives in Brooklyn with her family, was about eight years old and living in Arkansas when she first heard about Delta Dawn on TV.  The case had grown cold, and investigators were trying to develop new leads. Serbousek realized she was about the same age Delta Dawn would have been if she was still alive.
"Then I thought, well she could have been my friend," Serbousek recalled. "She's just gone, and no one knows who she was."
Watching the news report, she learned that a few days before Delta Dawn's body was discovered, truckers had reported seeing a young woman, clearly in distress, carrying a female toddler with no shoes on at night along Interstate-10 near the Alabama border. The young woman had repeatedly refused any help from passersby.
Then on Dec. 5, 1982, a trucker reported seeing a woman's body floating in the Escatawpa River near I-10 and called the Jackson County Sheriff's office. A search was conducted, but they did not find a woman's body. They found Delta Dawn.  
In 2003, after extensive investigation, Jackson sheriff's deputies reached out to The National Center for Missing & Exploited Children for help with the case. A forensic artist did an initial facial composite of what she may have looked like, but it was not until after 2011, when its Forensic Services Unit was created, that NCMEC had many more resources to offer and could tap into what was becoming a cascade of technological advances.
NCMEC deployed two members of Team Adam, a group of retired law enforcement officers with experience in these type of cases to gather more information, including crime-scene photographs of the victim, said Carol Schweitzer, supervisor of Forensic Services. Using those photographs, NCMEC forensic artist Christi Andrews was able to create a 2-D image of what Delta Dawn may have looked like.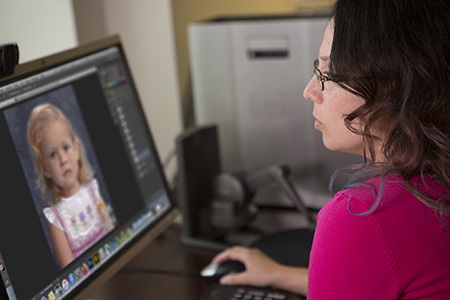 NCMEC's Christi Andrews creates image of what Delta Dawn may have looked like.
"We had a much more relatable image to circulate her story to the public and on social media," said Schweitzer. "As a result, we received dozens of leads over the years. We reached out last summer to offer help with forensic genetic testing and learned they had already started those efforts."
Serbousek was on the case. Last year, as she was turning 40, Serbousek, who edits audio books for a living, was thinking she'd use the money she had saved to mark her milestone birthday for a big blowout, maybe a trip to Hawaii. But something stopped her.
Perhaps, she said, it was thinking about her father who had died far too young, when he was just 40 years old. She knew, painfully, that life can end suddenly – and she thought of Delta Dawn.
Serbousek had been reading how genetic testing, and the growing popularity of genealogy testing databases were helping law enforcement solve cold cases – if someone would pay for it. That's when it hit her: That's how she'd use her birthday money. She Googled the case, learning that Delta Dawn's body had been exhumed at some point to retrieve DNA, and called the Jackson County Sheriff's Department.
She knew her offer over the phone probably seemed odd coming from a stranger, even questionable. But she was "politely persistent" and eventually convinced investigators that she was sincere.
The sheriff's office began working with Othram Inc., a forensic lab in Woodlands, Texas. Othram specializes in working with trace amounts of degraded or contaminated evidence. It has helped law enforcement close previously unsolvable cases.
A Jackson County detective, Jeremy Miller, drove the degraded evidence from Mississippi to the lab, which was able to develop a DNA profile with less than a nanogram of DNA. (a mass equal to one billionth) Then using that profile, Othram conducted genealogy research and public record searches for a potential living relative.
"We generated information that was useful," said David Mittelman, CEO of Othram. "But we just narrowed the search. The Jackson County Sheriff's Office and the FBI did substantial work. They ultimately solved this case. NCMEC's facial reconstruction was incredibly spot on."
The genetic information led to a woman in Joplin, Missouri, Theresa Spencer, 57.  When investigators came to her house, Spencer's first thought was that they had found her sister's remains. But DNA testing by Othram confirmed that they had found Spencer's niece, Alisha.
Spencer said investigators were emotional having to break the news to her that her niece was dead, and it was clear to her that they were not treating this as just another case. Alisha had had a profound impact on them.
"I was pretty shocked about it after all this time," said Spencer. She recalls fondly how her niece Alisha was so "tiny and dainty, just a little bitty thing."
She believes, without a doubt, that her sister was also killed. She hopes her remains will one day be found so she can bury her.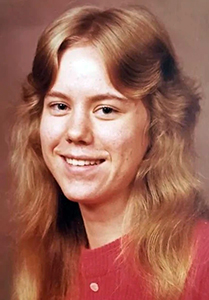 Alisha's mother, Gwendolyn Mae Clemons.
The detectives offered to show her the bridge where it happened, but she said it's too soon. She has this image in her head of Alisha being thrown off the bridge that she can't shake. She plans to write thank you notes to the detectives who made sure Alisha had a Christian funeral and to Serbousek for caring about a child she didn't even know.
The Jackson County sheriff's office said they have an unamed suspect, who is dead, but the investigation is continuing. Sgt. Clark remembers hearing about Delta Dawn when he was in grade school and has never been able to stop thinking how this young life was just "erased." Alisha's name will now be put on her grave, next to God's, Clark said.
Meanwhile, Serbousek is going to save her money to help with other unidentified cases. Next on her list is a teenager whose body was found in the river when sheriff's deputies were searching for Alisha's mother. His case was not related, and his identity is still unknown.
Serbousek downplays her role, saying all she did was help defray some of the costs of the genetic testing and make some phone calls. She says she just pushed the first domino that eventually led to Delta Dawn's identity.
 "I'm so happy she got her identity back," said Serbousek. "She clearly touched a lot of people's lives. But then you really think about it, and I'm also deeply saddened."