A Proper Burial for Nevaeh
What does it take to find a needle in a haystack?
In South Carolina, that would be 392 people in protective gear using rakes to meticulously search four million pounds of trash – trash interspersed with human and medical waste, air-borne pathogens, asbestos, nails, wires and broken glass – in the sweltering heat and stench for five weeks.
And one more thing: a poster-size photograph of 5-year-old Nevaeh Adams propped on an easel for inspiration.
Nevaeh's mother, Sharee Bradley, was murdered in her Sumter home last August. About 12 hours later, her body was discovered and her middle child, Nevaeh, was missing. The suspect eventually told police that he had killed her, too, and disposed of the body in a Dumpster at their apartment building. When police checked, the trash was already taken to the transfer station and then from there to the Waste Management landfill in neighboring Richland County.
Nine trucks were intercepted before their contents were interred in the privately owned and operated landfill, but Nevaeh's body wasn't in them. Her body was likely already at the landfill, but police had no idea how to, in effect, search for a needle in a haystack.
Determined to find her, they turned to the National Center for Missing & Exploited Children. (NCMEC)
Here at NCMEC we have consultants in our Team Adam program of retired law enforcement officers who specialize in landfill searches, a rare skill set requiring a combination of math, science and investigative expertise. Searching a landfill is extremely expensive, labor-intensive and dangerous.
"It's like finding a needle in a haystack, but you've gotta find the haystack first," said Dave Wurtz who was deployed to Sumter, along with Lee Reed and Rich Alt, to help coordinate and conduct a feasibility assessment. "There's no cookie cutter answer to this. Every landfill search is different. There are so many variables."
Before they could do a landfill assessment, though, they had to have evidence – other than just taking the suspect's word for it – that Nevaeh's body was really put in the Dumpster, Wurtz said. A timeline of the crime and the suspect's whereabouts was soon developed as Sumter Police Department officers and detectives worked around the clock to find Nevaeh.
Once confirmed, the team did their own review of logs, spreadsheets and maps to determine which garbage trucks took the trash to the transfer station, where it was compacted and put in bigger trucks. The Team Adam Consultants, known as TACs, determined that two additional trucks had made it to the landfill well before Bradley's body was discovered.
Evidence collected at the scene by police and analyzed also corroborated the suspect's story.
It was looking more likely that the child's body made it to the landfill – but where? They had to figure out in which section of the sprawling 40-acre landfill, called "cells," would be the most likely spot to search. In their view, the place to search was a portion of cell 6 which was 75 feet-by-85 feet.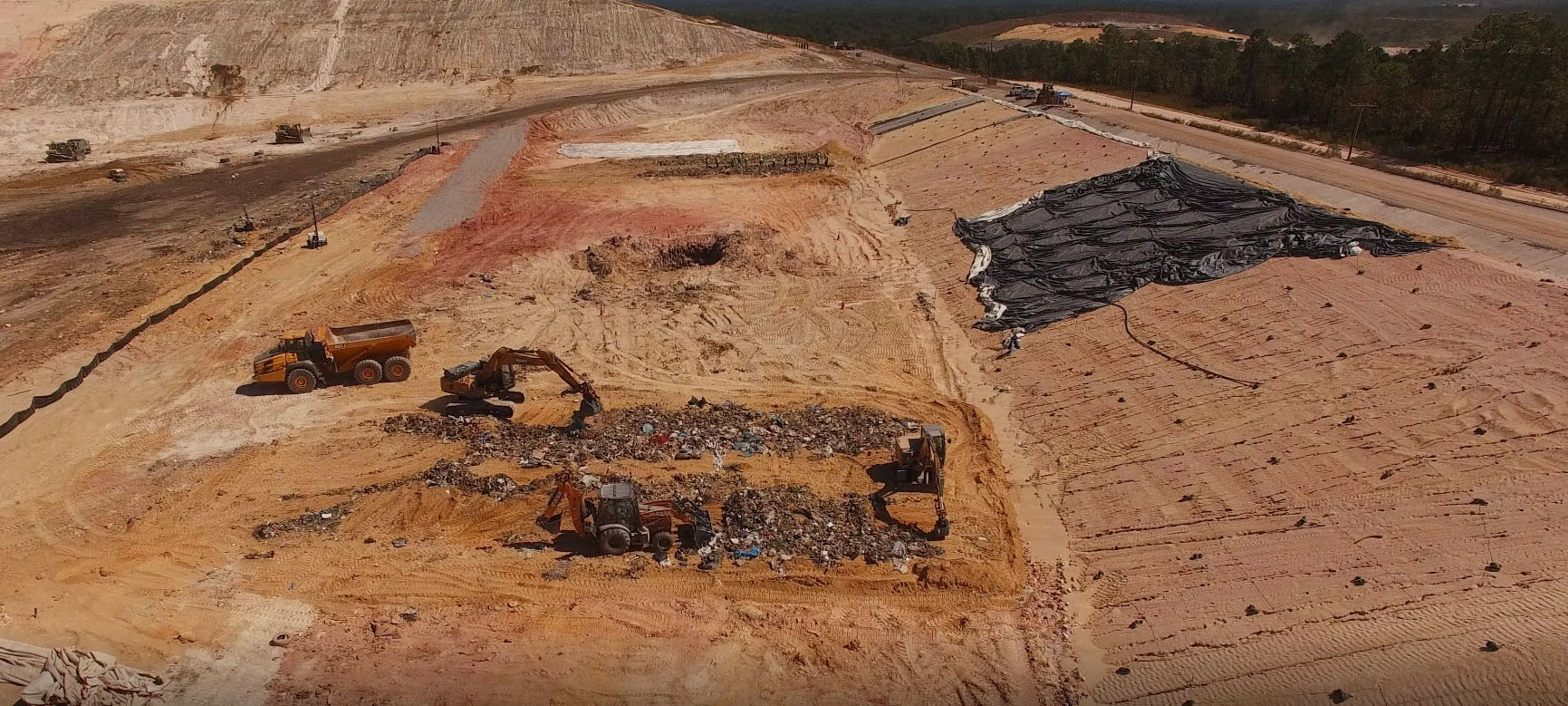 Aerial view of landfill.
"You have to understand – a landfill is not a dump. It's an architecturally designed building underground," said Reed, who has overseen 63 landfill searches and conducted thousands of assessments, first as a law-enforcement officer, then as a TAC.  In all, 49 of the landfill searches undertaken were successful.
Reed said that dumps were used in this country prior to 1971, when landfills were developed. They can be as deep as 100 feet, depending on the water table. The best way to describe a landfill, he said, is to envision that there is a different floor of trash every day in the underground building.
"We're the only agency that does it mathematically," Reed said of NCMEC. "Everyone else just goes out and digs."
By developing algorithms, Reed was able to mathematically determine where to search – they'd need to go 10 feet deep – and what it would take:
392 searchers

839 shifts

60 to 80 support personnel

7,672 search hours

4 million pounds of search material

48 state and local agencies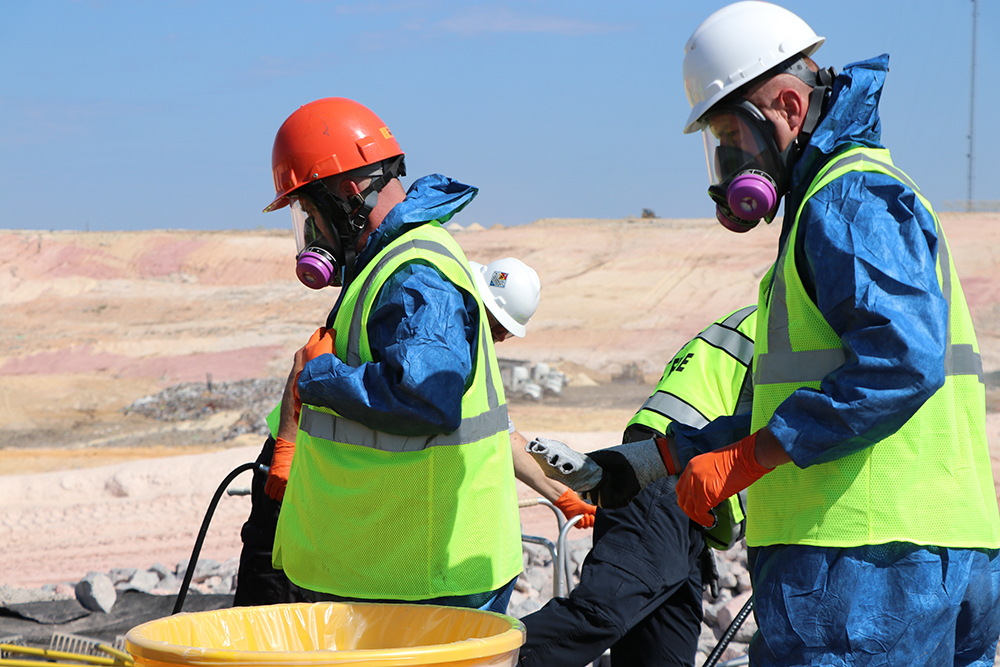 Searchers wearing protective gear.
Not only that, but the searchers would need tetanus and hepatitis shots, protective clothing, food and water, shelter for breaks, heavy equipment, a command center and a decontamination site.
Roads would have to be built; medical personnel, evidence recovery teams and a forensic anthropologist for any bone identifications would have to be on site. The search area would have to be covered each night.
Even with all of this, Wurtz and Reed put the probability of finding the child's remains at "low."
Sumter Police Chief Russell Roark said that his agency could have never attempted a landfill search without guidance from the TACs, who provided a detailed blueprint for where and how to search the tightly compacted debris buried in cell 6.
Despite the low odds, vast resources required and daunting price tag, the community wanted to give Nevaeh a proper burial if at all possible. Her murder had a profound impact not just on Sumter but well beyond in the state.
Roark said that each morning – they started early to beat the record heat – the searchers held devotion at the site where they had mounted Nevaeh's photograph. The first week, they found a glass angel in the pit, which they called "Nevaeh's Angel." A sign from heaven. Nevaeh is heaven spelled backward.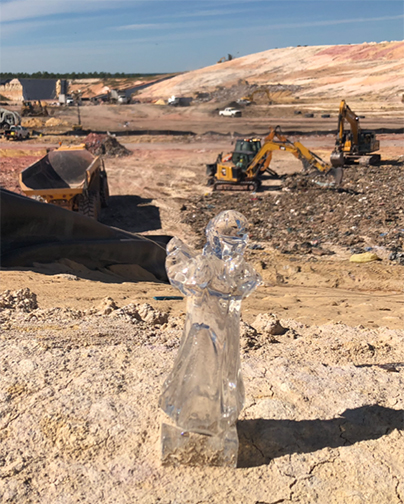 Angel sculpture
"It was an emotional time," Roark said. "We're not conditioned to bury our children. Even the most experienced police officers are emotionally attached to the death of a child – even more so the violent death of a child – even more so a child dumped in a Dumpster like she had no meaning."
Initially, there was a huge learning curve, Roark said, but the searchers got better each day as they toiled from September into October following their blueprint. Not only were his officers heavily involved in the search, but also doing their police work as well.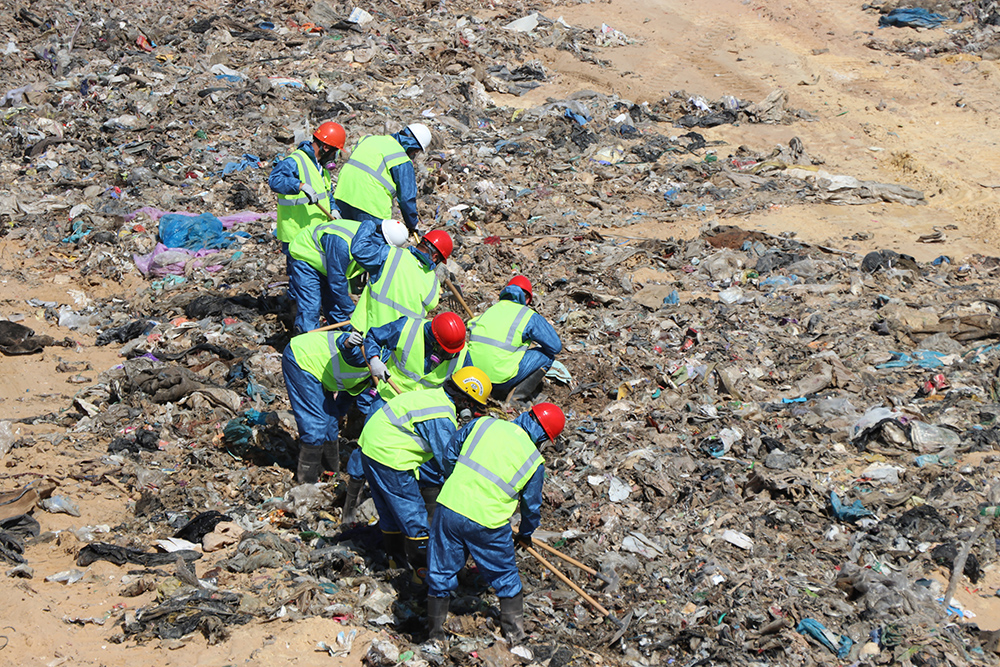 Line of searchers.
With just one week left before they would have to abandon the search, a firefighter discovered what proved to be the needle in the haystack. Now they could bring Nevaeh home.
Because of the emotional attachment to Nevaeh, most of the agencies involved in the search did not request reimbursement for their personnel's time, Roark said. Even so, the cost loomed around $1.2 million. The emotional investment? Even higher, said Roark. "How do you say we're not going to do this?" he said of the search.
The chief said a large memorial is being built that will have the names of all the agencies involved in the operation to thank them for their phenomenal help. One of those names will be The National Center for Missing & Exploited Children.
"If you have a child that is missing I don't know another group of subject matter experts in the country than the national center to get us in the right direction," said Roark. "None of us in law enforcement ever thought during our careers we would be in a landfill picking through debris in an attempt to find the body of a 5-year-old child."