15 Years After Hurricane Katrina: How the Lost Were Found
Calvin Hayes says he'll never forget Aug. 24, 2005 as the day he looked outside to see black skies and category five winds battering his New Orleans home. He was living with his great-grandmother at the time, but among the chaos of the storm and subsequent evacuations, he found himself separated from his family at the age of six.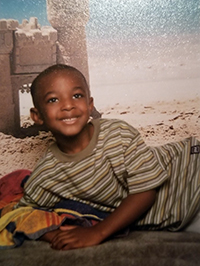 Today, Calvin Hayes is 22 years old and living in Georgia. He remembers the days Hurricane Katrina rocked Louisiana clearly, as his great-grandmother watched the news leading up to the storm, trying to figure out how to take care of Calvin and get him out of harm's way.
"Even as a kid you realize something isn't right. I knew something was off. I knew something was not going as planned," said Calvin. "I still can't believe it to this day, that it did that much damage to a city like that." 
Hurricane Katrina was one of the deadliest hurricanes to ever hit the United States. It's estimated that over 1,800 perished in the storm and millions more were left homeless all across the Gulf Coast. In Calvin's hometown of New Orleans, over 70% of the city was flooded by the end of Katrina's eight-day tirade
During the aftermath of Katrina, the National Center for Missing & Exploited Children (NCMEC) helped resolve 5,192 missing child cases of children displaced because of the storm. A major force behind those resolutions were the members of NCMEC's Team Adam, a group of retired police officer volunteers who are deployed in cases of critically missing children. The group is named for Adam Walsh, a six-year-old boy who went missing in 1984 and was later discovered deceased, prompting his father, John Walsh, to help establish NCMEC. After Hurricane Katrina, Team Adam was on the ground in Louisiana and Texas, searching for missing kids. Calvin Hayes was one of those children.
 "A lot of families got on separate buses assuming they were all going to the same place, but they weren't," said Brook Schaub, a Team Adam consultant who was helping find children after Katrina. "There had been no way to keep track of who was getting on which bus."
In an example of that scenario, Calvin and his great-grandmother were separated as evacuation vans filled up leaving Louisiana. It was a chaotic scene as hundreds of families were trying to make it to safety. When Calvin's grandmother realized there wasn't room for them both in the same van, she made arrangements for Calvin to leave with his preschool teacher, Mrs. Gice.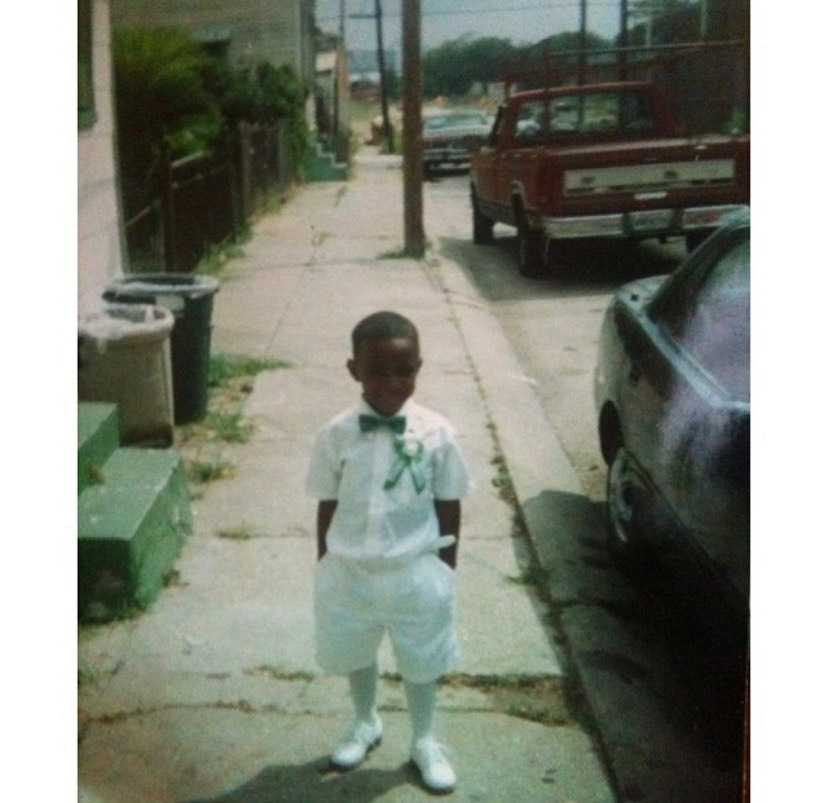 The good news was Gice and Calvin made it safely to Houston, Texas to stay with Gice's family just as Katrina made landfall. But they had no way to let Calvin's family know what had happened.
Meanwhile, Calvin's grandparents in Georgia were worried sick. They had no idea where their grandson was and knew that Louisiana was being hit hard by the Hurricane. That's when they made the call to NCMEC to report him missing.
A tip had come in to NCMEC saying that Calvin had left Louisiana by Mrs. Gice's side, and she'd been taking care of him in Texas.
"I was in Houston and in school there for about a week before an officer came up to me in school, during lunch period and asked, 'Are you Calvin?' and I said, 'Yes sir I am.' He explained to me that my grandparents here in Georgia had been looking for me. I didn't know the entire time that there was a missing persons report out for me. My picture was all over the news, flashing everywhere constantly, all throughout the day."
After Calvin was located by the Houston Police and Team Adam, NCMEC worked with his family in Georgia to make arrangements to get him there safely. Calvin's great-grandmother was also found safe after the evacuation.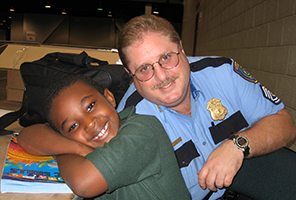 Calvin Hayes with the Houston Police Officer who helped recover him in Texas after the storm.
Although it was a confusing and life-altering experience, Calvin has been able to think of his displacement after Katrina as having an overall positive impact on his life. "With that hurricane, it did affect so many lives and separate so many families. But you just have to look at the bigger picture and know that there's always a light at the end of that tunnel. I wouldn't have even been reunited with my other family here in Georgia if it wasn't for that."
Due to NCMEC's efforts in the aftermath of Katrina, Congress later mandated the establishment  of the National Emergency Child Locator Center (NECLC), which NCMEC operates during Presidentially declared disasters at the request of the Federal Emergency Management Agency (FEMA).
"If any natural disaster like this happens again, we [NCMEC and Team Adam] would go straight to the FEMA command post," said Brook. "We're much better prepared now."
"I just want to say thank you to NCMEC for not giving up on me," said Calvin. "I know there were hundreds of kids that were missing and they took the time to make sure that every single kid got the time to be rescued."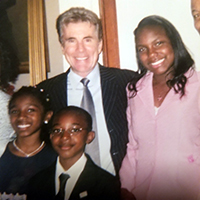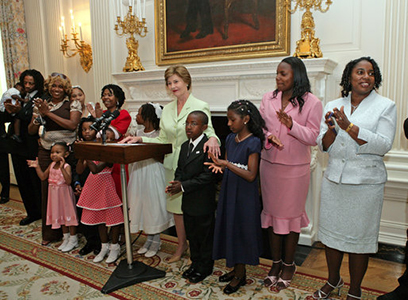 Calvin and his family at the White House following their reunion, alongside NCMEC founder John Walsh and First Lady Laura Bush.
To learn more about creating a disaster preparedness plan for your family, please visit NCMEC's Disaster Preparedness & Response page here.