During some of the worst moments of their lives, they were comforted by the only people who could truly understand their pain – those who have had, or still have, a missing or sexually exploited child. Now they want to give back, to help others who one day will see their own world shattered.

One by one, 41 women and men rose from their chairs Friday night at the National Center for Missing & Exploited Children in Alexandria, Virginia, each holding a lit candle and explaining why they traveled from all across the country to be here:

"Sabrina.""Tyler.""Michelle.""Carmen.""Kevin...."

Twenty of the children whose names were recited have been recovered safely. Eight are still missing. Four have been recovered deceased. Nine were sexually exploited. Their loved ones – mothers, fathers, sisters, grandparents – are joining NCMEC's national support group known as Team HOPE. Since the group first formed –  20 years ago – more than 490 trained volunteers have reached out to more than 85,000 families of missing and sexually exploited children.
"They're honoring their children every day by helping others and giving purpose to what happened," says Abby Potash, director of Team HOPE, whose 10-year-old son was abducted by a family member and safely recovered after more than eight agonizing months. "They want to help because they don't want anyone feeling alone in their pain."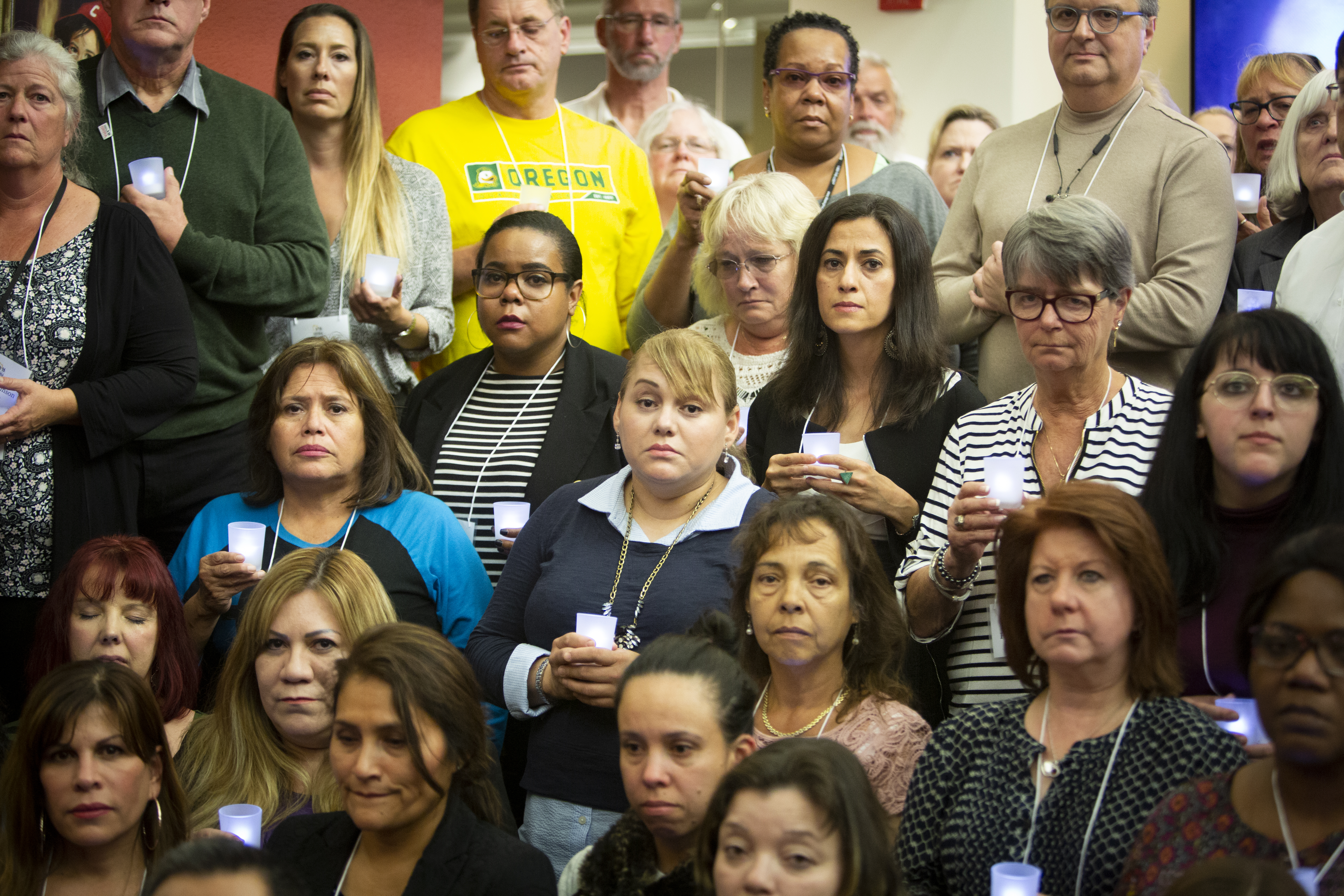 Team Hope families
The idea for Team HOPE was born after Colleen Nick, the mother of a missing child in Arkansas, reached out to Patty Wetterling, the mother of a missing child in Minnesota. A friendship was forged and the two have leaned on one another for support for many, many years. 
Nick's 6-year-old daughter, Morgan, was abducted from a Little League baseball game and has been missing for more than 23 years. Wetterling's 11-year-old son Jacob was abducted at gunpoint from his bicycle and was recently recovered deceased after 27 years. His abductor confessed to killing Jacob, giving the family more pain but finally the answers they craved.
"The support they received from each other, they couldn't get from anyone else," says Potash. "It was so valuable, and they realized a support group like Team HOPE could help so many other families that are suffering."
The 41 new volunteers, from cities large and small, are enrolled in Team HOPE's 26th training session. Over four emotional days, they'll have sessions on such topics as "Trauma," "Listening Skills and Communication," and "When Their Trauma Becomes Yours; Taking Care of Yourself." There's a box of tissues on every table and bottles for blowing bubbles if things get too intense.
The volunteers are divided into teams by case type, including family abductions, non-family abductions, endangered runaways and child sexual exploitation. The most crucial part of being an effective volunteer, says Potash, is to listen – and not insert your own story into the conversation.
"We don't want to make it about us," says Potash. "A parent whose child has been missing for a week may not want to know that their volunteer's child has been missing for a year."
Through their phone conversations, Team HOPE volunteers provide their referrals with emotional support, coping tools and resources. They work to empower them by helping them find their strength and try to alleviate the isolation that can result when a child is missing or sexually exploited. Relatives and friends don't always know what to say, so they may withdraw.
Volunteers know what it's like to be disappointed when they don't receive a return call and make sure they keep their promises to the families they support.
"Team Hope volunteers are courageous, determined and they generously give their hearts to the families they are supporting," says Potash.
To speak with a Team HOPE volunteer, call 1-866-305-HOPE (4673)