Pennsylvania State Police and NCMEC: Solving Pennsylvania's Oldest Mysteries
There are thousands of unsolved homicides in the Commonwealth of Pennsylvania. Cases can quickly pile up and some go cold for years, even decades.
Corporal Thomas McAndrew is part of the criminal investigation assessment unit of the Pennsylvania State Police, and one of about 20 investigators statewide responsible for both new and "cold" homicides. For cold cases, they have the immense responsibility of finding ways to move forward with cases that have hit a dead end.
For him, time is both an enemy and friend. 
"There is a clock on all these cases," said McAndrew. "The longer they go on, the closer they get to forever remaining a cold case."
While the cases that hit his desk vary greatly, the very worst involve children. 
"When you're working on the homicide of a child, you become more driven…if you can't get motivated about trying to resolve a case about a child, then you're in the wrong business," said McAndrew.
For years, the Pennsylvania State Police has worked extensively with the National Center for Missing & Exploited Children to help bring home long-term missing kids – these are kids missing more than six months, and some have been gone for years. PSP also works with NCMEC to help identify Pennsylvania's unknown child victims. Investigators with PSP are currently working with NCMEC on about a dozen unidentified child cases and many long-term missing child cases.
"At NCMEC, we help review what's already been done and identify resources that are available that could be applied to their cases to help move them forward," said Carol Schweitzer, supervisor of the forensic services unit at NCMEC.
"It's nice to work with likeminded people, and at NCMEC, they're up on the latest forensic techniques," said McAndrew. "It's another avenue of support. The mission we have is to go out and identify these kids so we can find their killer, and NCMEC has that same mission."
One case that holds special importance to McAndrew is a girl known as Beth Doe, whose body was found right before Christmas in 1976 along the banks of the Lehigh River in Carbon County, Pennsylvania.

She was violently raped, strangled and shot in the neck after she died. She was pregnant, full-term, with a little girl. The fetus was cut from her body and her nose, ears and breasts were removed. 
Her body was dismembered, shoved into three suitcases and thrown from a westbound highway overpass off I-80, which runs east-west through Pennsylvania. 
Kids checking small animal traps near the river below the overpass found the girl's remains. Investigators say she had been deceased for only a day or two when she was found. She was somewhere between 15-25 years old and called "Beth Doe," and while we don't know for sure the origins of the name, investigators say it was likely to differentiate her from other "Jane Does" at the time.
"This was a bizarre case for Carbon County," said McAndrew. 
Early on investigators tried everything they could to find answers. Several sketches of her face were created by different artists and publicized with the local news media. But no one came forward with answers.
This was 1976. There was no internet or 24-hour news networks. 
"I think if we had all the major news outlets we have today, this case would have been on every TV show, every newspaper," said McAndrew. "A nine-month pregnant female, murdered within four days of Christmas? Can you imagine?"
But after an exhaustive investigation, leads dried up.
NCMEC's forensic imaging team created a facial reconstruction for the girl in 2002, after receiving a call from McAndrew. And with advancements in forensic science, McAndrew had the girl's remains exhumed for testing. 
An exam of her teeth revealed she had dental work done as a child, but her oral health declined significantly in the years before her death. She was likely in pain which may have been noticeable to the people around her. 
It's important to note that while she was found in Pennsylvania, law enforcement says it's unlikely she was from that region. Chemical Isotope testing revealed even more clues. She may have spent her early childhood in southeastern parts of the U.S. that span from regions in Texas to regions in Virginia. Although the possibility also exists that she originally migrated from Eastern-Central Europe before coming to the U.S.
NCMEC created a new facial reconstruction of her in 2015 to give the public an image that might spark someone's memory.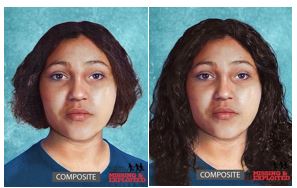 The forensic imaging team at the center then went to work enhancing other images that could be crucial to cracking the case - the suitcases she was found in and a bedspread found inside the suitcases. Now, it's a matter of the right person seeing the images and coming forward with information. 
"You know how everyone says there is always one case they want to solve in their career?" said McAndrew. "For me, this is the one."
Beth Doe is just one of the more than a dozen unidentified child victim cases with which NCMEC is assisting the Pennsylvania State Police. It's a partnership centered on the idea that no child is ever forgotten. No matter how many years pass, every child deserves the same chance at justice. 
"Every child deserves their name," said Schweitzer. "They deserve justice, and justice waits."
If you have any information about Beth Doe, please call the Pennsylvania State Police at 570-459-3890 or the National Center for Missing & Exploited Children at 1-800-THE-LOST (1-800-843-5678).
View Beth Doe (Jane Doe 1976)'s NCMEC poster here.
For a list of missing and unidentified cases in Pennsylvania, visit www.missingkids.org and search by "state."