Living a Parents Worst Nightmare?
My waking nightmare started on January 31 more than 10 years ago. That was the day my family's life imploded in a spectacular and life-altering fashion. I'm going to share my story with you, but not my name to protect my children.
That day my husband of 20 years was arrested and my daughter disclosed that her father had been molesting her. Law enforcement said he'd been creating sexual abuse images of her and trading them with pedophiles around the world. I had no idea that by the end of the day, I'd be the sole parent of three traumatized children, trying to figure out how and why this happened and what to do next.
The next morning, I got up and hired a lawyer to help me figure out our rights in the face of these heinous crimes. Then I hired a divorce attorney. I was fortunate that the law enforcement officers assigned to our case were helpful, kind and wanted to help us through this trauma.
When you're a victim in this kind of case, the way you're treated by the professionals you need to get through this makes a huge difference! We have had great support from our therapists, FBI agents, attorneys, Justice Department officials and many others, but it took a lot of work to advocate for all the help to come to us. My family was amazingly wonderful and supportive – we were very lucky that way.
During this trying time, the FBI agent on our case kept mentioning "NCMEC." I had no idea what that acronym meant. He explained that it was the National Center for Missing & Exploited Children, the leading non-profit organization on issues of missing and sexually exploited children. He told me about a NCMEC program that helps law enforcement identify children in sexual abuse images on the internet. My daughter was now an identified child in the program, he said, and authorities will be alerted if they find any of her images.
I immediately went to the NCMEC website, at www.missingkids.org,  and found Team HOPE. At the time, it was only for relatives of missing children, but after contacting Abby Potash, the program director, she expanded it to help parents of sexually exploited children as well.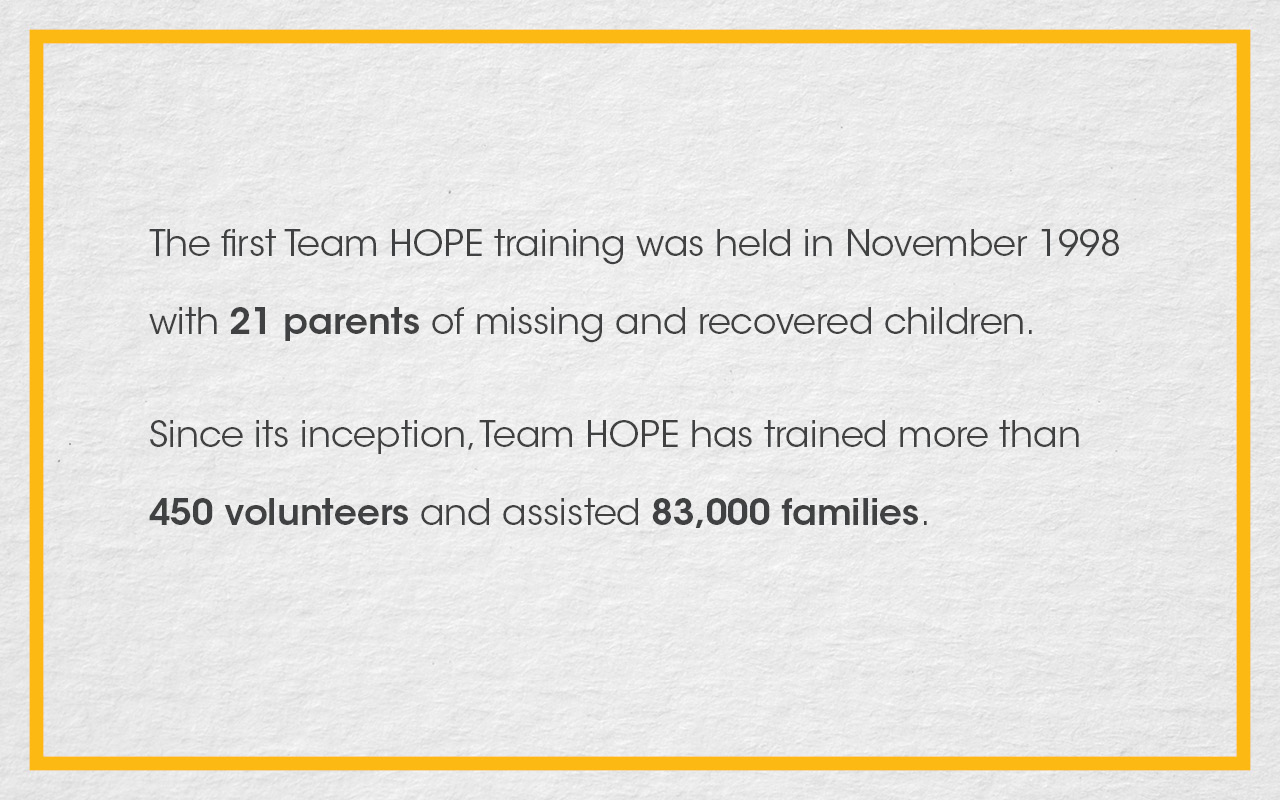 Soon after, I joined Team HOPE as a volunteer. I was the only one in my circle of family and friends who had ever experienced anything like what we had been through. After I started to volunteer, I spoke with many parents who were going through their own living nightmare as well. I found that it helps so much to know that you're not alone. When you talk to someone who has been through a similar experience, it helps you know that you can find the strength to get through the next five minutes, the next hour, the next day, the next month, the next year. It gives you hope for your child's future – and your own.
Team HOPE is part of the Family Advocacy Division at NCMEC. This wonderful group of caring people help families find mental health professionals in their own community who can give the child and family the help they need. It's an amazing resource and so helpful when you don't know where to turn for help.
Children are resilient. Children who get help from trained professionals are even more so. There's hope for a bright future for your child who has been a victim of sexual exploitation. I've seen it with my own child and have heard it from so many parents over the years. I still get calls from people I supported to update me on how their child is doing.
Can there be setbacks, trials and tribulations to still go through? Of course, that is how life works. But it can be a little easier to get through when you have the emotional support to carry on. If you have a child who is missing, or was missing and has been recovered or was sexually exploited, please call Team HOPE. They can't give you a magic wand to make everything that happened go away, but they can be a great support for the road ahead.