You Could Solve The Mystery of Apache Junction Jane Doe
Arizona police want to take you back to the summer of 1992, especially if you were anywhere near Phoenix or the surrounding areas around that time.
Maybe this will help: Madonna's song, "This used to be my Playground," was racing to the top of the Billboard charts. President George H. W. Bush was ramping up for his re-election bid. Carl Lewis was adding to his collection of gold medals at the Barcelona Olympics.
Looking back, here's what police want to ask you:  Did you know or see a teen-aged girl wearing a distinctive white "Team Gear" T-shirt with soccer balls on the front and back? Maybe she showed you a green-ink drawing of a penny she kept in the pocket of her cut-off Levi's jeans. Perhaps you noticed a yellow metal ring she was wearing with a nugget design. Or, you may have seen her taking the bus with the Phoenix Transit System. If so, Apache Junction police want to talk to you right away.
On Aug. 6, 1992 – 27 years ago this month – a man walking his dog found the girl's decomposing body in a vacant field of scrub brush and desert grass in Apache Junction, about 35 miles east of Phoenix. She was likely 16 to 18 years old. Her shoulder-length hair was brown and she did not appear to have ever had braces. Her teeth were described as "protruding." 
But to this day, no one knows who she was. And no one knows how she died. For the last 27 years she's had another name: "Apache Junction Jane Doe."
Apache Junction police officer Stephanie Bourgeois has spent the last 11 of those 27 years trying to figure out who she was. Even all these years later, she's not about to give up. Exhaustive investigations have led nowhere. Leads have dried up. Doe's DNA and fingerprints submitted to national databases have come up empty. 
Undaunted, Bourgeois is still trying to jog memories with two billboards in Phoenix showing a reconstruction of what Apache Junction Jane Doe may have looked like – and that T-shirt with the soccer balls.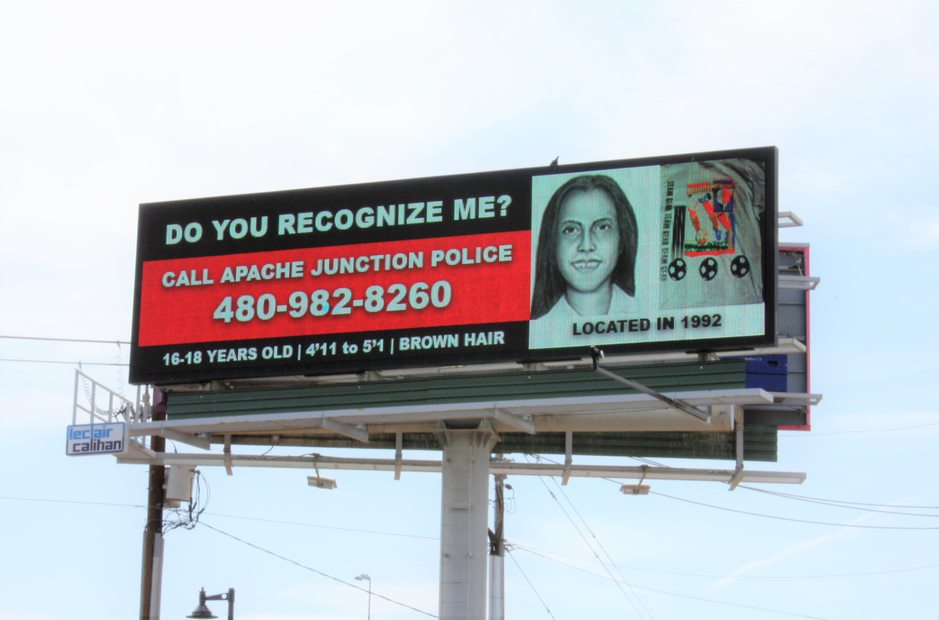 A family out there somewhere wants answers, and Bourgeois is determined to find them. About a year ago, the crime scene technician was flipping through her copy of "Forensics Magazine" when she spotted an article about an exciting new initiative that uses genetic genealogy to identify Jane and John Does. 
After reading the article about the "DNA Doe Project" and the groundbreaking work of genetic genealogist Colleen Fitzpatrick, an excited Bourgeois went straight to her police chief. "Can we do this?"
They could and they did. Apache Junction Jane Doe is now an active case with the nonprofit volunteer organization, and Fitzpatrick, a co-executive director and widely considered the founder of forensic genealogy, is using Doe's DNA to try to find some of her relatives and build a family tree.
We know this so far: Doe's ancestry was 50% Native American, 25% African American, part Caucasian and possibly part Hispanic. While Bourgeois hopes genealogy will help crack the case, she's not giving up on the public. Someone knows who she was.
The medical examiner believes the petite five-foot-one teenager's body had been exposed to the hot Arizona sun for three to five weeks before it was found. The cause and manner of death: No clue. 
"We really don't know if there was trauma due to the condition of the body," says Bourgeois.
But there were plenty of clues to her identity found at the scene, Bourgeois says. Inside the right pocket of her Levi's was a Phoenix Transit System token that said "Valid for one student fare." So, was she a student? Despite their best efforts, investigators have not been able to find out.
That sketch of a penny in her pocket was on a piece of paper the size of the coin. On one side was a drawing of Abraham Lincoln; on the other, the Lincoln Memorial. 
Bourgeois has been working with Ashley Rodriguez, a senior forensic case manager with The National Center for Missing & Exploited Children. Apache Junction Jane Doe is one of 700 cases of unidentified child remains her team is trying to help identify.
"Nineteen ninety two wasn't that long ago, so we hope that someone out there will recognize her from the reconstruction," said Rodriguez.
Meanwhile, as time marches on, so does technology. And Bourgeois hopes that new advances will one day unlock the mystery of Apache Junction Jane Doe. And finally give her family some answers. 
If you have any information, please call the Apache Junction Police Department at 1-480-474-8596, reference case #92-3057, or NCMEC at 1-800-THE-LOST (1-800-843-5678).