Last Seen in Camp Lejeune
Ed Brown, who would one day become sheriff of Onslow County, N.C, was still in high school that mid-September afternoon in 1962 when 7-year-old Diane Moon and her 2-year-old brother, Mark Yoli, vanished.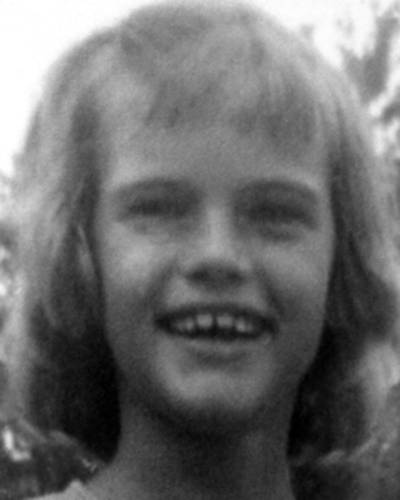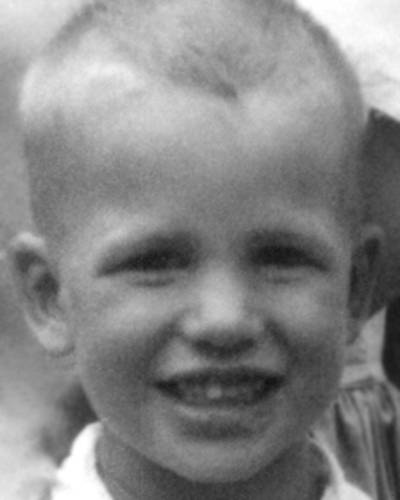 The children had left their home in the Midway Park neighborhood of Camp Lejeune, N.C., to play at the park. When their mother, Marilyn, went to the park to bring them home, they were nowhere to be found. While they had wandered off a few times in the past, one time found sleeping under a tree, perhaps they had done it again.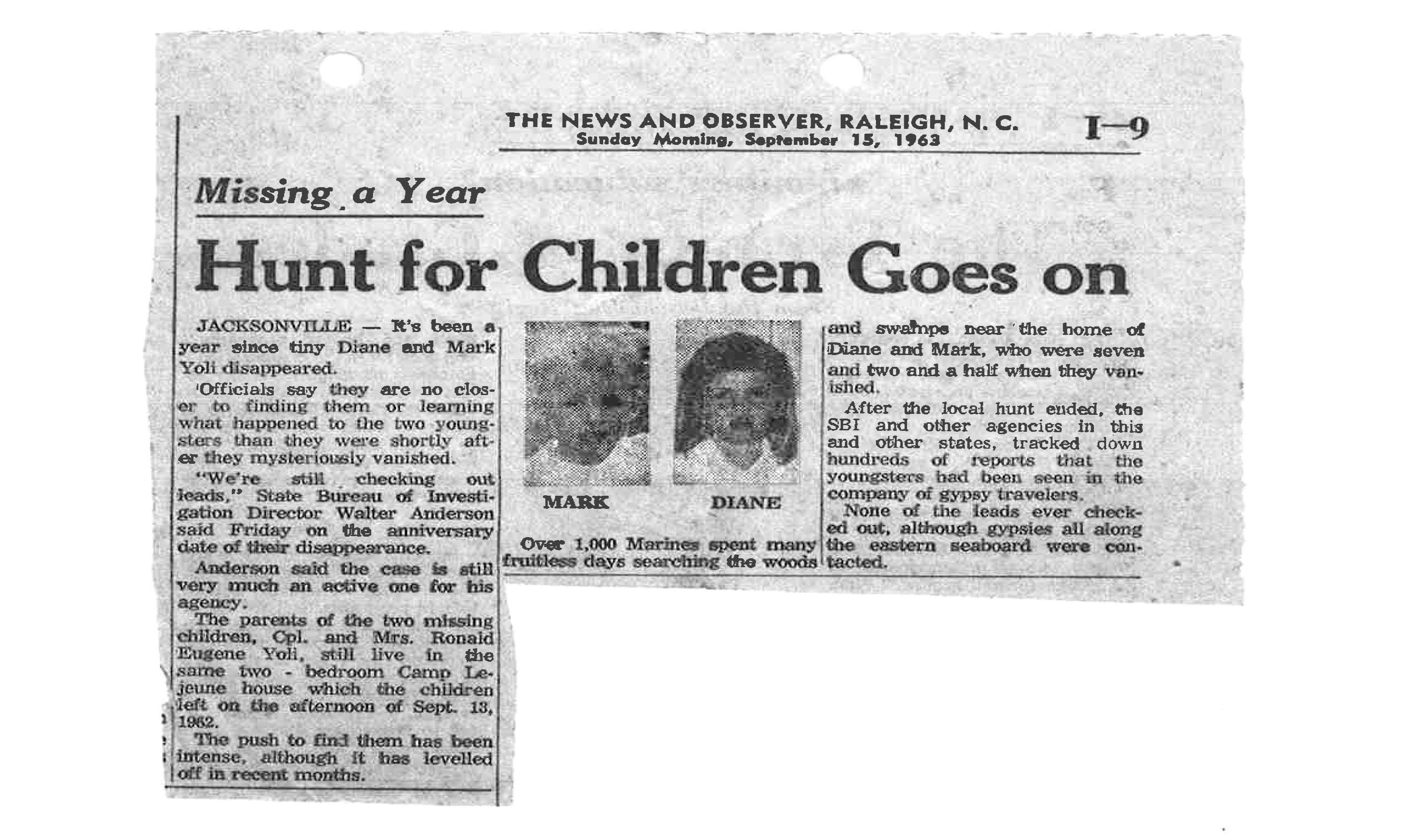 The News and Observer Raleigh, NC 9/18/1963
Marine Cpl. Ronald Yoli, the biological father of Mark and the stepfather of Diane, notified base and local authorities and a massive search was launched. More than 1,000 U.S. Marines joined the search over the next few days. But after days of searching, it began to look like something more sinister may have happened to the siblings.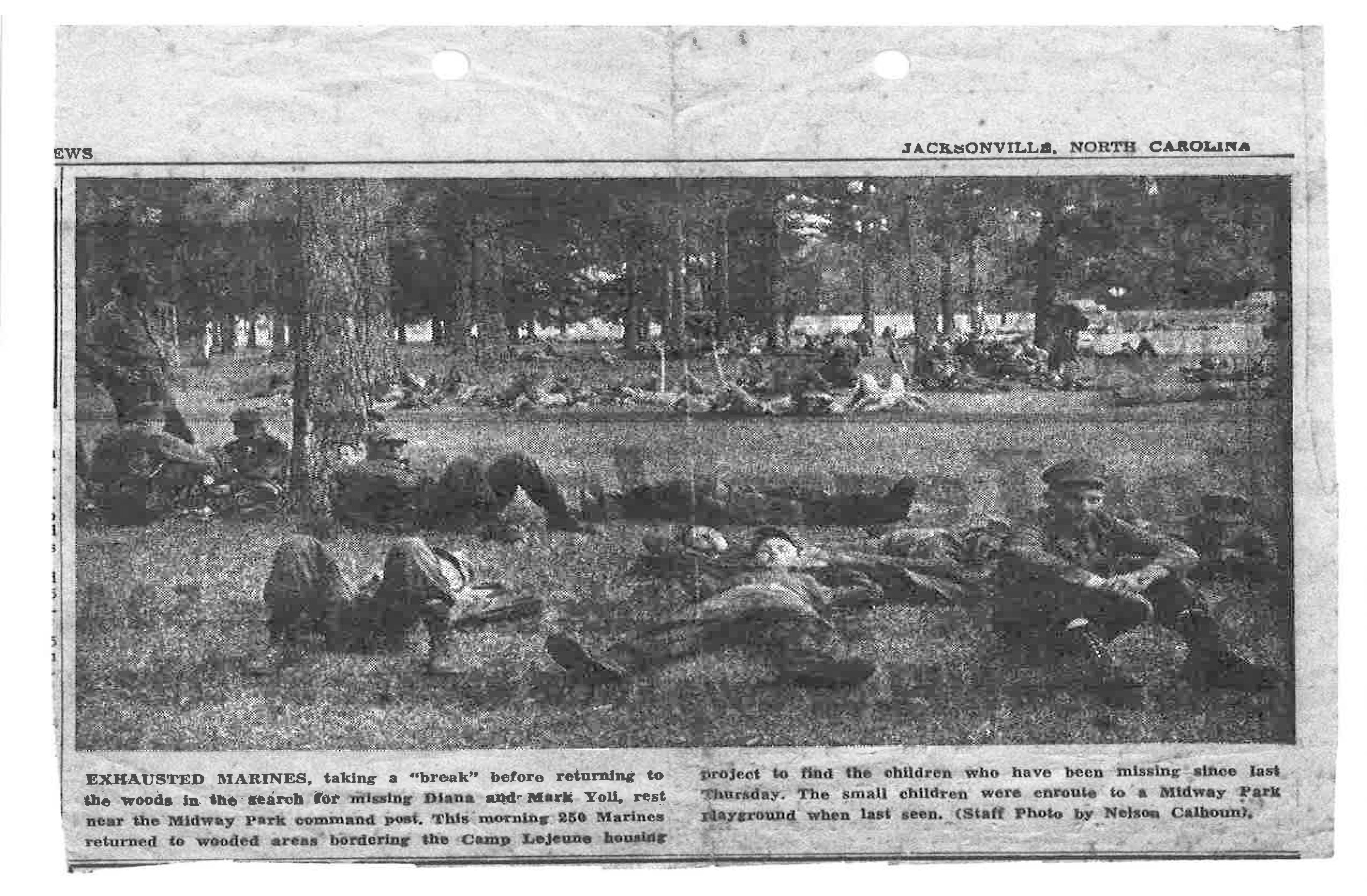 Marines helping in the search (Credit: Nelson Calhoun)
When he was in high school, Brown's girlfriend's yard backed up to the property belonging to a couple named Marjorie and Henry Hunt. Henry was a convicted sex offender, and the family had been the focus of a lot of neighborhood gossip. The couple lived off base about 13 miles from the missing children.
"My girlfriend's family would always talk about the suspicious things they would see going on over on the Hunt's property," says Brown. "At the time, my girlfriend's family had a German shepherd and whenever the dog would get out of the yard, he would immediately run over to the Hunt's property and start sniffing around areas of their crawlspace."
In 1967, Brown began his career in law enforcement at the Onslow County Sheriff's Office and, at that point, the children had been missing for five years. 
It would be 25 more years, in 1992, when they finally got a potential break in the case. Hunt's now ex-wife, Marjorie, called the sheriff claiming she knew what happened to the children.
Marjorie died before authorities could question her, but she had relayed to her daughter what she said her ex-husband had told her at the time. He told her that he was responsible for the children's disappearance and death, she said. 
On the day the children went missing, he said, he picked them up from the park and took them fishing on his boat. While they were out on the water, he said, Mark fell in and drowned, and he panicked and killed Diane. He claimed that he then drove his boat to a rock quarry in Maysville, N.C. and disposed of the bodies.
Henry Hunt had died a year before his ex-wife gave her statement, so he could not be questioned, and charges were never filed in the case.
Given the suspicion surrounding the Hunt's property for years, Brown was not convinced that Hunt left the children's bodies in a quarry, rather he suspected that the bodies may be located on the property. 
Years later, after another family had moved into the Hunt's home and sold it, a developer bought the land. Brown spoke with the developer and asked that his workers keep an eye out for anything they thought may be related to the case.
As the developer began demolishing the house, they came across a shovel, a jawbone, two other smaller bones and a child size pink vinyl belt beneath the floorboards of the home. The bones were later determined to be from animals, and the owner of the small pink belt could not be determined. 
Brown strongly suspects that Hunt killed the children. "You don't leave two children that can talk and walk and run and play with a bad memory in their mind that they could tell someone about later," he says.
It's been over 56 years since anyone last saw Diane and Mark. At the National Center for Missing & Exploited Children, we never give up hope that one day there will be answers, and their case will remain open until that time. Forensic artists at NCMEC have created these images to show what Diane and Mark may look like today.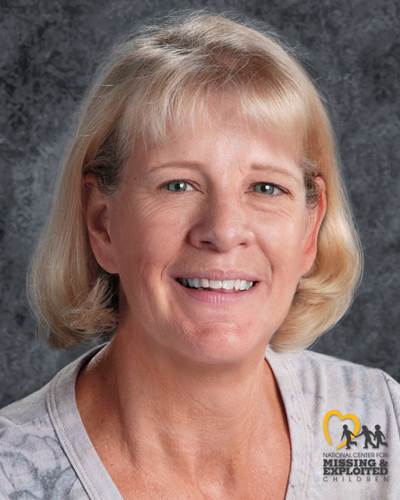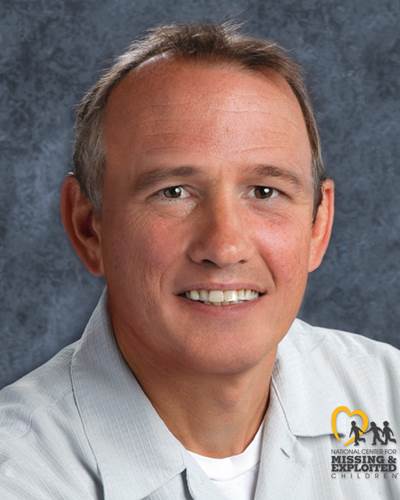 Brown, who has since retired as sheriff, will never forget Diane and Mark.
"These types of cases just don't go away," says Brown. "When you are sitting around, you just have memories. They don't haunt me, but they run through my mind."
To view the NCMEC poster click here. If you have a tip, please call us at 1-800-THE-LOST.  (1-800-843-5678)