Trenton Duckett was 2 years old when he disappeared from his Leesburg, Florida home on Aug. 27, 2006. His mother, Melinda (Eubank) Duckett committed suicide two weeks later. Today, Trenton would be 15 years old. NCMEC forensic artists have created a new age progression image of what he might look like now. His family has never stopped searching for Trenton. His grandmother, Beth Eubank, says they miss Trenton and Melinda every day but the holiday season brings special meaning for the entire family. 
---------------
Dear Trenton,
Thirty-four years ago, on Christmas Eve, we went to JFK Airport in New York City to await the arrival of a baby girl we were adopting from South Korea. As we waited in a room with a lot of anxiety and other people, we watched planes land and take off. Finally, a plane marked Northwest Orient landed.
About one hour later, women came in the room holding babies, calling the names of the people waiting. When the names, "Mr. & Mrs. Eubank," were called, a 4-month-old baby girl was placed in our arms, dressed in a little pink outfit with neon yellow socks and a red bow. With tears in our eyes and a heart full of love and joy, Melinda Marie Eubank became our daughter. "Mindy," as she was called by family and friends. Mindy was a very beautiful, loved, intelligent, smart, articulate and high-achieving young woman.
On Aug. 10, 2004 she gave birth to a beautiful baby boy named Trenton John Duckett. That baby was you. She loved you with all her heart. She was young but very dedicated to motherhood and strived to be the best mom she could be.
You looked so much like her when she was little.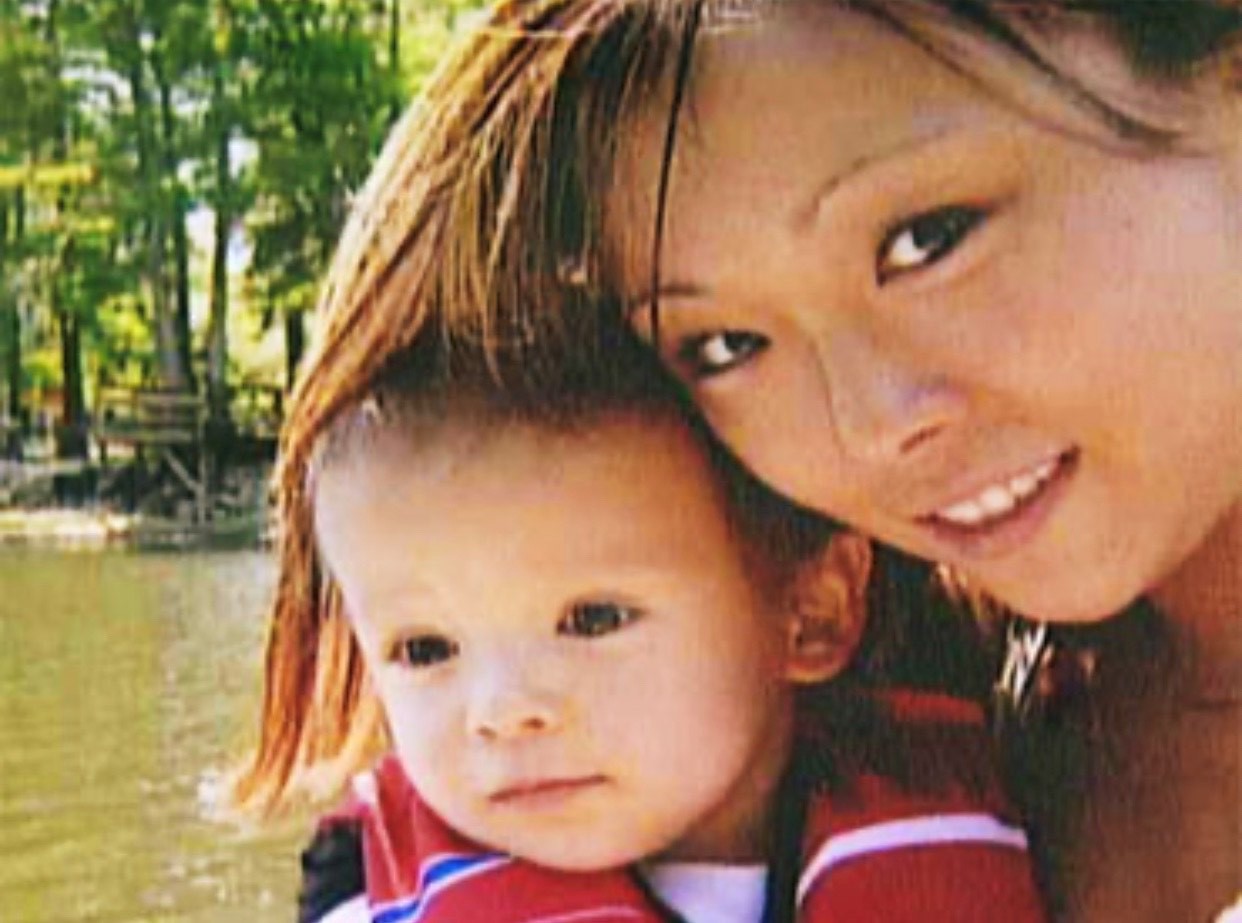 Trenton and his mother.
Sadly, on the evening of Aug. 27, 2006 you were swiftly taken from your bedroom with the window screen cut. You vanished without a trace. You were 2 years old and too young to understand you were abducted. Law enforcement from the entire state of Florida and the country were involved in looking for you, but sadly there were no results. A great organization called the National Center for Missing & Exploited Children put your picture out on the internet, which gained media attention and helped in many, many ways. However, no tips came in to find you.

Your mom was an emotional wreck and absolutely heartbroken because she felt she let you down and did not do enough to protect you. The media and a lot of people helped in the search for you, but sadly a lot of other people were mean, nasty and made many comments to her. She was beaten down so far emotionally that she just could not bounce back up. Her heart was broken. Sadly, on Sept. 8, 2006 she took her own life. Our hearts were devastated from you missing and now our hearts are broken with her gone as well.
Thirteen very, very long years have passed by and there is not one day that has passed that you have not been thought of. Everyday your entire family prays today will be the day someone sees your picture on a poster, or sees you and makes that one phone call to bring you home. You have a family that misses you dearly, thinks of you and prays daily for your return.
We have become very involved with NCMEC, helping other families cope as their loved ones are missing as well. We've supported many through Team Hope, the Ride for Missing Children and the Ride of Hope. Many other people have become aware of missing children and have ridden their bicycles over 100 miles in a day and across the country to help educate other children on strangers and abductions. Some are doing all of this for you while wearing a pin with your name and picture everywhere they go.
You are a very special young man. Although you have been missing from our family since you were 2, we have never ever given up HOPE in finding you and we have never stopped loving you. Your mom has been watching over you in heaven every step you've taken all these years and we just pray for the day to be reunited with you. There are so many memories, pictures and stories of your mom we want to share with you. There are so many people that have supported us, helped in searching for you all these years, and are just as eager to meet you, hug you and hear the words, "Trenton Duckett has been recovered." They have never given up HOPE in your recovery and neither have we.
We love you with all our heart,
Gramma & Grampa Eubank
If you have any information about Trenton, please call NCMEC at 1-800-THE-LOST (1-800-843-5678).
View his missing poster here.