John Doe 44: How was he identified?
The National Center for Missing & Exploited Children (NCMEC) has once again played an important role in the arrest of a man allegedly connected to a child sexual abuse investigation. According to the FBI, NCMEC provided critical information which helped lead to the apprehension of "John Doe 44," a man seen in footage of child sexual abuse material.
So what happened behind the scenes leading up to John Doe 44's arrest? How was he identified?
NCMEC has an extraordinary team of analysts who work tirelessly to help identify clues in images and videos that might lead to the location of children being sexually abused. NCMEC is a key player in a global effort to safeguard child victims, regardless of where they are in the world.
"Every day, we analyze images of child sexual abuse with the hope of identifying a clue that will lead us to the location where a child is being abused" said Shelley Allwang, Director of the Exploited Children Division. "One of the most useful clues is when we find an adult face in the imagery. Law enforcement can make that information publicly available during their investigation."
When Shelley's team comes across CSAM with a visible face, like John Doe 44, they pass it along to the FBI's Endangered Child Alert Program and to the Department of Homeland Security Investigations' Operation Predator team. In some cases, law enforcement chooses to distribute the photo to the public with the hope that someone will recognize the individual.
In the case of John Doe 44, the plan worked. Within hours of the FBI releasing his photo to the public, he was identified and arrested.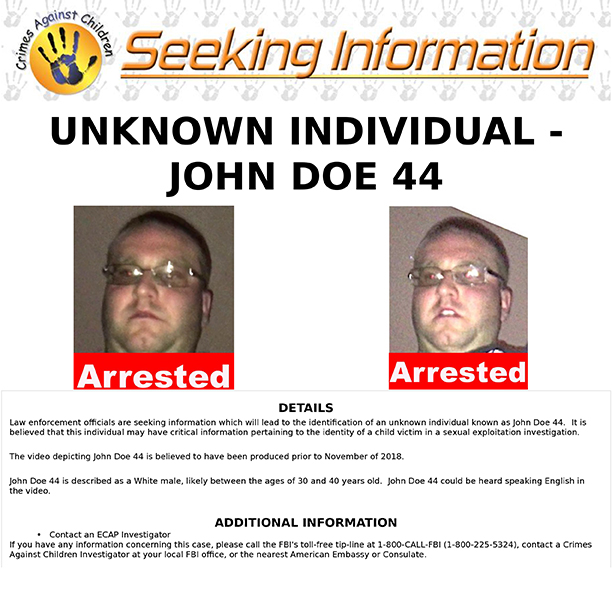 "This particular case is a great demonstration of how NCMEC's tireless efforts complement law enforcement's ability to remove children from abusive situations. I am so proud of our analysts, who have dedicated their careers to protecting children. Our staff are confronted with graphic imagery each day but they refuse to lose sight of the important role they play in child protection. Anytime a child victim is rescued, it is an affirmation of the difference they are making in the world." said Michelle DeLaune, SVP COO.
We are fortunate to work with law enforcement officers who share our passion for safeguarding our most vulnerable children. The FBI's Endangered Child Alert Program's website has more cases just like this that need your help. As seen with John Doe 44, the eyes and ears of the public can make a difference.
"We need the public's help with these cases," said Shelley. "We ask you to go to the FBI and HSI websites, and look at the current photos, someone has information that could directly lead to the rescue of a child victim."
Look through the John and Jane Does in FBI's Endangered Child Alert Program here: https://www.fbi.gov/wanted/ecap
Look through the John and Jane Does in FBI's Endangered Child Alert Program and HSI's Operation Predator here: https://www.ice.gov/factsheets/predator
If you come across child sexual abuse material, report it to the National Center for Missing & Exploited Children's CyberTipline here: https://www.missingkids.org/gethelpnow/cybertipline