Is Your Explicit Image Out There? Get Help Now
By Patricia Davis
In every community in this country, survivors of child sexual abuse live with the same debilitating fear that photos and videos memorializing their abuse as a child and shared on the internet will forever remain online for anyone to see. Many say they worry constantly that someone who has seen their images will recognize them in public. 
Hear their terrified voices:
"I only run around in hoodies that are way too big for me and pull the hood way down low on my face when I'm feeling really bad and the worries are particularly great. I cannot stand it when someone looks at me."
"I try to cover my face with my hair."
"I've adapted my outward appearance. I've taught myself a different manner of speaking. I always keep an eye on my surroundings."
"I worry about this every day. I'm afraid for my children's safety, try to avoid going out...Really paranoid when I take my kids to places like the zoo."
"I try to live as invisibly as possible…Try to impress upon myself that the chance of recognition is really very small, since I'm much older now. But the feeling persists."
"I do not want to socialize; I am scared to step out of the door."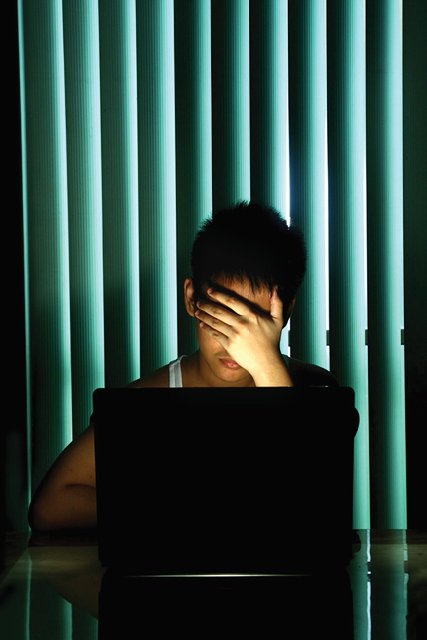 There's hope for these child abuse survivors, who often suffer in silence and well into adulthood. The National Center for Missing & Exploited Children, seeing these survivors being continually revictimized online, has successfully challenged the prevailing belief that once something has been posted on the internet, it can never be taken down. 
And it's not just the harm caused by the re-sharing of these sexual abuse images and videos. Nude and partial nudity images are also being recirculated and causing harm and trauma. Survivors are also being subjected to online predatory comments that publicly "out" them, even years later, as the child in the images, significantly reducing their ability to cope with day-to-day stressors and maintain healthy relationships.
For more than a decade, NCMEC has been engaging U.S.-based social media companies and the internet industry to take a survivor-focused approach to remove content depicting or referencing child sexual abuse and exploitation. In the last two years, we've expanded that initiative to include images of nudity and partial nudity. This year, we've expanded the program to include notifying companies of comments on their sites that contain information identifying someone, without their consent, as a victim of child sexual abuse imagery.
"We've heard from survivors that they're finding videos online that identify them and talk about their sexual abuse images," said Kathryn Rifenbark, NCMEC's exploited victim project specialist. "They're traumatized reading comments from people who've clearly seen their images online. We're working with internet companies to proactively remove them."
Each year, NCMEC receives a staggering number of sexually explicit images. We categorize those reported to us that contain the worst-of-the-worst content, expressly prepubescent child victims engaged in sexual activity.
We then provide to electronic service providers (ESPs) hash values of these images, which are like digital fingerprints, so they can use this information to proactively scan their servers and report violations to our CyberTipline. Our list of hash values currently contains more than 1.5 million images that we share with ESPs. 
We encourage all companies to remove this content as a violation of their terms of service. 
In notifying companies of comments on their sites that identify victims, we explain how the sharing of this information endangers the survivor's well-being, anonymity and privacy. We've developed guidance for companies to protect child victims and recommend actively removing images, videos or comments that contribute to:
Personal safety concerns of the child or adult survivor

Outing the child or adult survivor or their likeness, often in newly created videos, as a victim of child sexual abuse images

Promoting the viewing of the survivors' illegal, sexually exploitative or abusive content
"If you're a survivor, you're not alone," said Rifenbark. "NCMEC is working hard to stop the spread of your sexually abusive images."

To get help and report a sexual abuse image, nudity or damaging online comments, please visit: http://www.missingkids.com/gethelpnow/isyourexplicitcontentoutthere
There are instructions on how to report to the various social media platforms, including Facebook, Google, YouTube, Imgur, Instagram, Microsoft products, Tumblr, Twitter and Snapchat. You can also report to our CyberTipline, www.cybertipline.org, or our 24-hour toll-free hotline at 1-800-THE-LOST. (1-800-843-5678).
Living a Parent's Worst Nightmare? Team HOPE Can Help
My waking nightmare started on January 31 more than 10 years ago. That was the day my family's life imploded in a spectacular and life-altering fashion. I'm going to share my story with you, but not my name to protect my children.
That day my husband of 20 years was arrested and my daughter disclosed that her father had been molesting her. Law enforcement said he'd been creating sexual abuse images of her and trading them with pedophiles around the world. I had no idea that by the end of the day, I'd be the sole parent of three traumatized children, trying to figure out how and why this happened and what to do next.
The next morning, I got up and hired a lawyer to help me figure out our rights in the face of these heinous crimes. Then I hired a divorce attorney. I was fortunate that the law enforcement officers assigned to our case were helpful, kind and wanted to help us through this trauma.
When you're a victim in this kind of case, the way you're treated by the professionals you need to get through this makes a huge difference! We have had great support from our therapists, FBI agents, attorneys, Justice Department officials and many others, but it took a lot of work to advocate for all the help to come to us. My family was amazingly wonderful and supportive – we were very lucky that way.
During this trying time, the FBI agent on our case kept mentioning "NCMEC." I had no idea what that acronym meant. He explained that it was the National Center for Missing & Exploited Children, the leading non-profit organization on issues of missing and sexually exploited children. He told me about a NCMEC program that helps law enforcement identify children in sexual abuse images on the internet. My daughter was now an identified child in the program, he said, and authorities will be alerted if they find any of her images.
I immediately went to the NCMEC website, at www.missingkids.org,  and found Team HOPE. At the time, it was only for relatives of missing children, but after contacting Abby Potash, the program director, she expanded it to help parents of sexually exploited children as well.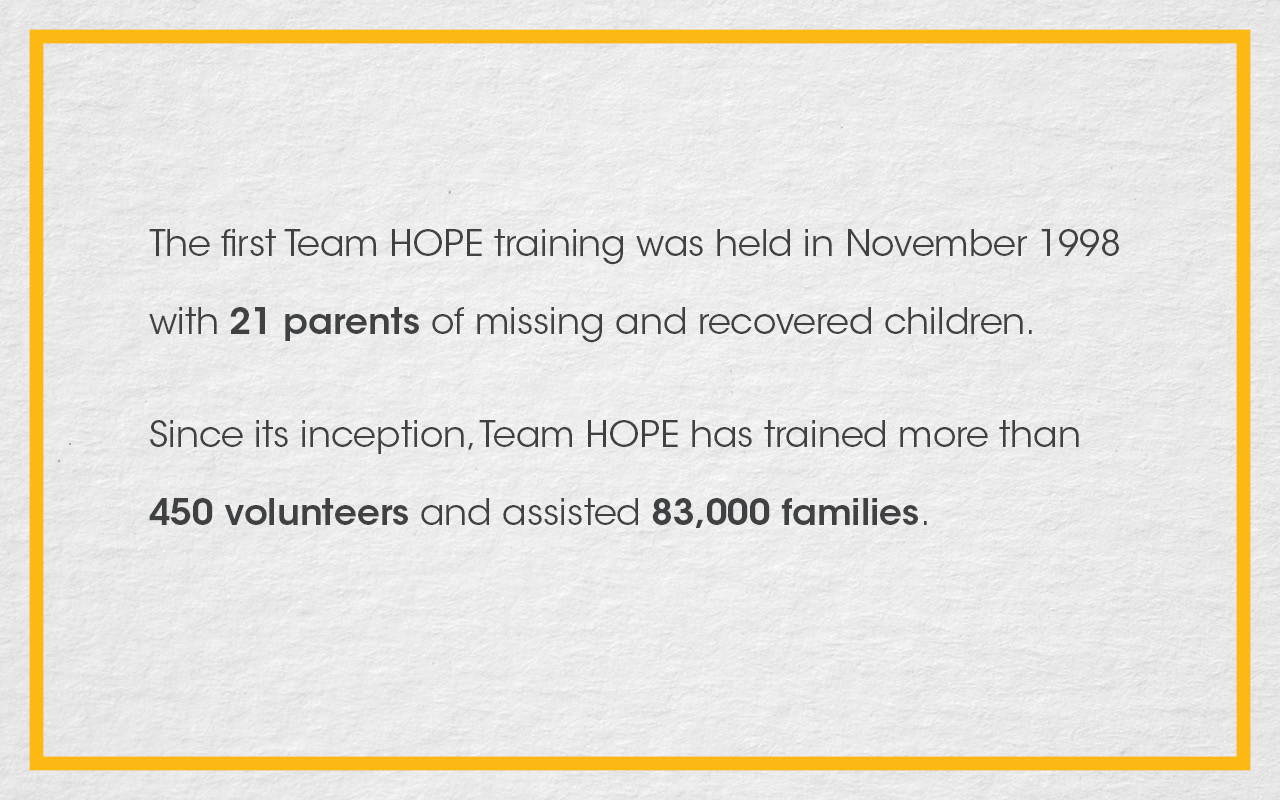 Soon after, I joined Team HOPE as a volunteer. I was the only one in my circle of family and friends who had ever experienced anything like what we had been through. After I started to volunteer, I spoke with many parents who were going through their own living nightmare as well. I found that it helps so much to know that you're not alone. When you talk to someone who has been through a similar experience, it helps you know that you can find the strength to get through the next five minutes, the next hour, the next day, the next month, the next year. It gives you hope for your child's future – and your own.
Team HOPE is part of the Family Advocacy Division at NCMEC. This wonderful group of caring people help families find mental health professionals in their own community who can give the child and family the help they need. It's an amazing resource and so helpful when you don't know where to turn for help.
Children are resilient. Children who get help from trained professionals are even more so. There's hope for a bright future for your child who has been a victim of sexual exploitation. I've seen it with my own child and have heard it from so many parents over the years. I still get calls from people I supported to update me on how their child is doing.
Can there be setbacks, trials and tribulations to still go through? Of course, that is how life works. But it can be a little easier to get through when you have the emotional support to carry on. If you have a child who is missing, or was missing and has been recovered or was sexually exploited, please call Team HOPE. They can't give you a magic wand to make everything that happened go away, but they can be a great support for the road ahead.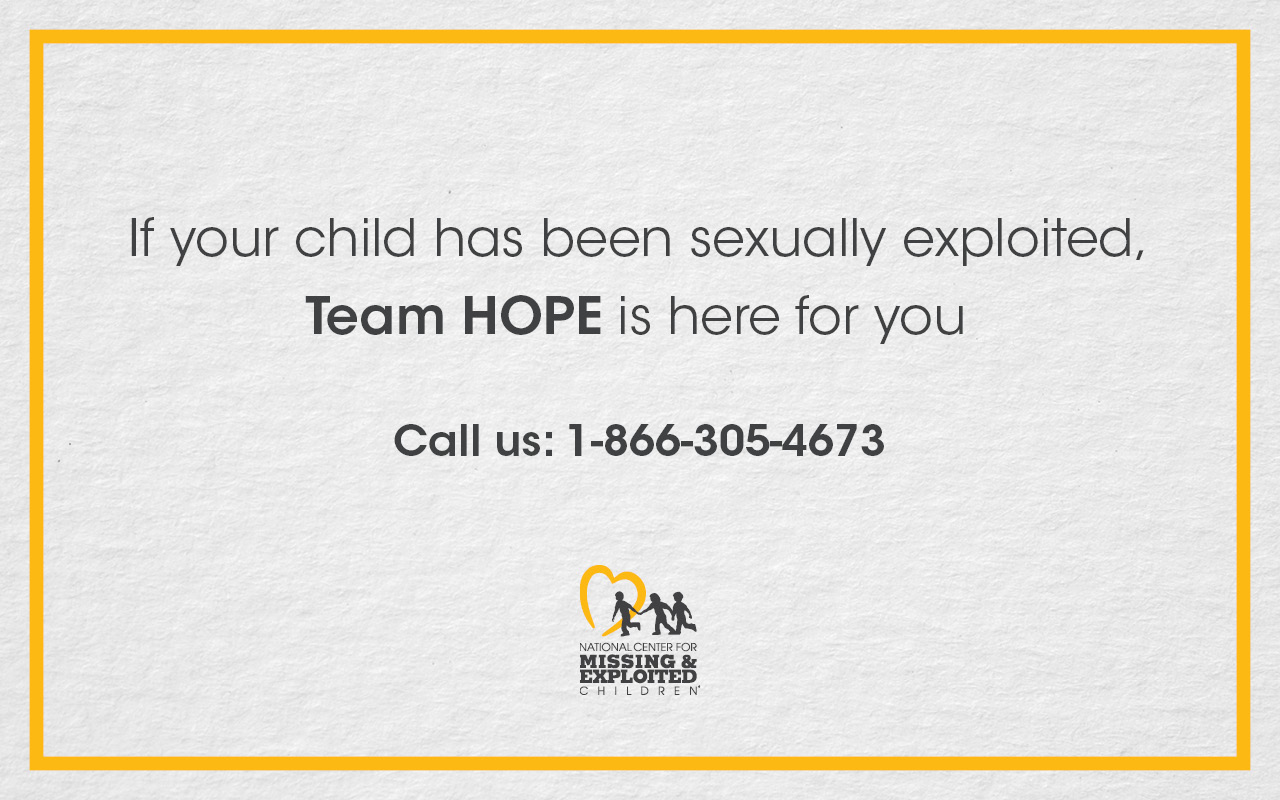 Long-Term Missing Children: Our Light Stays On
By: Christine Barndt
Here at our headquarters in Alexandria, Virginia, there's always a light on. And it will stay on until every missing child is home.
At any given time, we're working on thousands of missing child cases. Unfortunately, too many of those children have been missing for months, years and even decades.
But we remain hopeful. We know these children can come home.
Take Jaycee Dugard. She was recovered after 18 years in captivity.
And the three women – Michelle Knight, Amanda Berry and Gina DeJesus – who were held for years in a Cleveland home before finally escaping.
And the recent news of Jayme Closs, who was held for 6 months before she found an opportunity to escape.
And the list goes on.
When we looked at recoveries of missing children reported to NCMEC between 2014 and 2018, we found some astounding numbers:
 2,564 children were recovered after being missing for 1 to 5 years.
255 children were recovered after being missing for 5 to 10 years.
234 children were recovered after being missing for 10 years or more.
At NCMEC, we will never stop searching for a missing child, no matter how long they've been gone. To find missing children in your area, search our posters at missingkids.org or check out this interactive map.
Here are just a few cases that still need your help.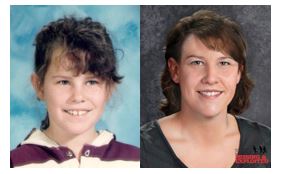 9-year-old Stephanie Crane was last seen on Oct. 11, 1993 around 6:00 p.m. According to witnesses, Stephanie was seen walking towards the Challis High School. At the time of her disappearance, Stephanie was described as 4 feet 2 inches tall and weighing approximately 85 pounds. She has blue
eyes and brown hair with a distinctive cowlick on the right side of her hairline. She was last seen wearing maroon sweatpants and a maroon/white striped hooded shirt with the word "GIMME" on the front. If you have any information about Stephanie, please call 1-800-THE-LOST or the Custer County Sheriff's Office at 1-208-879-2232.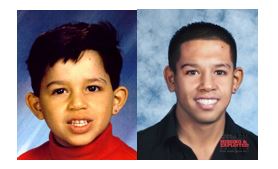 6-year-old Jesus De Le Cruz was last seen on Sept. 28, 1996 in Lynn, Massachusetts. He is believed to have been walking down Park Street around the time he disappeared. He has not been seen or heard from since. Around the time of his disappearance, Jesus was described as 4 feet 6 inches tall and weighing approximately 60 pounds. He has brown eyes and brown hair. Jesus has a scar above his left eye, a birthmark on his left calf and a birthmark on the left side of his forehead. He also has his left ear pierced. If you have any information about Jesus, please call 1-800-THE-LOST, the Lynn Police Department at 781-595-2000 or your local FBI.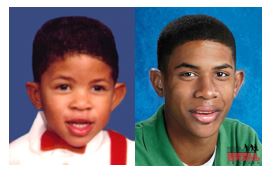 3-year-old Reuben Blackwell was last seen on May 6, 1996 in Clinton, Maryland. Reuben was allegedly abducted by his father, Reuben Blackwell. According to law enforcement, Reuben's father made threats to harm Reuben and himself. A federal warrant for Unlawful Flight to Avoid Prosecution was issued for his father on Sept. 22, 2000; however; Reuben, who may go by the first name "Bennett," has still not been located. During the time of his disappearance, Reuben was 3 feet tall and weighed approximately 36 pounds. He has black hair and brown eyes. If you have any information about Reuben, please call 1-800-THE-LOST, the Prince George's County Police Department at 301-868-8773 or your local FBI.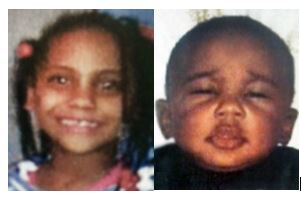 Kaylah Hunter and Kristian Justice
6-year-old Kaylah Hunter and her 6-month-old brother, Kristian Justice, went missing from their home in Detroit, Michigan on May 24, 2014. The children were last seen in the company of their mother; however, their mother has since been found deceased. Kaylah and Kristian may be traveling in a 2004 burgundy 4-door Chevrolet Impala with Michigan plates CCR1286. During the time of their disappearance, Kaylah was described as 4 feet 5 inches and weighing approximately 65 pounds with brown hair and brown eyes. Kristian was described as 2 feet tall and approximately 17 pounds with brown hair and brown eyes. If you have any information about Kaylah and Kristian, please call 1-800-THE-LOST or the Detroit Police Department at 313-596-5600.
###
NCMEC Statement on Timmothy Pitzen Case
As details emerge about the boy found in Kentucky, the search for Timmothy Pitzen continues.
For eight long years, Timmothy's family has never given up hope that he will be found. Here at the National Center for Missing & Exploited Children, we will keep working to make sure this happens.
Investigators have worked tirelessly in the search for Timmothy and we know that those efforts will continue.
While everyone wants to know more, we ask that you remember that this is a sensitive time for Timmothy's family as they process this information and move forward in their search for answers.
If anyone has any information about Timmothy, or any other missing child, please call NCMEC at 1-800-THE-LOST.
The National Center for Missing & Exploited Children looks into the case of missing Timmothy Pitzen.
"HOPE" Beer On Tap in 30 Days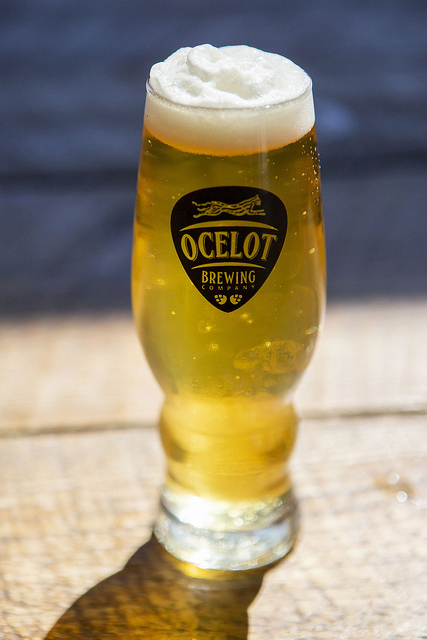 They're a self-described bunch of beer geeks, engineers and brewers who love music. So much so, that they name their new craft beer creations after lyrics from their favorite artists, like "Sunnyside Dweller, "Powers of Observation" and "Marmalade Skies."
However, on April 27 at the Ocelot Brewing Company, they'll have something altogether different on tap. They're brewing a special IPA they'll name for another shared passion: helping missing and sexually exploited children.
It's called "Hope."
Ocelot's owner, Adrien Widman, worked for seven years at The National Center for Missing & Exploited Children before opening his brewery in Dulles, Virginia. His time at NCMEC had such a profound impact on him that he began an annual fundraiser to benefit the nonprofit organization based in Alexandria, Virginia.
"I fell in love with the place. I fell in love with the people," said Widman, who was an software engineer for NCMEC's Exploited Children Division. "I never wanted to lose touch with all the wonderful work that NCMEC is doing."
All proceeds from Hope beer sales at the "3rd Annual Hops for Hope" (and until it's sold out) will go to NCMEC, which has been at the forefront of child protection for 34 years. NCMEC employees were at the brewery in Loudoun County this week to help Widman and his team whip up 30 barrels of Hope beer for the popular event.
That's 930 gallons.
That's a tall order.
Tuesday was Brew Day at the award-winning brewery in an industrial section of Dulles. In keeping with their love of music, the Ocelot logo is shaped like a guitar pick, and the brewery is named – not after the wild cat of the same name – but a song by the jam band, Phish.
Dozens of NCMEC employees wearing "Hope" T-shirts turned out, eager to help and hoisting 55-pound bags of mostly barley and some oats into the hopper where they're crushed. They know how much our partners, like Ocelot and Country Malt which is donating the malt, will enable them to help more children and families.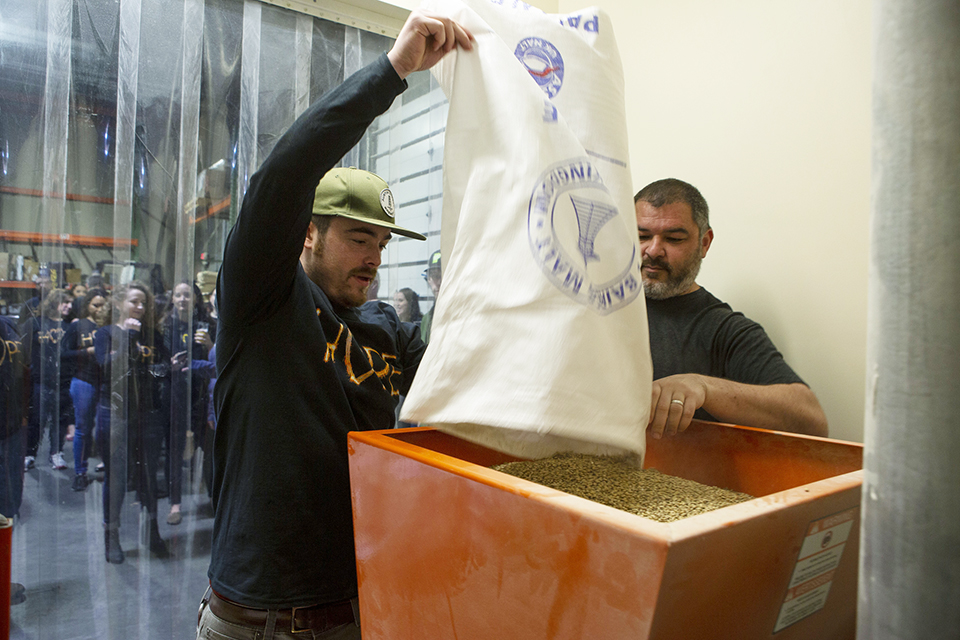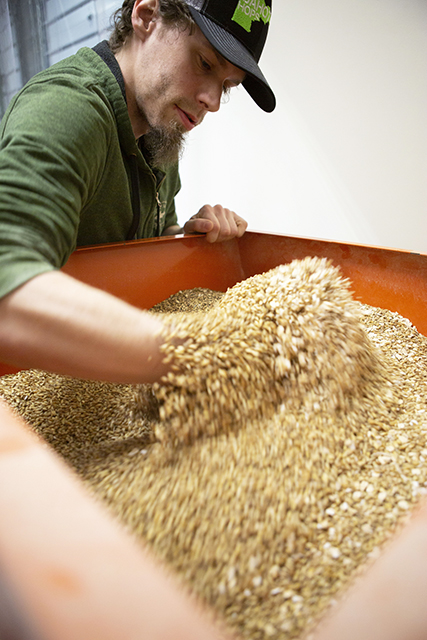 Shannon Traore, who gives emotional support to families of missing and sexually exploited children was there. So was Christi Andrews, who age progresses photos of long-term missing children so someone may recognize them years later. Ashley Rodriguez, who helps give unidentified deceased children their names back, came to help too, as well as Matthew Stein, who helps identify and rescue children featured in sexual abuse images shared and traded on the internet."We've got the whole team here," says John Clark, NCMEC's president and CEO. "We need money to operate – to help us find and protect kids. We can't thank Adrien enough."
Widman says the brewing process for this particular IPA will take 30 days. Old Bust Head Brewery in Vint Hill, Virginia is partnering with Ocelot and will also be selling Hope beer. Thorne Watkins, part of the close-knit community of craft brewers, said he jumped at the chance to be part of the fundraiser.

The next step in the process, Widman says, involves mixing the crushed barley and oats with hot water in a massive stainless steel tank for 45 minutes to convert the starches to sugar. Then, the liquid is boiled in a kettle for an hour to get rid of impurities and that's when the hops are added, he says. Finally, it's cooled to 65 degrees and moved to a cone-shaped vat, where yeast is added. There it sits, fermenting for 30 days.


John Shehan, vice president of the Exploited Children Division, where Widman used to work, says that Widman, his wife, Laura, and the entire Ocelot team like to say, "it's just beer." But, he says, that Hops for Hope shows that it's much more than just beer. It's helping a vitally important cause.
The gleaming stainless steel vats inside the cavernous brewery are emblazoned with the first name of the crew's favorite frontmen, including "Jim" (Morrison), "Jimi" (Hendrix), "Jerry" (Garcia) and "George" (Harrison).
Music has always been a major part of his life, Widman says, a soothing balm to what has been an ongoing and lifetime battle with depression. During his time at NCMEC, he encouraged employees whose jobs can take an emotional toll to embrace music.
Gavin Portnoy, NCMEC's vice president of Strategic Advancement & Partnerships, said partners like Widman are what enable the organization to stay abreast of evolving crimes against children, especially on the internet.
"Like everyone who comes through here, it leaves a lasting impression," Portnoy, says of the charity's headquarters. "It doesn't matter if you come here for a tour, work here for five years – or 30. Adrien left, but he left his heart here."
Please raise a glass of Hope beer with NCMEC employees from 11 a.m. to 10 p.m. on Saturday April 27 at Ocelot Brewery on 23600 Overland Dr. #180. This year, you can take Hope beer home in cans. Things will be hoppin'!