Closing in on child abductors: Getting AMBER Alerts into the right hands

By Patricia Davis

Residents of a Seattle neighborhood grabbed their cell phones in unison to read an urgent AMBER Alert: A 5-year-old boy had been forcefully abducted from his home by his non-custodial father and may be in imminent danger of serious bodily injury or death.
They were on the case.
Within minutes, motorists spotted the suspect's car. The license plate on the 1999 silver Mercedes 320 matched the numbers that flashed on their cellphones. They immediately called Seattle police, who located the car and pursued the drunk driver, boxing him in as he rammed their police cars. The child was recovered unharmed.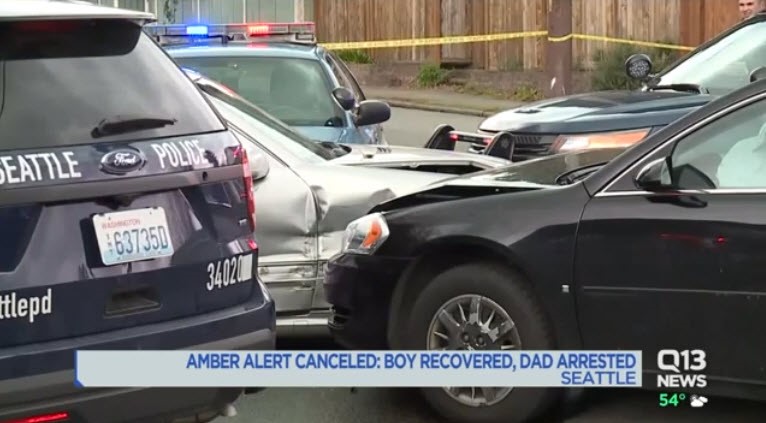 "The AMBER Alert system worked, today, flawlessly," Lake Forest Park Police Chief Steve Sutton said at a news conference in March from the neighborhood where the child was forcefully taken from his grandmother. "When an AMBER Alert hits, we all work together. It was done right."

Six years ago this month, law enforcement began enlisting the public's help through their cell phones via a Wireless Emergency Alert, a move that has vastly expanded the reach of AMBER Alerts and dramatically increased the chance that the right person, at the right time, will see the alert and be able to help save a child. 
Because almost everyone in the United States has a cell phone, with some estimates as high as 93 percent of adults alone, AMBER Alerts are galvanizing entire communities.
"It was a game changer," Carly Tapp, NCMEC's AMBER Alert program specialist, said of the cellular broadcast emergency tool. "Awareness skyrocketed. Now almost everyone knows what an AMBER Alert is."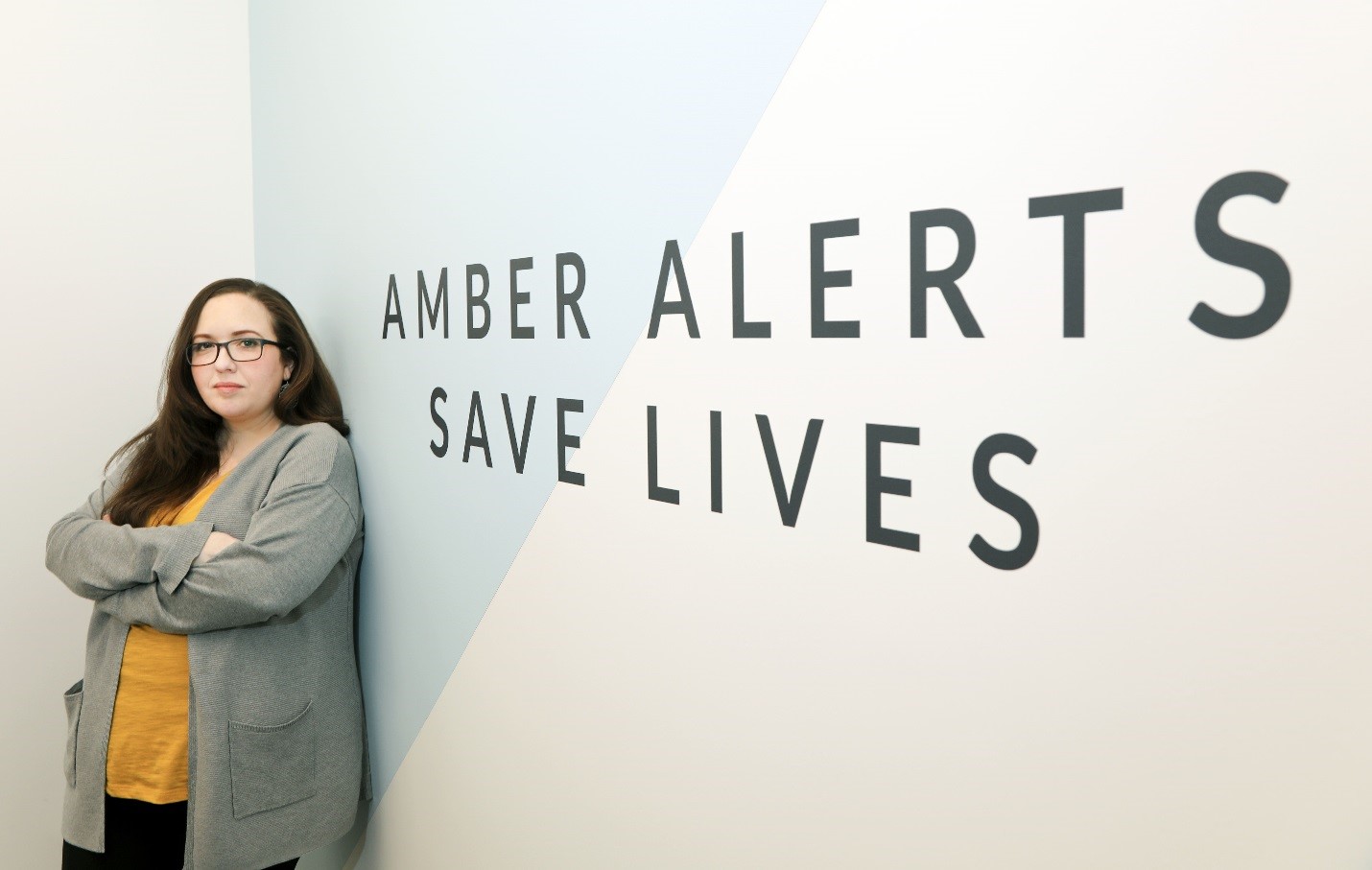 Carly Tapp, NCMEC's AMBER Alert program specialist.
At first, though, people were startled, even annoyed, by the loud sound emitting from their phones. However, once they realize that a child in their immediate area is in imminent danger, they're eager to help. 
AMBER Alerts are sent to geographically targeted areas where law enforcement believes the suspect and the child may be in real time, says Tapp. They're issued through phone carriers sparingly, she says, with fewer than 200 a year nationwide.
AMBER Alerts are used in the most serious child abduction cases, and only those in which the case meets strict criteria. Above all, the abducted child must be in imminent danger and there must be enough details for the public to assist in recovery of the child. 
In the Seattle-area family abduction, police were delayed 90 minutes until they could show that the child may be in imminent danger. With further investigation, they discovered their suspect had been involved in a hit-and-run earlier that day and that he was a violent offender.
AMBER Alerts are saving lives. So far, 941 children have been rescued as a direct result of an AMBER Alert, says Tapp. The number is likely higher, she says, but discerning whether someone calling in a tip saw the alert is not always possible.
There are many ways to see an alert. Since the first successful AMBER Alert in 1998, when 8-week-old Rae Leigh Bradbury was safely recovered in Texas after her babysitter abducted her, alerts have been broadcast to the public on television and radio, Department of Transportation highway signs, lottery tickets and other notifications if you request them. 
Law enforcement sends out the initial AMBER Alert based on specific criteria in its state. NCMEC then sends the AMBER Alerts to a much wider audience, including cell phones, as directed by that state's AMBER Alert coordinator. Technology has made it easier to get the word out through internet service providers (Facebook, Google Alerts, Twitter), apps, the trucking industry, digital billboards, and others. 
The idea for AMBER Alerts came after the tragic 1996 abduction of 9-year-old Amber Hagerman, who was abducted while riding her bike with her brother in Arlington, Texas. As she kicked and screamed, Amber was pushed into the cab of a man's pickup. Her body was found five days later in a creek four miles away. Her killer has never been found.
After Amber's funeral, Diane Simone, also a mother, called a local radio station and asked why the media couldn't issue alerts when a child is abducted, just like it does with weather alerts. The idea took off, and AMBER Alerts (America's Missing: Broadcast Emergency Response and named in memory of AMBER) began saving lives nationwide. It's now under the stewardship of the Justice Department.
The Federal Emergency Management Agency oversees WEA and has received approval from the Federal Communications Commission for longer phone messages – from 90 to 360 characters – with more information for the public and relayed in multiple languages beginning in May. 
Whether a child is abducted by a friend, a family member or a stranger, remember that when you receive an AMBER Alert on your cell phone, that child is in extreme danger. Says Tapp: "That's what AMBER Alerts are helping with – the worst of the worst cases."
(For more information, visit http://www.missingkids.com/gethelpnow/amber)
###
Child Sexual Exploitation Reports Explode: New CyberTipline law to improve response
By Patricia Davis
It was just one of more than 18.4 million reports of suspected child sexual exploitation our CyberTipline received last year, and it contained graphic videos and photos of an infant being sexually abused by an adult. Our analysts quickly sprang into action, trying to figure out, literally, where in the world is this child?
They tracked down a possible address in San Jose, California and made the report available to law enforcement. Within three hours of receiving the report that December day, the child was rescued, the suspect was arrested and 11 other children were removed from the home. 
Over 20 years in operation, our CyberTipline has received more than 45.2 million reports of suspected child sexual exploitation – more than half of those in just the last two years. Recognizing this explosive growth, Congress unanimously passed, and the president signed, a new law to streamline the CyberTipline process and tackle new trends we're seeing in child sexual exploitation.
Today, a roundtable was held at Facebook's office in Austin, Texas to discuss the impact of "The CyberTipline Modernization Act," which is being hosted by Sen. John Cornyn (R-TX), the main champion of the legislation along with Sen. Dianne Feinstein (D-CA). Our president and CEO, John F. Clark, moderated the discussion with representatives from NCMEC, the Tech Industry and law enforcement – a unique public-private partnership that supports the CyberTipline and helps keep children safer from the escalating problem of sexual exploitation online.
Members of the tech industry, including Google, Facebook and Microsoft, explained ways the new law will enable them to stay up to date and continue robust work to identify and address new crime trends, including one we're seeing at NCMEC: the sexual enticement of children online. They also discussed ways they ensure that the most critical reports, like the infant in San Jose, get the attention they need.
"The timeliness of this is paramount," said Ely Reyes, Austin assistant police chief. "The quicker they can get to these children, the more likely they are to keep them from being abused. This legislation streamlines that process so that law enforcement can get boots on the ground."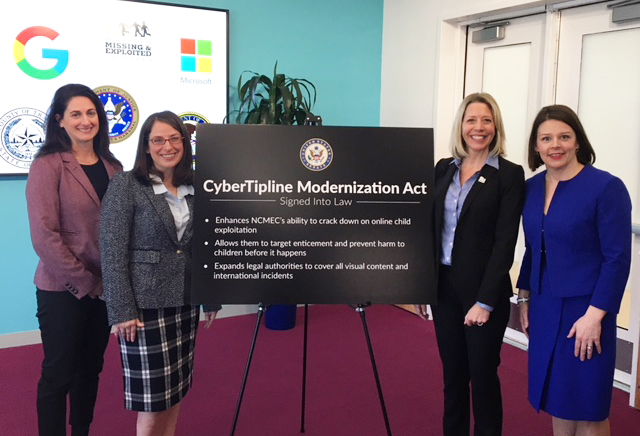 At NCMEC, our analysts prioritize the avalanche of reports into three categories: The top priority is for situations in which a child is in imminent harm, followed by a child likely being victimized and then a child who has been victimized but more information is needed to determine risk.
The CyberTipline is the centralized mechanism in the U.S. for the public and electronic service providers to report suspected child sexual exploitation. Most of these reports come from electronic service providers (99 percent) and are made available to international law enforcement (93 percent).
The new law clarifies language describing how NCMEC can make CyberTipline reports available to international law-enforcement agencies. It also broadens our ability to foster voluntary initiatives with tech companies to help them identify and curtail transmission of child sexual abuse images, which comprise the vast majority of reports. 
Our analysts forward reports to the Internet Crimes Against Children task forces in each state, and NCMEC is grateful for what they do to help children. Sen. Cornyn has been a long-time supporter of NCMEC and authored legislation to reauthorize the ICACs in the last Congress.  We're grateful for his commitment, along with Sen. Feinstein's and other leaders in Congress, to address these critical child safety issues.
Said Einat Clarke, Facebook's director & associate general counsel for safety: "At the heart of the CyberTipline is collaboration."
In Pursuit: How John Walsh's New Show is helping Find Missing Children
By Patricia Davis

Exciting are things happening at the National Center for Missing & Exploited Children! Our headquarters in Alexandria, Virginia is now the critical hub of a brand new television show hosted by legendary crime fighter John Walsh.
"In Pursuit with John Walsh" debuts on the Investigation Discovery network Jan. 16. The show's call center will be based at NCMEC's new state-of-the-art building where operators will be standing by for viewer tips to help bring missing kids home and catch dangerous fugitives.
John is known internationally as the Emmy Award-winning host of the FOX television show, "America's Most Wanted," which aired for 25 years. With this new show, John continues his mission for justice with his son, Callahan, who will also appear on the new show. Callahan works in NCMEC's Florida regional office as a child safety advocate.
"I'm excited to see our co-founder John Walsh back doing what he does best – catching fugitives and bringing justice to victims," says John F. Clark, NCMEC's president and CEO. "Make sure you tune in to his new show."
So far, our non-profit organization has helped law enforcement find more than 284,000 missing kids, and NCMEC's 24/7 Call Center has handled more than 4.8 million phone calls and has access to 190 languages. NCMEC was co-founded nearly 35 years ago by John and his wife Reveˊ after their 6-year-old son, Adam, was abducted and later found murdered.
With the expanding power of social media, John says people are more involved now than ever before. Says John: "Call me. Contact me… You tell me where the bad guy is, and we'll go get 'em." 
In the first episode, these missing children are featured.
Talking to Children About Safety in Light of Jayme Closs's Recovery
With all the media attention surrounding the abduction and recovery of Jayme Closs, your children may have some questions- and with good reason! Jayme's case is incredibly unique; a true stranger abduction. Nonfamily abductions like this make up less than 1% of NCMEC's cases each year.
Nothing Jayme did put her at greater risk of abduction, and everything she did after the abduction played a critical role in her eventual ability to escape her captor.
The randomness of Jayme's abduction makes it all the more worrisome, but having regular, open conversations about safety with children is one way to help children feel empowered and strong.
To help families engage in conversations about personal safety with their children, NCMEC has put together five crucial questions to ask children to begin the dialogue. It's important to broach the conversation in a way that respects their independence but also establishes boundaries.
Question 1: Would you accept a ride from someone you recognize, but don't know that well?
One of the most common lures used in abduction attempts is to offer the victim a ride somewhere. Make sure kids and teens understand they should not accept a ride with anyone without first checking with you or another adult in charge.
Question 2: Why do you think it's important to check first with me or another adult in charge before going somewhere or changing plans?
Help older children and teens strike a balance between being independent and being safety-conscious. The two are not mutually exclusive! Help teens think through the benefits of having a parent/trusted adult know where they are. Try to have them view the situation through the lens of a parent; how would they feel if they did not know where their child was?
Question 3: What characteristics make someone a "trusted adult"? Who are the trusted adults in your life?
Children should have multiple adults in their lives whom they trust and can confide in. Trusted adults make children feel safe, are good listeners and are helpful when the child is facing a challenge. It's normal that this group of trusted adults may change as children mature and age.
Question 4: What could/would you do if someone tried to touch you in a way that made you uncomfortable?
With children of all ages, reinforce the concept that they have the right to say "no" to anyone and any type of touch that makes them uncomfortable. Their bodies are their own and they have the right to feel safe and comfortable.
Question 5: What do you think are some of the safety benefits of going places in groups?
Younger children often use "the buddy system" when going places, but as they get older, they may seek to do more things independently. Guide teens in thinking beyond the social benefits of staying with a group and help them think about the ways being with a group of people can reduce certain safety risks.
For more information and resources about talking to your children about safety, visit www.KidSmartz.org. KidSmartz is NCMEC's personal safety education program for children grades K-5. All resources, including videos, printables, tip sheets and more, are free!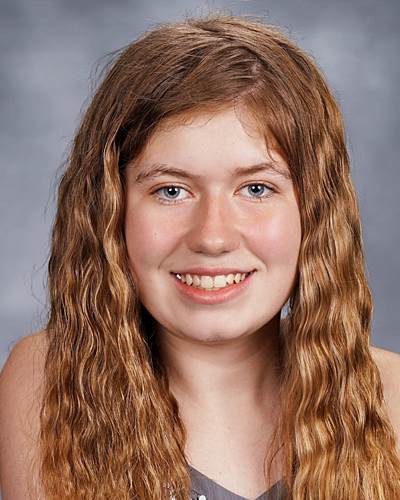 Jayme Closs Recovered
Blog by Patricia Davis                                                                                                                                                                                           January 11, 2019    
The National Center for Missing & Exploited Children is overjoyed by the news that 13-year-old Jayme Closs from Barron, Wisconsin, has been located alive after missing for 87 days.
We applaud the Barron County Sheriff's Department and the Douglas County Sheriff's Department and all of the investigating agencies involved for their exhaustive efforts to bring her home. We stand with all residents of Barron, Wisconsin as they begin to move forward and heal.
"People assume that when children are missing for a long time that they will not be recovered alive," says John F. Clark, NCMEC's president and CEO. "But that's not true. This is why we do what we do. Hope is why we're here."
A woman walking her dog around 4:30 p.m. Thursday was approached and asked for help by a skinny young girl with matted hair, wearing shoes that were way too big for her. The dogwalker ran to a neighbor's home, saying, "Call 911! This is Jayme Closs!"
At a news conference today, law enforcement officers said Jake Thomas Patterson, 21, has been charged with two counts of murder and one count of kidnapping. They said the suspect targeted Jayme and took great pains to elude detection. 
Jayme was found 70 miles from her rural home near Barron, where her parents were found murdered Oct. 15. James and Denise Closs were found fatally shot in their home in northwestern Wisconsin.

Investigators said a mysterious 911 call led to the discovery, and when the dispatcher called the number back, a voicemail greeting came on and there was yelling in the background. When deputies arrived, they found no one home, but they believe Jayme was there at the time of the shootings.
A massive search for Jayme ensued, more than 3,500 tips flooded in and NCMEC immediately deployed an experienced retired investigator and member of Team Adam to assist law enforcement.

Jayme is an example of why we never lose hope and never stop searching for missing children, said Robert Lowery, who oversees NCMEC's Missing Children Division. While time is the enemy when a child is missing, NCMEC has seen a growing number of children who are recovered months, years, even decades later, he said.
"We felt very strongly all along that Jayme was alive," Lowery said. "We've seen far too many cases where children in similar circumstances have been held in captivity."
Unfortunately, there are many cases of long-term missing children. You've probably heard about some of the high-profile success stories: Elizabeth Smart, 14, abducted from her Utah bedroom and held for nine months. Jaycee Dugard, held by her abductors in a California backyard or 18 years. Amanda Berry, Gina DeJesus and Michelle Knight abducted and held for 10 years in a Cleveland home. Carlina White, abducted as an infant, cracked her own case 23 years later from information and a photograph she found on NCMEC's website.
When news of Jayme's recovery broke, Smart reacted with joy on Instagram, saying she was thrilled to hear the news.
"What a miracle!" Smart wrote. "Jayme Closs has been found….What a brave, strong and powerful survivor!!!! No matter what may unfold in her story let's all try to remember that this young woman has SURVIVED and whatever details may surface the most important will still remain that she is alive. May God bless you Jayme Closs and may we all continue to search for every missing child."
Many other long-term missing children who are recovered never make the news. A NCMEC review found that over a recent five-year period, 5,000 children were recovered after being missing for more than six months. But here are some startling numbers:
·       444 of those children were missing more than five years
·       204 were missing more than 10 years
·       56 were missing longer than 20 years.
At the news conference, FBI Milwaukee Special Agent Justin Tolomo thanked everyone for never giving up hope. "It was Jayme who gave us this break."
What if You're Right?

By Patricia Davis                                                                                                                                                                                                                                                                                                                                  January 7, 2019
A commuter in Skokie, Illinois thought the boy riding on her bus looked too young to be by himself. Her first thought was – that doesn't look right. Should she call police? What if she was wrong?
A passenger on a train in Dallas, Texas noticed a young girl curled up, sleeping on her seat. She appeared to be alone. The passenger was concerned. Should he call the cops? What if he was wrong?
A customer leaving a Waffle House in St. Petersburg, Florida got a funny feeling about a young girl standing alone outside the restaurant. Was it strange or was he reading too much into it?  Should he call 911? What if he was wrong?
But what if they're right?
All three children were missing kids who had been sold for sex by traffickers who exploited their need for food, shelter and love. By making that call to the National Center for Missing & Exploited Children, these concerned citizens played a critical role in helping law enforcement combat a violent crime against children that is happening in plain sight – in every city and every community in this country.
"It's better to be wrong and take a few minutes to make a  report than to be right and not," said Eliza Reock, NCMEC's strategic advisor on child sex trafficking issues. "Many of us take trains, the metro and buses to get to work every day. We stay in hotels, stop at rest stops, shop at convenience stores. All of these activities may provide opportunities to see something that doesn't look right and make a report that could lead to the recovery of a child being sold for sex."
As child sex trafficking has moved from the streets to classified ads on the internet, pimps are taking advantage of the nation's vast transportation system to keep children on the move –  the metro, buses, trains, ride-sharing companies. Workers on the front lines in the travel industry, and the public, are uniquely positioned to help stop sex trafficking.
Police in Sacramento, California received an anonymous tip that a child was being trafficked in a hotel. They determined that the young girl was being sold for sex online as a 22-year-old "Polynesian Princess."
In the classified ad, the girl's face was clearly visible. She was only wearing underclothes and had a tattoo on her leg. Police arranged a "date" and sent an Uber driver to the hotel, where she was waiting for her ride with an older female.
Thanks to the tip, and the driver's help, police made a traffic stop and were able to recover the child. She said her father began selling her for sex when she was 11.
One year ago, Uber enlisted its 750,000 active U.S. drivers to join the effort, learning to spot victims and detect threatening behaviors. The Department of Transportation has partnered with the Department of Homeland Security on an initiative called "Blue Lightning" to train airline and Amtrak personnel about indicators of trafficking. "Truckers Against Trafficking" provides training for commercial driver's license holders to keep an eye on the highways and rest stops for possible signs of trafficking.
As a member of the public, do you know what you should look for? There may be physical clues.
A child being trafficked may have large amounts of cash or pre-paid credit cards, hotel keys and receipts and multiple cell phones. There may be evidence the child has been living out of suitcases, at motels or in a car. The child's ID may be held by another person. Tattoos may indicate money or ownership, such as "barcode" or "$."
One child recovered at a metro station was carrying a cell phone, condoms, lingerie and hotel keys. Another young girl, recovered at a bus station, had posted images of herself on social media holding cash in her mouth and displaying a gun.  
There also may be behavioral clues. The child may look to others before answering questions or let others speak for them. He or she may be pre-occupied with getting money and use trafficking-related terms like "trick," "the life" or "the game." The child may seem coached when talking to people. For a more complete list, visit: http://www.missingkids.org/theissues/trafficking#redflags.
An Uber driver, Keith Avila, became concerned about one of his passengers, a young girl dressed inappropriately for her perceived age. The two women who climbed in the car with her asked Avila to turn up the music.
As they headed to a Holiday Inn in Elk Grove, California, Avila strained to listen as the women told the girl what to do when they got there. "Check for guns. Get the money before you start touching up on the guy."
After dropping them off, Avila called the cops. His actions helped save the 16-year-old girl, who was being sold for sex out of the hotel. NCMEC honored Avila at its annual Hope Awards.
Reock said it's important to call 911 and make a report to NCMEC's CyberTipline – 1-800-THE-LOST (1-800-843-5678) or online at cybertipline.org – even if you're not sure about what you're seeing or hearing or if you feel you have limited information.
The non-profit organization responded to 10,093 reports of suspected child sex trafficking in 2017.
"We're talking about children in need," said Reock. "Making a call or report online can provide the opportunity for intervention by a professional who could make a difference in the child's life. I don't think people really understand the level of control and violence that takes place in child sex trafficking."
Children being trafficked don't always look like children, said Reock. Their youth is often hidden under layers of makeup, provocative clothing and attitude.
And these traumatized children are generally not going to ask for help, fearing the wrath of their pimps or because they often undervalue their own self-worth. Too many people mislabel them as prostitutes. But these children can never be prostitutes. They're victims of a heinous crime. The average age of a trafficked child reported to NCMEC is 15 – not old enough to consent to having sex with an adult.Traffickers can target any child, but most often they recruit the most vulnerable children, including those who frequently run away, have experienced sexual abuse, have significant substance abuse problems or have been stigmatized by family members for identifying as LGBTQ. Children who run from foster care or group homes are frequent targets and too often never reported as missing.

Staca Shehan, who oversees NCMEC's child sex trafficking team, says calling in a tip could prevent one of these vulnerable children from becoming ensnared in trafficking. At NCMEC, we have staff available 24 hours a day, 365 days a year to add information to these tips and get them into the hands of trained law enforcement who can respond. We're here to strengthen the safety net for these kids to make sure they don't fall through the cracks. She said anyone who sees something that doesn't look right should not walk away or dismiss it as something else.
"Don't talk yourself out of that feeling," Shehan said. "What if you're right?" 
Donating Hope
December 27, 2018
What does the new year mean to you? With the new year approaching, many people feel inspired, excited and curious about what the next 365 days will bring. For most people, the new year represents a new beginning, a fresh start to try something new or make a change in your life.

Here at the National Center for Missing & Exploited Children, while we recognize the exciting prospects of a new year, we also understand that for many families, the idea of another year gone by can be devastating. For many families who are searching for a missing child, the new year can be an unwelcomed reminder that another year has gone by without their child and the thought of continuing the search another year can be overwhelming.

Over the last 33 years, NCMEC has dedicated itself to keeping hope alive for these searching families while providing resources to communities throughout the country to help prevent the future victimization of children.

But we can't do it without you…

When you donate to NCMEC, you are making an impact not only on the lives of these searching families, but also on the lives of children across the country. Your donation goes towards strengthening and expanding many of the programs and resources that NCMEC makes available to searching families, law enforcement and the public. Our Team Hope program has provided resources and emotional support to more than 63,000 families of missing and exploited children. With your help, we can continue to support these families as they search for their missing child. With your donation, NCMEC can continue to strengthen our safety education and prevention programs to better equip children with the tools they need to be safer in everyday life and online. Your donation also helps us provide training opportunities to law enforcement across the country to provide them with the additional knowledge and resources they can utilize if a child ever goes missing in their community. To date, NCMEC has provided trainings for more than 356,000 law enforcement, criminal/juvenile justice and healthcare professionals.

With only a few days left in 2018, we are asking for your support in our continued plight to make sure every child has the childhood they deserve and every family receives the support they need.

Donate hope in 2018 so we can work toward a brighter 2019. Click here to donate.
 
Messages of Hope
December 20, 2018
This holiday season, we asked families of recovered and missing children to send us messages of hope. We wanted to give these families a voice to speak directly to those who are missing loved ones now. 
Their inspirational words remind us to never give up hope.  At the National Center for Missing & Exploited Children, #Hope is why we're here.
Translation: To be and to give hope is the best gift, today and always.